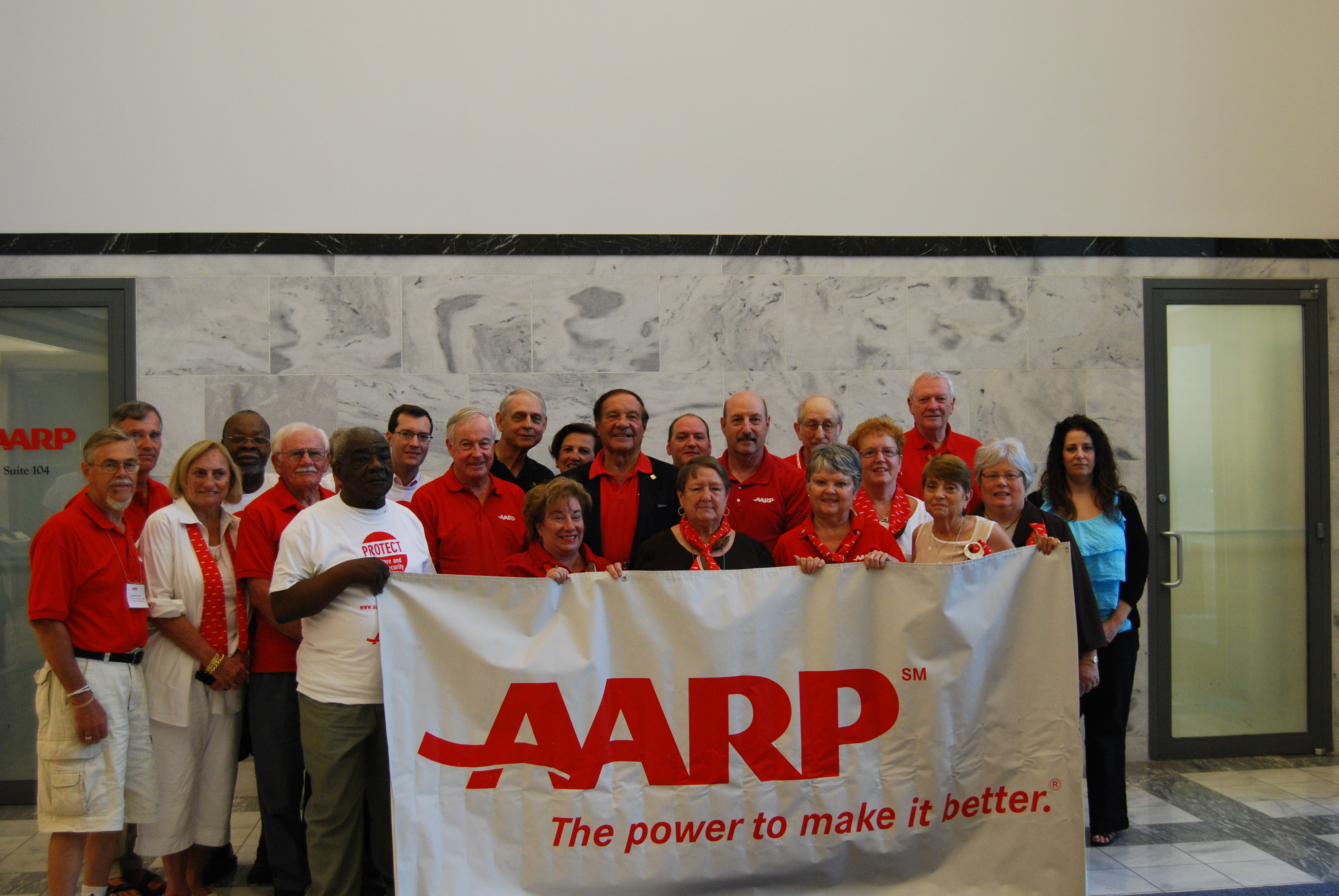 AARP Connecticut
21 Oak Street, Suite 104
Hartford, CT 06106

Local Map


Phone: 1-866-295-7279 (toll-free) Email:
ctaarp@aarp.org




Like Us on Facebook: www.facebook.com/AARPCT

Follow Us on Twitter: @aarpct

Our Mission: AARP is dedicated to enhancing quality of life for all as we age. We lead positive social change and deliver value to members through information, advocacy and service. We help our members live their best lives.

We believe strongly in the principles of collective purpose, collective voice, and collective purchasing power. These principles guide our efforts.

Our Vision: A society in which everyone ages with dignity and purpose, and in which AARP helps people fulfill their goals and dreams.

Facts and Figures:

Nearly 600,000 Connecticut members

50 percent of Connecticut residents over 50 are AARP members

Seven full-time staff members

800 Connecticut volunteers

What we do:

Advocacy: AARP uses the power of its nearly 600,000 members in Connecticut to advocate for positive social change. We are a non-profit, non-partisan organization. We don't contribute to political campaigns or endorse candidates for public office. We work with state and federal legislators to ensure that the needs of older adults are fairly represented in Hartford and in Washington D.C.

AARP advocates for our Connecticut members and all older residents by working for positive changes in laws, regulations and policies and by organizing for change at the community level. By organizing and mobilizing members and partner organizations to action we truly have the power to make a difference in the lives of older Connecticut residents.

Issues: Affordable Health Care, Long-Term Care, Electric Affordability, Consumer Protections, Transportation, Livable Communities, Hunger, Financial Security, Mature Workers.

Information/Education: Through a variety of communications channels we work to educate and inform our members and the general public on a broad spectrum of relevant topics. Subjects range from the new health care law, available state benefits, financial security issues, caregiving, Medicare, Social Security and how to protect against various frauds to a host of other valuable topics that help our members live their best lives. Using AARP literature, the media, direct mail, publications, the web and paid advertising, we reach thousands of Connecticut residents every year with helpful and important information.

Prior to every election, AARP works to educate Connecticut residents on where the candidates stand on issues of importance to older residents and their families. Voter guides, forums, debates and the media are used to inform voters before they head to the polls.

Community Service: Serving the community is part of the AARP heritage and "To Serve, Not To Be Served" remains the motto, as coined by our founder, Ethel Percy Andrus. We help our members and their communities help themselves. Caring and compassion are the bottom line of AARP. We engage our members as volunteers in many ways and currently have nearly 800 volunteers working in various ways across Connecticut.

Tax Aide and the Driver Safety Program are our two most visible community service programs. In addition, the Advocacy Leadership Committee works as activists and community outreach volunteers as do many other volunteers across the state. They visit the Statehouse, testify at public hearings, talk with local officials, distribute information, staff booth exhibits and represent AARP Connecticut in a variety of settings.

Products/Services/Discounts: AARP offers a wide range of discounted products and services that our members want and need. Our great size and reputation enable us to make positive changes in the marketplace that benefit our members. AARP imposes high standards on partner companies to ensure that products and services offered represent the best possible value for our members. Benefit and discount offers currently span health products, travel and leisure products, and life event services. Specific products include Medicare supplemental insurance; member discounts on rental cars, cruises, vacation packages and lodging; special offers on technology and gifts; pharmacy services; legal services; and long-term care insurance.

AARP Connecticut began offering local discounts on non-profit and cultural offerings -- exclusively for AARP Connecticut members – this year.

Federal Advocacy: AARP stands up for our members and society as a strong nonpartisan advocate for social change. In Washington DC, on Capitol Hill and in Congressional offices around the country, we work on the issues that matter, including strengthening Social Security and Medicare, supporting other retirement savings efforts, promoting adequate and affordable health care, and fostering livable communities.

Research: AARP conducts extensive research on aging-related subjects. Our Public Policy Institute publishes major reports on the 50+ population, and we recognize the Best Employers for Workers Over 50.

Global Aging : AARP is a leader in working internationally with governmental and nongovernmental organizations. AARP's international program works to exchange ideas and find solutions to aging concerns worldwide.

Publications and Media: We provide valuable and trustworthy information to our members. We publish AARP The Magazine, the world's largest-circulation magazine; the AARP Bulletin, a newspaper published 10 times a year and daily online; AARP Viva, a quarterly magazine and a radio program in Spanish and English; a public affairs radio program, Prime Time; an award-winning website: AARP.org, and two syndicated TV shows, Inside E Street, a public affairs program, and My Generation, a magazine-style show.

AARP – Our Promise: For more than 50 years, AARP has been serving its members and society and creating positive social change. Bringing value and relevance to Connecticut members is our top priority. AARP is doing amazing things to make life better for today's 50+ population and generations that follow. We strive to help people navigate ageless realities—financial well-being, health, ways of contributing to society, a role in their community and the opportunity to fully enjoy life.