Anchorage's city election will be conducted entirely by mail or by drop box. The city is sending all registered voters a ballot so that they can safely vote from home during the coronavirus pandemic.

Election Day is Tuesday, April 6.
Mail your ballot by Election Day or place it in a secure outdoor drop box; boxes will be available starting March 16 until April 6 at 8 p.m.
Traditional polling places will not open, but you can visit an Anchorage Vote Center if you need to replace a lost or damaged ballot or if you never received one. You can also drop your ballot off at a vote center starting March 29.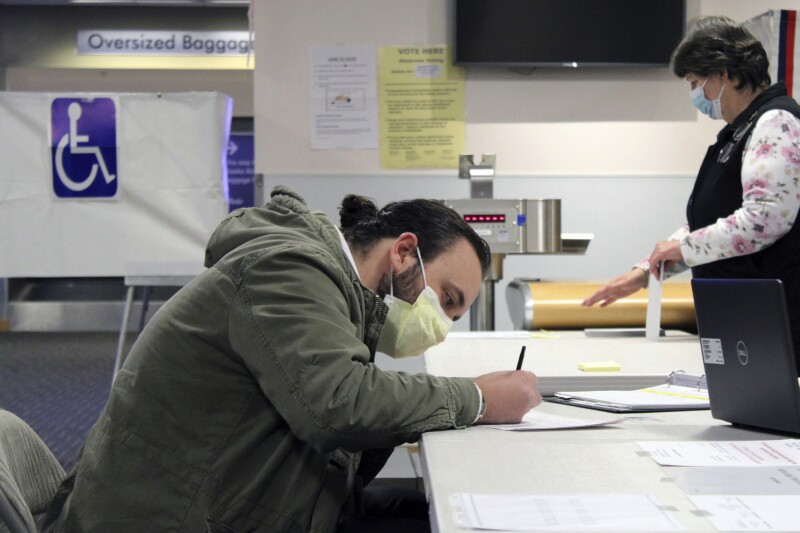 How do I register to vote?
You can register in three ways: through the state's online registration system; by downloading a registration form, completing it and mailing it to the state elections division; or by filling out a registration form at the Division of Elections, the Office of the Municipal Clerk, and other locations. Call beforehand because of potential COVID-19 restrictions. To vote in this year's election, you must have been registered by Sunday, March 7.


How can I get a mail-in ballot? Are there important deadlines?
Starting March 15, ballots will be mailed to residents' address of record in the State of Alaska voter registration database. You can check your address online or by calling the state voter hotline: 907-522-VOTE (8683). If you'll be at a different address, apply to have your ballot sent to you by printing and returning an application to vote at a temporary address. The municipal clerk's office must receive your application by 5 p.m. on March 30.

If you don't receive a ballot in the mail, call the voter hotline at 907-243-VOTE (8683). You can also visit an Anchorage Vote Center and use a voting booth if you lost, damaged or did not receive a ballot or if you need assistance voting. Another option is to bring your ballot to a Vote Center. But the city government recommends calling the voter hotline instead, to stay safe during the pandemic.

Ballots must be postmarked by Election Day or submitted to a drop box by 8 p.m. that day. You can apply to vote via fax or email; the deadline is 5 p.m. on March 30. Email Elections@AnchorageAK.Gov or call 907-243-VOTE (8683) for more information.


When is Election Day? When are the polls open?
Election Day is Tuesday, April 6. There's no in-person voting this year. Anchorage Vote Centers will open March 29 and close on Election Day at 8 p.m.


Can I vote in person before Election Day?
Yes, at an Anchorage Vote Center. City election officials, however, recommend voting in person on Election Day only if you need assistance, have an issue with your ballot or have other questions.


Do I need identification to vote?
If you go to an Anchorage Vote Center, you'll need to provide an acceptable form of identification, which could be a voter ID, driver's license or military ID. Visit Alaska's election website for a complete list of acceptable identification.


What is being done to make polling places safe from the coronavirus?
Social distancing and masks are required in election centers. Voters are encouraged to cast ballots by mail.


What races are on the ballot?
The election will be nonpartisan; party labels will not appear for candidates on the ballot:

Anchorage mayor: Bill Evans, Albert L. Swank Jr., Reza Momin, Bill Falsey, Heather Herndon, Anna Anthony, David Bronson, Jeffrey Brown, Jacob Versteeg, Mike Robbins, Forrest Dunbar, George Martinez, Darin Colbry, Joe Westfall, Jacob Seth Kern. Incumbent Austin Quinn-Davidson is not running.
Also of Interest: