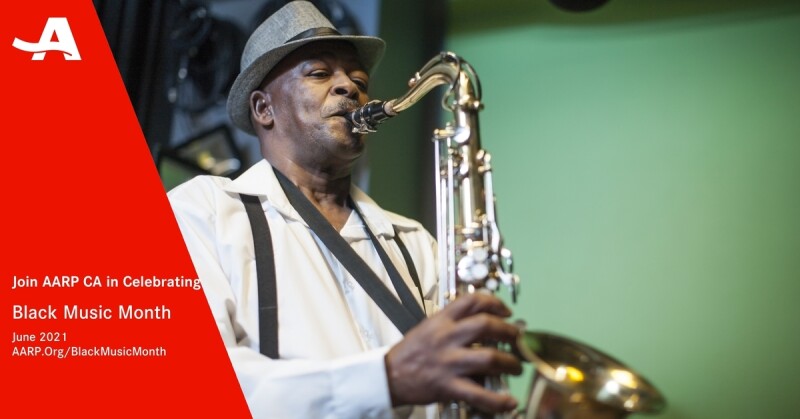 Black joy comes from the sound of our souls.

It's the sound of our resilience…
Our strength…

Our swag…

Our love for one another.

Our sound has kept the world in tune for decades.

From the way we express ourselves naturally, to the rhythm we add to the mix—Black music is so powerful, it inspires and influences the world.

AARP California is proud to celebrate Black Music Month with a series of artist interviews capped off by a week of virtual concerts with KJLH.

MICHAEL DOLPHIN June 3, 2021 at 11 A.M. PST
Conversation with California Volunteer Executive Council Members Juanita Dawson and Michael Dolphin about the impact of Black artists in the American music industry, Dolphins of Hollywood and Michael's exposure to the jazz scene.
Black Music Appreciation Michael Dolphin Interview
LALIN ST. JUSTE June 14, 2021 at 11 A.M. PST
Michael Dolphin interviews Lalin St. Juste, lead singer of the Bay Area genre-defying fan favorite group, The Seshen about musical influences, tapping into personal experiences, and what Black music means to her creative process.


Black Music Month: Lalin St. Juste Interview
TAMMY HALL June 17, 2021 at 11 A.M. PS

Tammy Hall discusses her accomplishments as a jazz pianist. This will also include special access to unlocked content for Tammy Hall from San Jose Jazz.


JOURNEY TO JUNETEENTH June 18, 2021 at Noon PST
Cal Poly San Luis Obispo's Dr. Thanayi Jackson will give an in-depth presentation on the significance of Juneteenth in the Black community and it's continued importance for all.

KJLH VIRTUAL CONCERT SERIES June 21-25, 2021

Legendary Los Angeles radio station KJLH will broadcast a series of virtual concerts hosted by DJ Kevin Nash. Listen to the full broadcasts below!

Michael Dolphin and Sam Cook

Leon Silvers III

Rose Royce

D Smoke




YVETTE M. DEVEREAUX June 30, 2021 11 a.m. PST
Wrap up Black Music Month with a very special conversation with Yvette M. Devereaux, a professional conductor, violinist, composer, arranger and music educator. She is the founder and artistic director of The Progressive Symphony and its educational component, The Progressive Arts Academy, based in Compton, California (where her mission was to bring quality training in the arts in communities of which may be underserved and underexposed). In 1995/1998 Dr. Devereaux appeared as guest conductor of the Los Angeles Philharmonic Orchestra at Dorothy Chandler Pavilion with the F.A.M.E. Choirs of Los Angeles.

Black Music Month: Yvette Devereaux