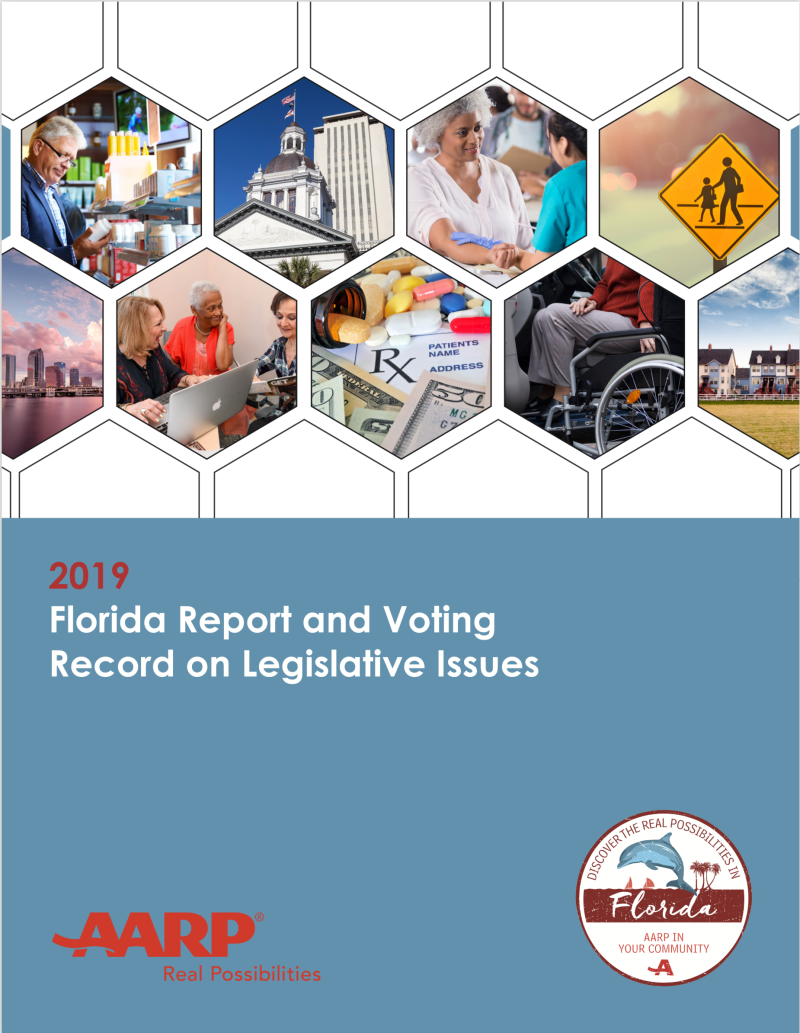 Download the 2019 AARP Florida Voting Record
Tallahassee, Fla. — Finding out how your state legislators voted in the 2019 Legislature just got easier with the release of AARP Florida's eighth annual Legislative Voting Record.
AARP Florida's 2019 voting record contains detailed, vote-by-vote information on key legislation in the 2019 Florida Legislature. During the 2019 session, AARP alerted legislators that AARP would consider their votes on certain proposals to be key votes for the 2019 voting record. And because key legislative decisions often occur at several stages during the long process of legislative consideration of a bill, the voting record tracks legislative committees' actions as well as final House and Senate votes.
"To hold your state House or Senate member accountable, you need to know how they voted on key issues," AARP Florida State Director Jeff Johnson said. "AARP Florida's Legislative Voting Record makes it easy for you to track legislators' decisions on key issues that matter to older Floridians."
The voting record details how legislators voted on key issues, including:
A bill to lower the minimum number of nursing homes care hours provided by certified nursing assistants. AARP succeeding in getting the legislation withdrawn, arguing that it did not contribute to high quality of care and safety of residents in the nursing homes. (SB 1088 HB 897) Debate over the legislation led to a new coalition that has brought together nursing homes, home- and community-based service organizations and aging-service organizations to improve long-term care in Florida, the Coalition for Silver Solutions.
A bill to safely import safe, affordable, FDA-approved prescription drugs into the state from Canada and other countries. It also outlines the importation process, safety standards, drug distribution requirements, and penalties for violations of program requirements. (SB1528 HB 19) The bill passed by strong bipartisan majorities in both the state House and Senate. AARP was among the key supporters of the legislation, as part of a nationwide initiative to bring down the high cost of prescription drugs.
A bill to make "texting while driving" a primary offense, meaning an officer can ticket a driver for texting while driving.(SB 76 HB 107) Previously, texting while driving was a "secondary offense," meaning that a law-enforcement officer would have to have a different reason for stopping a driver who was texting while driving. AARP Florida members strongly oppose texting while driving, according to AARP surveys.
A bill that introduced standards of practice for telehealth providers and permits them to deliver health care services in their respective scopes of practice.(SB 1526 HB 23) AARP supported the legislation.
Legislation creates an annual recovery clause that allow investor-owned utilities to collect costs for storm hardening as well as an additional return on equity. (SB 796 HB 797) AARP Florida opposed the legislation.
The voting record organizes information about legislative votes based on broad topics, such as the state budget, health care and supportive services, consumer protections and livable communities.
AARP
AARP is a nonprofit, nonpartisan membership organization that helps people 50+ have independence, choice and control in ways that are beneficial and affordable to them and society as a whole. AARP does not endorse candidates for public office or make contributions to either political campaigns or candidates. We produce AARP The Magazine, published bimonthly: AARP Bulletin, our monthly newspaper; AARP Segunda Juventud, our bimonthly magazine in Spanish and English; NRTA Live & Learn, our quarterly newsletter for 50 + educators; and our website, www.aarp.org. AARP Foundation is an affiliated charity that provides security, protection, and empowerment to older persons in need with support from thousands of volunteers, donors, and sponsors. We have staffed offices in all 50 states, the District of Columbia, Puerto Rico, and the U.S. Virgin Islands.

# # #