During these critical times, it is important that we do what we can to seek healthy behaviors. We can help each other thrive … even amid quarantine and physical distancing which can contribute to feelings of social isolation. Healthy living means we take care of ourselves and practice brain health, exercise, and healthy eating.

That's why we are bringing you tools, resources, expert advice, and fun fitness events. We are offering a variety of health classes designed to support any skill level. *New classes are regularly being added so check back often for updated programs and times.


Chair Yoga: Every Monday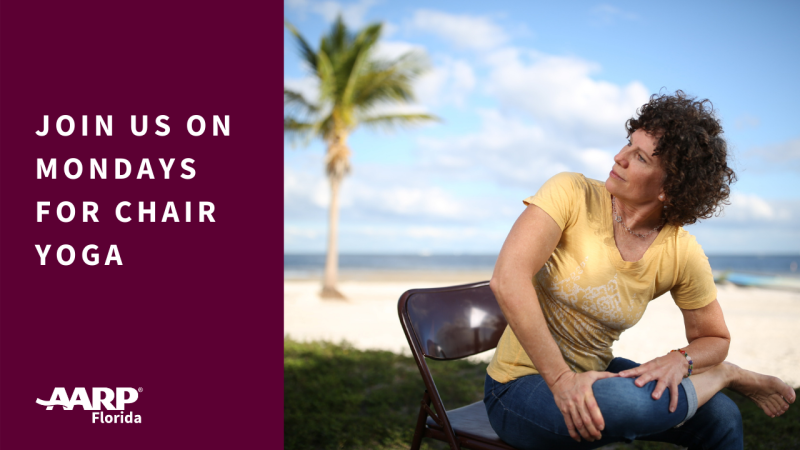 Chair yoga is conducted seated in a chair and standing, as the participant is able. Attendees need a straight chair (without wheels), a foam yoga block (or full roll of toilet paper), a folded sturdy blanket or bath towel, and a dish towel. This class helps to offset the body aches encountered with desk work, and to provide an accessible yoga class for bodies not able to easily get up from and down to the floor. No experience is necessary.


Every Monday from 9 -10 am ET. Register for class below.
Tai Chi Every Tuesday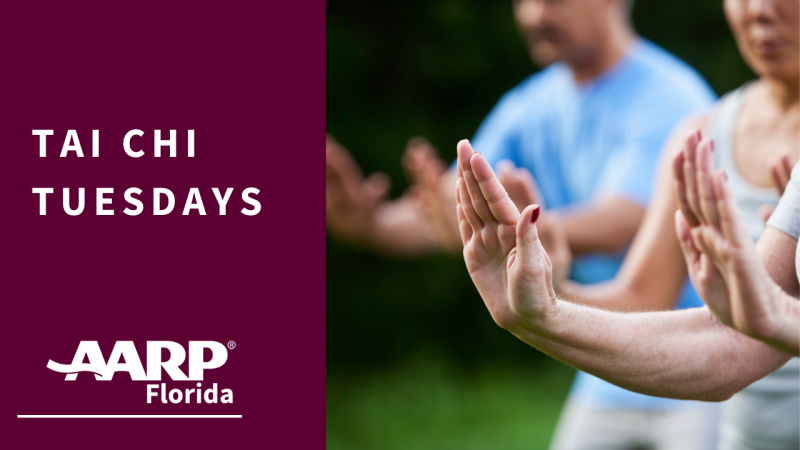 Join AARP Florida and friends from across the country for Tai Chi Tuesday. Tai chi, an exercise style based on martial arts, involves slow choreographed moves that can help lower blood pressure and build strength. Tai Chi can also help increase your energy and sense of well-being. We are continuing to offer safe and accessible classes for you that you can take at home.


Every Tuesday from 9:30 - 10:30 am ET. Register for class below.
Restorative Yoga: Every Wednesday at 9 am ET
Restorative Yoga is a rejuvenating, restful practice. You'll spend time relaxing your body and letting go in this gentle restorative class. The postures involve sitting comfortably on the floor, lying prone and supine, using props such as a yoga bolster or sofa cushion, pillows, blankets or thick towels, foam yoga blocks, and a yoga strap. You'll be guided into easy, passive postures that allow your body to melt away tension and stress. This is not an active or athletic session, but it is not accessible if you are chair-bound. Space is limited and pre-registration is required. A link to each class will be sent the day of the event.

First time doing restorative yoga? If you're wondering what to expect, watch a short video to get a better understanding of what this type of yoga is all about and the principles behind it including slowing down and opening up your body and mind through passive stretching. No work and minimal effort is involved! Click here or on the restorative yoga image for an overview.

Every Wednesday at 9 am ET. Register for class below.
Hatha Yoga: Every Thursday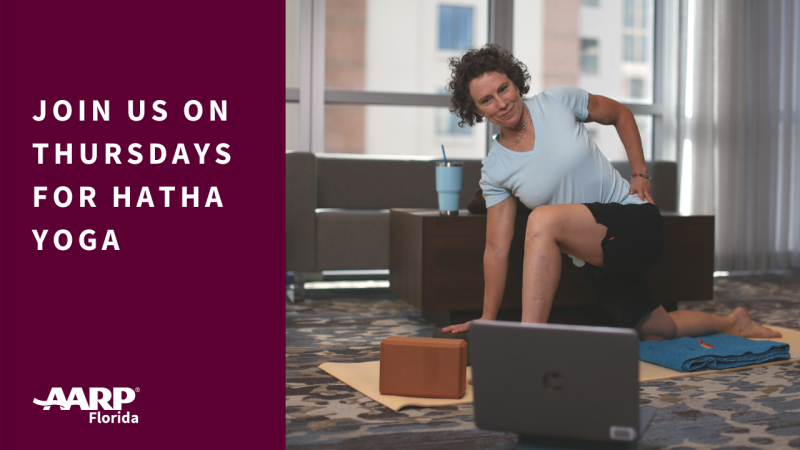 Hatha yoga is an alignment-based, full-body, active movement event, with standing, bending, reaching the floor, kneeling, sitting, and lying both prone and supine. Attendees should have a yoga or exercise mat, two foam blocks, sturdy blanket, strap or dishtowel. This class helps to increase strength through mobility, improve range of motion and endurance. Entry level yoga experience preferred, but not required.


Every Thursday from 6 -7 pm ET. Register for class below.
Dance Aerobics Every Friday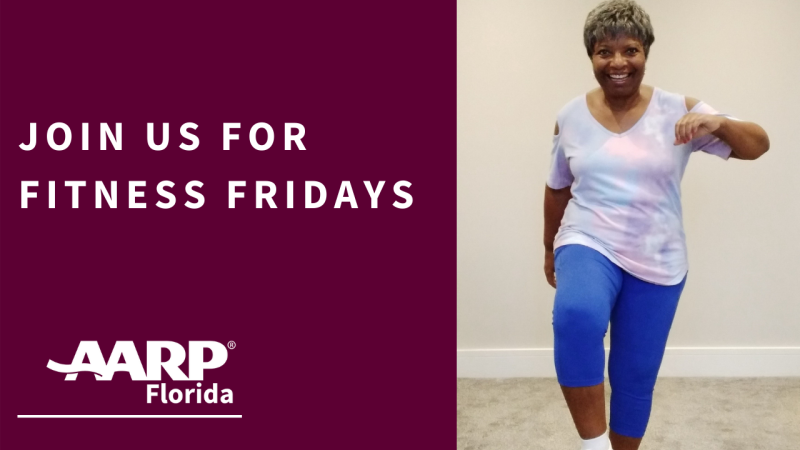 Join our weekly group fitness dance aerobics class. Dance aerobics is a low to moderate impact workout to energizing music for an overall cardio and strength workout. The primary purpose of Fitness Fridays is to increase your ability to perform daily living activities. Our instructors are trained professionals who will show you proper body mechanics and can be performed standing or in a chair. Fitness Fridays classes continue from June until December 17 (excluding Nov. 26). Dance aerobics classes begin Jun. 25.

Fitness Fridays every Friday from 9:30 -10:30 am ET
Register for class below.
Resiliency Workshops Every Friday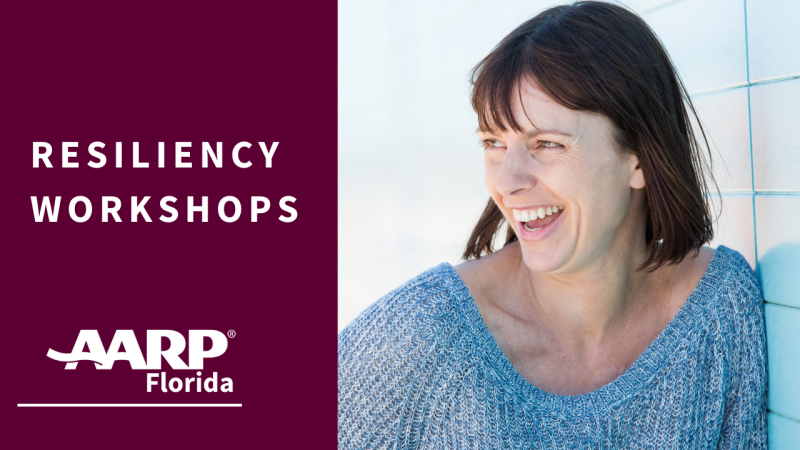 This series of 30-minute seminars inform and teach resilience skills for coping with life, and helps to bolster wellness while mitigating isolation. We will engage with you to discuss a variety of topics on well-being, fostering fellowship and connection. The format will be a mix of presentations, practical exercises and dynamic conversations that help hone your skills and give you the opportunity share ideas and laughter. Space is limited and pre-registration is required. A link to each class will be sent the day of the event.


Every Friday from 4:30 - 5:30 pm ET. Register for class below.

Reminder all these sessions free and you don't have to be an AARP member to enjoy a class. Registration is required and link will be sent to you before the class and all classes will be hosted on Zoom.

Chair Yoga Mondays from 9 - 10 am ET

Tai Chi Tuesdays from 9:30 - 10:30 am ET

Restorative Yoga Wednesdays from 9 am - 10 am ET

Hatha Yoga Thursdays from 6 - 7 pm ET

Fitness Fridays Dance Aerobics 9:30 am - 10:30 am ET

Resilience Workshops, Fridays 4:30 - 5:30 pm ET


Click any of the videos below for some exercise shorts hosted by exercise our instructor and check back often for future classes.


Click on image to select class