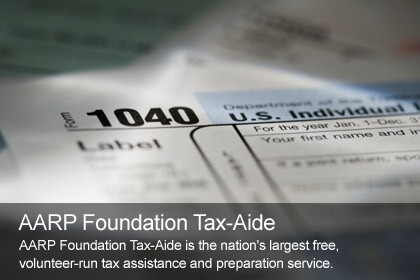 It's that time of year again -- tax time. More than 250 Iowa volunteers are ready and waiting to help older and low-income Iowans with basic federal and state tax returns, for free. AARP Foundation Tax-Aide, now in its 45thyear, is the largest volunteer-run, free tax preparation program in the country, and it operates right here in Iowa with more than 60 locations across the state.
"Last year, AARP Foundation Tax-Aide volunteers helped more than 30,000 Iowa residents with tax returns and questions," said Elmer Neussendorfer, volunteer Iowa State Coordinator for AARP Foundation Tax-Aide. "For those with low to moderate incomes, Tax Aide volunteers can help identify all the tax credits and deductions for which you may qualify,"
Trained in conjunction with the Internal Revenue Service, Tax Aide volunteers are well versed in tax rules. Because of this, AARP Foundation Tax-Aide consistently achieves a significant rate of repeat customers. In fact, surveys have found that 95 percent of our clients are very satisfied with the service, and 96 percent would be highly likely to recommend it to others needing assistance. And, yes, it is free.
Before meeting with an AARP Foundation Tax-Aide volunteer, taxpayers need to bring the following documents to meet with a volunteer counselor at an AARP Foundation Tax-Aide site:
•Copy of last year's income tax returns;
•W-2 forms from each employer;
•Unemployment compensation statements;
•SSA-1099 form if you were paid Social Security benefits
•1099-HC form if you have private health insurance;
•All 1099 forms (1099-INT, 1099-DIV, 1099-misc.,) showing interest and/or dividends as well as documentation showing the original purchase price of your sold assets;
•1099R forms if you received a pension or annuity;
•All receipts or canceled checks if itemizing deductions.
To find a Tax-Aide location in your community, call 888-AARP-NOW (888-227-7669). A listing of sites in the Des Moines metro area follows below:
These Polk County AARP Tax-Aide sites are open from February 3 to April 15, 2014:
Eastside
East Side Library
2559 Hubbell, Des Moines 50317
(10 am – 4 pm, Wednesdays)
Pleasant Hill Library
5151 Maple Drive, Pleasant Hill 50327
(10 am – 2 pm, Wednesdays)
Westside
Urbandale Library
3520 86th St., Urbandale 50322
(noon - 3:30 pm, Mondays through Thursdays)
Urbandale Senior Center
7305 Aurora Ave., Urbandale 50322
(By appointment, call 278-3907)
West Des Moines Human Services
318 Fifth St., West Des Moines 50265
(noon – 3 pm Tuesdays, Thursdays & Fridays)
Northside
NW Community Center
5110 Franklin Ave., Des Moines 50310
(11:30 am – 3:15 pm, Mondays, Wednesdays & Fridays)
Southside
Fellowship Hall/PACC
3301 S.W. 9th St., Des Moines 50315
(9 am – 2 pm, Saturdays &
6 pm – 9 pm, Thursday evenings)
Southside Senior Center
100 S.W. Payton Ave., Des Moines 50315
(11 am – 4 pm, Wednesdays)