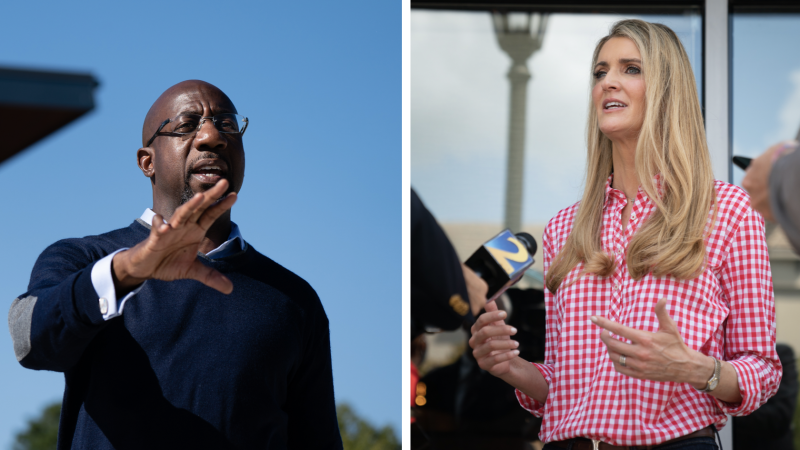 Both of Georgia's U.S. Senate seats will be on the ballot in November, and the special election to fill the seat vacated by retired Republican Sen. Johnny Isakson is shaping up to be a close one.

Leading the Republican field is Sen. Kelly Loeffler, who joined the congressional upper chamber in January after Gov. Brian Kemp (R) appointed her to replace Isakson. On the Democratic side, the Rev. Raphael Warnock, of Atlanta, is the frontrunner.

To understand how they plan to protect Social Security and Medicare, stimulate the economy, lower prescription drug prices and ensure that Americans have access to affordable long-term care, AARP Georgia asked each candidate to answer five key questions in 60-second videos. AARP also reached out to the campaigns of Republican Rep. Doug Collins and Democratic candidate Matt Lieberman, who are also running in the special election. Neither campaign responded with answers to AARP's questions.

Here are Loeffler's and Warnock's responses, with transcripts:

1. Social Security is a self-financed, off-budget program that half of all seniors rely on for more than 50 percent of their income. If elected, how will you ensure that current and future Social Security benefits are not cut as part of deficit reduction?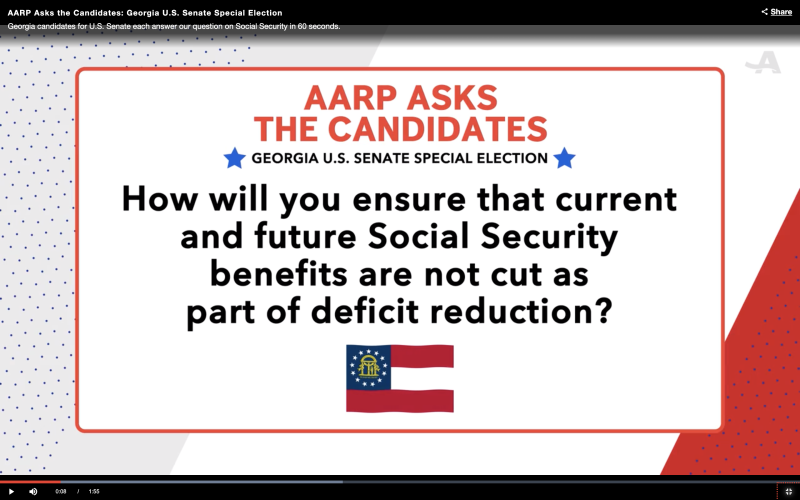 Question 1: Social Security
Loeffler: No matter how we move forward with this program, under my watch, we will never cut funding for seniors who depend on it. Look, we made a promise to Georgia's seniors, and we need to preserve those benefits for people who are close to retirement or in retirement. But the fact is, our system is in trouble. You know, that's thanks to career politicians who failed us. They treat Social Security like a slush fund, and they spend the money, instead of saving it for seniors. So let me be very clear: We should not privatize Social Security, but we do need to address the long-term solvency of Social Security in a way that cuts waste, that maximizes efficiencies and guarantees earned benefits for our great seniors.

Warnock: Let's be very clear: A budget is not just a fiscal document; it's a moral document. It speaks to the covenant we have with one another as an American people. It says something about who we think is important and who's not. And I've always been someone who has tried to champion the causes of ordinary people. And in that spirit, I will defend Social Security and Medicare. Time and time again, we've seen those in Washington willing to give trillion-dollar tax cuts to their corporate friends while sacrificing the future of Medicare and Social Security in the process. I'll stand up to that, and I'll stand up against any effort to raise the age for Social Security or to privatize its benefits.

2. On average, health care already accounts for $1 out of every $6 spent by seniors. If elected, how will you protect Medicare from benefit cuts, lower health care costs and ensure seniors continue receiving the affordable care they have earned?
Question 2: Medicare
Warnock: One of the things that the COVID-19 pandemic has brought into sharper focus is the need for a health care ecosystem that embraces all citizens, particularly the most vulnerable. And in that spirit, states like Georgia need to expand Medicaid, and we need to protect Medicare. This is something that I will champion in the United States Senate. I will stand up against any effort to raise the age of eligibility. And we have to make sure that Medicare is there, providing affordable, accessible health care, and that we keep the price of prescription drugs within control.

Loeffler: My number one goal is to make sure that our seniors have better access to quality, affordable health care in this country. And no matter how we move forward with Medicare, I will never cut funding for seniors who rely on it. You know, the Democrats, however, are pushing a dangerous "Medicare for All" system that would really bankrupt our country, on top of increasing health care costs, reducing health care coverage and decreasing the quality of care that is relied upon every single day. So, look, we need to look at ways to increase the efficiency in the current system, cut waste, use free market solutions to drive down the cost of health care while increasing affordability and quality. And President Trump has taken historic actions to lower drug prices using exactly these principles, bringing more competition to the market, cutting out the middleman insurers. And thanks to his efforts, we've already seen tremendous progress in lowering drug prices, reducing out-of-pocket costs for seniors and other benefits. And so using free market solutions like these, we'll continue to see progress in this fight for more accessible and affordable health care.

3. Unemployment during the coronavirus crisis reached the highest levels since the Great Depression, and older Americans have been disproportionately affected. If elected, how will you help Americans over the age of 50 recover economically from the effects of the coronavirus?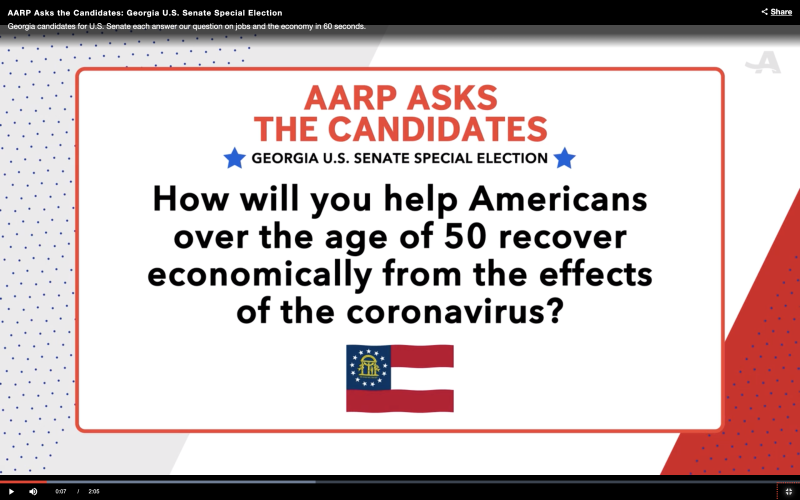 Question 3: Jobs and the Economy
Loeffler: Our country is already on the road to recover, thanks to the efforts of President Trump, and this includes his landmark Paycheck Protection Program, his efforts to defer tax burdens on individuals and on businesses, and many other major investments in our communities across the country. Obviously, there's still more work to be done. We've got to fully open our economy, get employees back to work. We've got to make strong commitments to bringing manufacturing back to American shores. And we've got to incentivize investment in American business. I introduced my Beat China Act — to move our supply chains for medical products, pharmaceuticals back onto America's shores — to reduce costs and reduce our dependency on foreign countries for health care and related products. So, moving forward, we need to keep cutting regulation, encouraging American investment, lowering taxes and allowing free markets to restore prosperity and opportunity for all.

Warnock: I think this extraordinary time we're living in underscores the importance of the social safety net. And Social Security is part of that. We have to protect it. We have to make sure that the people who can't work have the benefits they need. And we have to make sure that when people are unemployed, that unemployment insurance benefits are there. The last thing we want is seniors having to dip into their pensions in order to fend off poverty. So this is the work that government can uniquely do, and certainly I intend to stand up in the Senate and protect the most vulnerable in our society.

4. Americans pay the highest prescription drug prices in the world. If elected, how will you cut prescription drug prices for all Americans?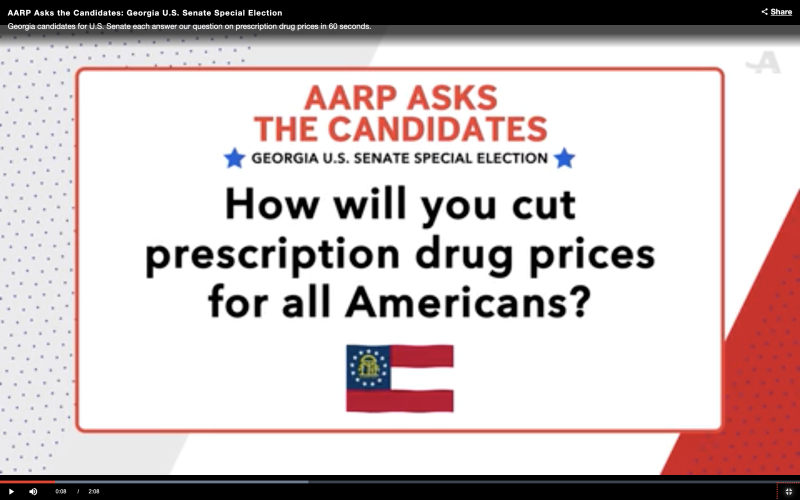 Question 4: Prescription Drug Prices
Warnock: The high cost of prescription drugs is a shining and sad example of the outsized influence of corporate interests in our politics. Not only has Big Pharma raised the price of generic drugs — in some cases tenfold — they've also made it difficult for us to create a larger system in which generic drugs could lower the overall cost of prescriptions. In addition to that, Medicare ought to be able to negotiate for lower prescription drugs, and the VA does this right now. It's very effective. It's cut the cost of prescription drugs in half. Why can't we do it for Medicare? In addition to that, we've got to address the impact of monopolies on the system. We need more options. Consumers deserve more options. And with all of these tools, we can lower the cost of prescription drugs.

Loeffler: Every Georgian should have access to high-quality, affordable care, and delivering on that is my top priority. Once again, the path to that future will require that we reduce regulation, increase competition and cut waste. As I mentioned, President Trump has taken historic action already to lower drug prices using exactly these principles, bringing more competition to the market, cutting out the middleman insurers, for example. In comparison, the socialist Democrats want "Medicare for All," which would mean less choice in the insurance market, worse care and more expensive doctor visits. So I'll always fight against their radical agenda and continue to work with President Trump to push forward with his historic progress toward more affordable, better care.

5. COVID-19 has caused death and suffering for too many older Americans who require long-term care. If elected, how will you make sure seniors can access safe and affordable long-term care at home and in nursing homes and assisted living facilities?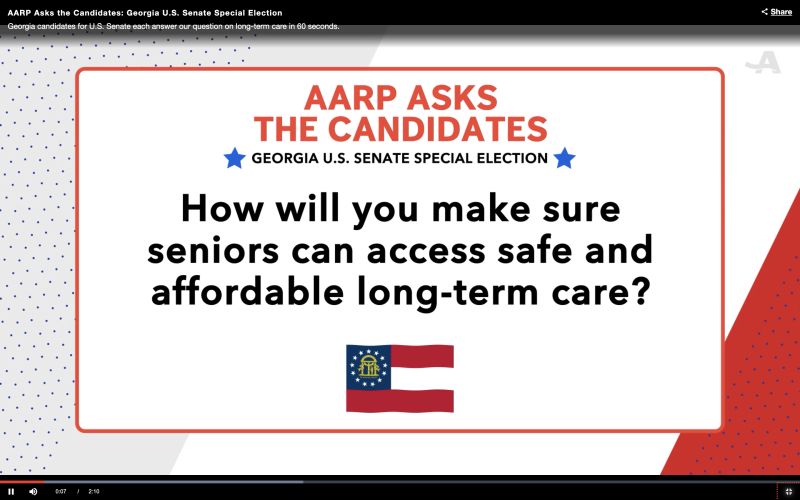 Question 5: Long-Term Care
Loeffler: As Georgia's newest senator, I've worked hard throughout COVID-19 to ensure that our nursing homes and long-term care facilities have access to the funding and the support that they need to keep serving our seniors, especially those in rural Georgia. I worked tirelessly with the health care community to understand their requirements and quickly built relationships in the administration and with providers to connect them to the resources that they need. But the key to improving health care long term for our seniors — and, really, for all Georgians — is using free-market solutions to increase affordability, to improve health care and to lower costs. And as someone with three decades of business experience, I know firsthand how important that is. So, for our nursing homes, for our long-term care facilities, we've got to look at tort reform and other ways to eliminate burdensome regulations that slow down access and reduce quality. So we have to put the needs of our patients and residents first.

Warnock: We know that Medicaid is the biggest payer of long-term care services such as nursing homes and assisted living facilities. Sadly, here in the state of Georgia, we've refused to expand Medicaid. As a United States senator, I will be working hard to expand Medicaid funding and to help our state leaders to see that we have to expand Medicaid here in Georgia. We've got to strengthen the Affordable Care Act so that we can ensure that our rural hospitals stay open, that we can hire long-term care workers and that people with preexisting conditions will have coverage. Providing health care for everybody is the number one thing we have to do in this pandemic and in the days ahead.

AARP is committed to ensuring voters have the information they need to cast their ballot this year. That is why we are publishing the AARP Asks the Candidates voter guide series, so candidates can share their plans on issues important to 50-plus voters.

AARP has a proud 34-year history of non-partisan voter engagement and does not endorse or oppose candidates or make contributions to political campaigns or candidates.

Also of Interest