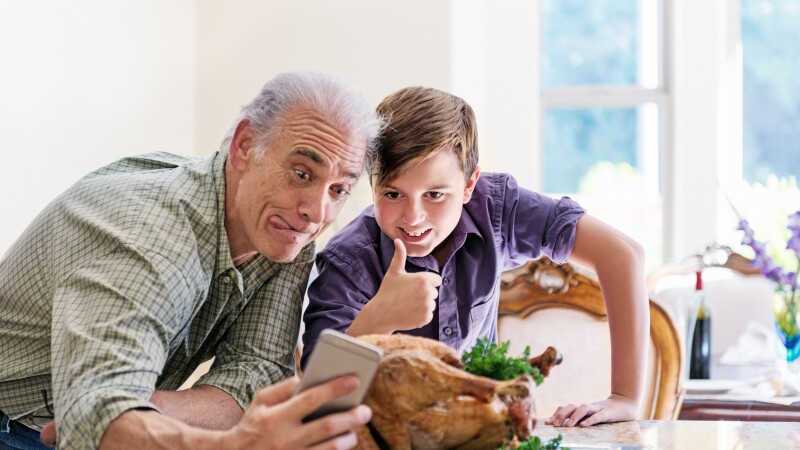 Are you thinking about planning a virtual Thanksgiving? We want to help! AARP Iowa has put together these helpful resources for you to host a fun and meaningful gathering of loved ones.

1. Determine Your Virtual Location
Maybe your family has been having regular meetings, and you know just where to go, but if not, there are some great options out there. Follow this link to an AARP round up of 5 Ways to Video Chat. The location you choose will depend on how many people you expect and the kind of devices your group uses. Whatever you choose, if you are new to this, make sure to find a tech buddy to help you and your guests with any technical issues that might arise. You can use our virtual event signal cards to keep your event on track.

2. Send Your Invitations
Even if you can't all be together, you can create anticipation for your virtual gathering with an invitation. Invitations can be formal and through the mail or more informal by email or text message. Like any invitation, make sure to include the date, time and, most importantly, the virtual location you selected. If you're inviting someone who might need some help with technology, assign your tech buddy to help them out.

3. Decide on Food and Drink
Maybe your traditional Thanksgiving includes a groaning table of family favorites, but your virtual celebration doesn't have to fall short. Perhaps everyone can order from the same restaurant or prepare the same menu. Or open the same can of cranberry sauce. You could send a signature cocktail recipe with your invitation. Or even prepare a batch of grandma's best peanut blossom cookies and send everyone a care package.

4. Make It Fun
You won't all be in the same room, but you can still make your event fun. You can get creative and play many games your family already loves. Check online for apps and other games sites that create a fun experience virtually. We've created some games based on tried and true favorites. Click on these links to get virtual game guides.
Most Likely to....
Name, Place, Animal, Thing
Virtual Scavenger Hunt
Virtual Thanksgiving Bingo

5. Make It Special
Remember to take some time to enjoy seeing your family all together, even if it's virtually. Does your family have a traditional prayer or song? Do you like to reminisce about a favorite holiday story? A brief sentimental moment could make your event one to reminisce about for future generations, or perhaps create a new tradition.

Whether you're gathering family virtually from around the block or across the country, take some time during your virtual Thanksgiving to give thanks, and remember that being virtual is only temporary. From our AARP Iowa family to yours, Happy Thanksgiving.

Additional Resources:
Families weigh the options and risks of gathering, through a pandemic lens.