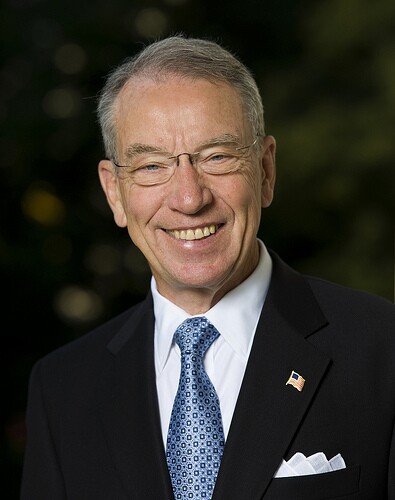 Des Moines, Feb. 11 – Today AARP Iowa, the Iowa Department on Aging, the Iowa Office of the State Long-Term Care Ombudsman, and the Iowa Association of Area Agencies on Aging join together to thank Iowa Senator Chuck Grassley for co-sponsoring S. 192, reauthorization of the Older Americans Act (OAA). Senator Grassley signed on as a co-sponsor on February 5, 2015.

"As organizations who work with older Iowans, we stand together in thanking and commending Senator Grassley for his leadership and support of this broadly bipartisan and balanced bill that reflects the culmination of more than three years of bipartisan work," said Kent Sovern, AARP Iowa State Director. "AARP supports the pragmatic approach this bill takes to continue to provide services and programs to help older Iowans live with independence in their homes and communities, and we applaud Senator Grassley for his support for older Iowans by co-sponsoring this crucial legislation."

"As Iowa's network of support for older Iowans and care givers, the Area Agencies on Aging support and appreciate the efforts of Senator Grassley and all of Iowa's legislative delegation for their efforts on behalf of Iowans. The Older Americans Act provides the foundation that allows Iowa to continue to be a great place to for Iowans to call home." from Mike Isaacson, Chair of the Iowa Association of Area Agencies on Aging.

"Long-Term Care Ombudsmen have a unique and important role in the long-term care system. The Older Americans Act authorizes Ombudsmen to act as advocates for people who live in nursing homes and assisted living programs. Iowa's Office of the State Long-Term Care Ombudsman supports reauthorization, including the provisions that guarantee residents have unimpeded access to independent Ombudsman services and are protected from abuse, neglect and exploitation," said Deanna Clingan-Fischer, Iowa State Long-Term Care Ombudsman

"The Iowa Department on Aging is pleased to see movement on the reauthorization and will work closely with both Senator Grassley and Senator Ernst as the bill moves forward to ensure the needs and interests of older Iowans and their caregivers are recognized," added Donna Harvey, Director of the Iowa Department on Aging.

Since it was enacted into law in 1965, millions of our most vulnerable older Iowans have relied on the services provided by the OAA for their health and economic security. These services help older Iowans live independently by:

Supporting nutrition programs, including home delivered meals, congregate meals, and senior centers;
Providing home and community-based services, including preventive health services and transportation assistance;
Assisting family caregivers with information and referral, counseling and respite care;
Preventing and detecting elder abuse by funding Long Term Care Ombudsmen; and
Providing part-time community service employment and training.

About Iowa Association of Area Agencies on Aging

i4a is a non-profit trade association made up of six Area Agencies on Aging (AAA) in Iowa, which provide information and education about care options for older Iowans, persons with disabilities and their caregivers allowing them to remain in their homes regardless of income or preparing for other long-term care options.

About Iowa's State Long Term Care Ombudsman Office

The mission of the Office of the State Long-Term Care Ombudsman is to protect the health, safety, welfare, and rights of individuals residing in long-term care by investigating complaints, seeking resolutions to problems, and providing advocacy with the goal of enhancing quality of life and care.