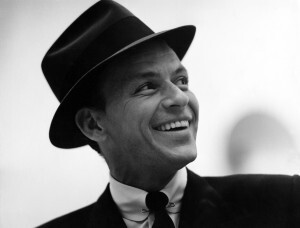 Celebrations are underway throughout the country to commemorate the December 12, 1915, birth of Frank Sinatra, from Los Angeles to Chicago to New York and, just across the Hudson River, Sinatra's birthplace of Hoboken, New Jersey. Here in Portland, Maine, the restaurant Crooners and Cocktails, which honors the music and mystique of Sinatra and his mid-century peers, plans a black-tie affair on December 12 with proceeds benefiting the Toys for Tots organization.

To borrow the title of one of Sinatra's many major hits, 2015 has been "a very good year" for Sinatra lovers. Frank Sinatra: All or Nothing at All, a four-hour documentary by acclaimed director Alex Gibney, began airing in April on HBO and was recently released on DVD and Blu-ray. Several biographies and tribute books have been published, including the second volume of a two-part biography by James Kaplan and the official centennial book, Sinatra 100, by Charles Pignone, featuring contributions by Tony Bennett and Sinatra's three children, Nancy, Frank Jr. and Tina.

Foremost among several new music releases is Frank Sinatra: A Voice on Air, a four-CD set containing over 100 radio performances, most previously unreleased, including his oldest surviving recording, from 1935, on Major Bowes' Amateur Hour, and later duets with Nat King Cole, Doris Day, Peggy Lee and Johnny Mercer. Contemporary performers will salute Sinatra on CBS this Sunday, December 6, with Sinatra 100: An All Star Grammy Concert, with scheduled appearances by Harry Connick Jr., Alicia Keys, Lady Gaga, John Legend, Adam Levine, Carrie Underwood and Usher.

Throughout the mid- and late 20th century the voice of Frank Sinatra was ubiquitous on record, radio, film and television. He was unquestionably one of the major musical forces of his era. Nearly twenty years after Sinatra "faced the final curtain," to borrow from another hit, we continue to hear that unmistakable sound through the careful efforts of those preserving his legacy.

The official Frank Sinatra website is Sinatra.com.