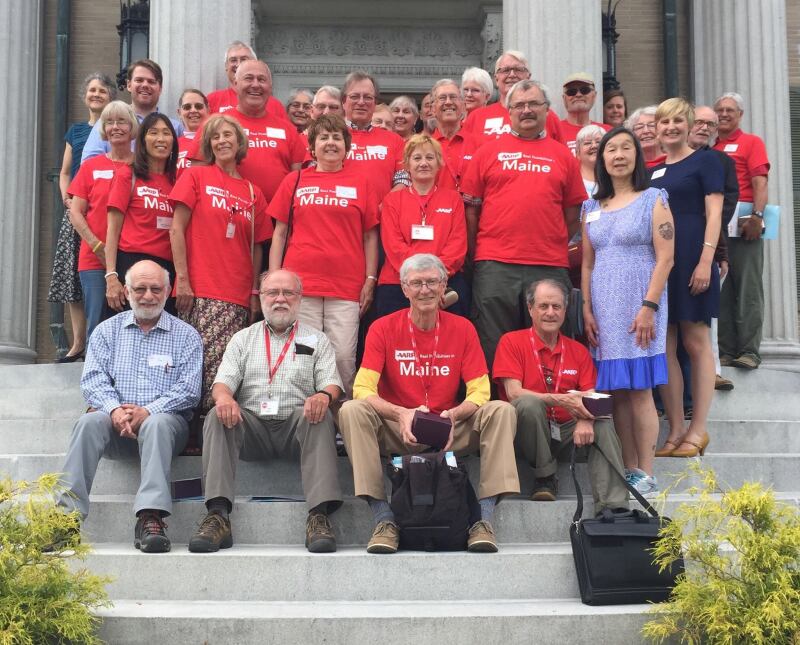 AARP Maine Tuesdays at the State House is an easy and accessible way for AARP members to participate in the legislative process and to become more familiar with the workings of the Maine State House.
Interested in our legislative agenda for 2019? Read our state platform here: 687104 ME 2019 Issue Platform Flyer . We also have a helpful infographic: AARP Maine 2019 State Issue Platform Infographic
Looking for other volunteer opportunities? See below or click here for our brochure: Maine State Volunteer Brochure 2019 !
Beginning the week of January 22, meet at 9:30 a.m. in the Maine State Library conference room ("The Studio") on the ground level of the library. The Maine State Library is located at 230 State Street in Augusta and opens at 9 a.m.
We will go together to the State House to observe the House and Senate, attend committee hearings, learn about the issues impacting Mainers 50-plus, and meet with your state legislator.
Mileage and lunch at the State House cafeteria are provided by AARP Maine.
All are welcome. No registration is required. Contact Amy at 207-776-6303 or agallant@aarp.org with questions.
Join us on the following 2019 dates from 9:30 a.m.–2 p.m.*
January 15, 22, 29
February 5, 12, 19, 26
March 5, 12, 19, 26
April 2, 9, 16, 23, 30
May 7, 14, 21, 28
June 4, 11, 18, 25
*In case of inclement weather, please check your local storm cancellation listings or AARP Maine's Facebook page (@aarpmaine) for a Tuesday at the State House cancellation notice. If the State House and/or the State Legislature is cancelled or delayed due to winter weather, Tuesdays at the State House will be cancelled that day.
Interested in sharing your experience and talents as a volunteer (but don't live near Augusta)?
You have a lifetime of experience to offer. Why not share your talents right here in Maine? Through outreach, advocacy and service, AARP volunteers and staff work together to enhance the quality of life for Mainers of all ages. Whether it is behind the scenes supporting the daily work of AARP Maine or lending a hand directly to others in Maine communities, we offer a range of opportunities!

Local Advocates

Our advocacy program gives you a voice on the issues that matter most to your family, friends and community such as health care, caregiving needs and fair utility costs. Volunteer advocates engage legislators, deliver testimony, and support important state and federal issues that impact the health and financial security of Mainers over 50. Let's work together to bring positive changes to Maine in communities everywhere.

Community Engagement

Fun with purpose is a theme for our community work around Maine. Community engagement volunteers work together with local residents, community leaders, and organizations to host events (such as our free coffee and on-tap social events), support community projects and share information and resources -- a perfect way to make a difference in towns across Maine!

Speakers Bureau

We are always looking for outgoing volunteers who can represent us around Maine. We'll work with you and give you the resources you need to give simple presentations to groups and organizations on a variety of topics including Social Security and Medicare, livable communities, fraud protection and more.

Online Advocate

Would you like to stay connected with AARP Maine through email and social media? Join a growing group of Mainers who have become the voice for the 50-plus online! With our brief email alerts, you'll be in the loop on local events and statewide issues. Liking us on Facebook (facebook.com/aarpmaine) and following us on Twitter (@aarpmaine) are easy ways to stay connected to our local opportunities. Every voice makes a difference on the critical issues we address on behalf of our members and their families.

Behind the Scenes

If you prefer to work behind the scenes, AARP Maine offers a variety of ways to get involved. From mailing parties to member phone banks and event preparation, we welcome your time and talents.

Would you like to learn more about volunteering with AARP Maine?

Getting started is easy!



Get Involved in Maine

AARP volunteers find that giving back to their community maximizes their enjoyment of life. For more information, call toll-free 1-866-554-5380 or email me@aarp.org.



AARP Maine
53 Baxter Boulevard, Suite 202
Portland, ME 04101
Toll-free: 1-866-554-5380
www.aarp.org/me
www.aarp.org/volunteerme
Facebook: facebook.com/aarpmaine
Twitter: @aarpmaine