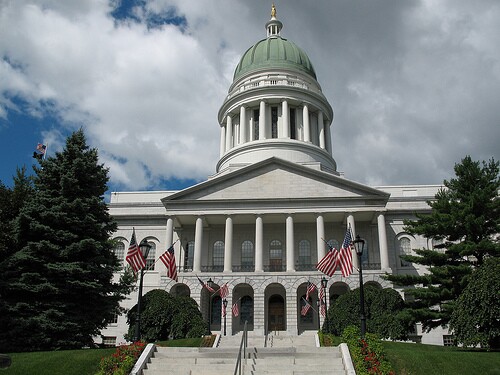 RELEASE: 05/01/14
Contact: Lori Parham (207) 400-1026 lparham@aarp.org
Jane Margesson (207) 229-5628 jmargesson@aarp.org

AARP Maine Again Disappointed with Failure of Legislature to Override Governor's Veto of Medicaid Expansion
Pledges to Keep Fighting for Access to Health Care Coverage for Older Adults

PORTLAND: AARP Maine, a leader of the Cover Maine Now coalition, expressed disappointment today that the Maine legislature was unsuccessful in overriding Governor Paul LePage's veto of both LD 1578 and LD 1640, bills calling for the expansion of affordable health care services under the Affordable Care Act.
"On behalf of our 230,000 members in Maine, AARP is deeply disappointed that the Maine legislature was unable to work together in the spirit of bi-partisanship to override the Governor's veto of these two bills," said Rich Livingston, AARP Maine Volunteer State President. "Our legislature missed a critical opportunity to overcome political bickering with the result that thousands of at-risk Mainers will not gain access to the health care coverage they need."
Under the Affordable Care Act, states can accept federal dollars to help residents with incomes less than 138 percent of the federal poverty level gain access to Medicaid health coverage. With the Governor's successful veto of LD 1578 and LD 1640, 69,500 uninsured Maine people will not qualify for health care coverage in Maine. Of the Mainers who would have benefitted, more than 16,300 are people age 50-64 who have lost their jobs or are working in jobs without health benefits.
"The 50-64 year olds who have now lost their potential access to health care are Mainers who worked hard and paid into the system through state and local taxes all their working lives," said Livingston. "The fight for access to affordable health coverage, however, is not over. AARP Maine will not give up working to ensure that people 50-64 have access to the health care coverage they need."
Cover Maine Now, a statewide coalition of nearly 100 organizations including American Nurses Association – Maine, Catholic Charities of Maine and Maine Chapter American Academy of Pediatrics, has been pushing for the expansion of Medicaid and has raised awareness statewide regarding the economic benefits of extending health care services in the state. Under the Affordable Care Act of 2010, the federal government would pay the entire cost of covering newly eligible individuals for three years beginning in 2014 and 90 percent starting in 2020. The expanded health coverage would provide access to both primary and preventive care such as medical screenings.
"Following the successful veto of LD 1478 earlier this month, today's news is devastating for Mainers who have once again lost the chance to benefit from the state's acceptance of federal funds, already allotted to Maine, to expand affordable health care services," said Livingston. "It is important to remember that older individuals are more likely to face the onset of health conditions which, if left untreated, could inevitably impact their productivity and increase their need for more expensive acute care treatments in the future."
For more information, go to www.covermainenow.org
30-30-30
AARP is a nonprofit, nonpartisan organization, with a membership of nearly 38 million, that helps people turn their goals and dreams into real possibilities, strengthens communities and fights for the issues that matter most to families such as healthcare, employment and income security, retirement planning, affordable utilities and protection from financial abuse. We advocate for individuals in the marketplace by selecting products and services of high quality and value to carry the AARP name as well as help our members obtain discounts on a wide range of products, travel, and services. A trusted source for lifestyle tips, news and educational information, AARP produces AARP The Magazine, the world's largest circulation magazine; AARP Bulletin; www.aarp.org; AARP TV & Radio; AARP Books; and AARP en Español, a Spanish-language website addressing the interests and needs of Hispanics. AARP does not endorse candidates for public office or make contributions to political campaigns or candidates. The AARP Foundation is an affiliated charity that provides security, protection, and empowerment to older persons in need with support from thousands of volunteers, donors, and sponsors. AARP has staffed offices in all 50 states, the District of Columbia, Puerto Rico, and the U.S. Virgin Islands. Learn more at www.aarp.org.
Photo: Flickr Fusion Panda