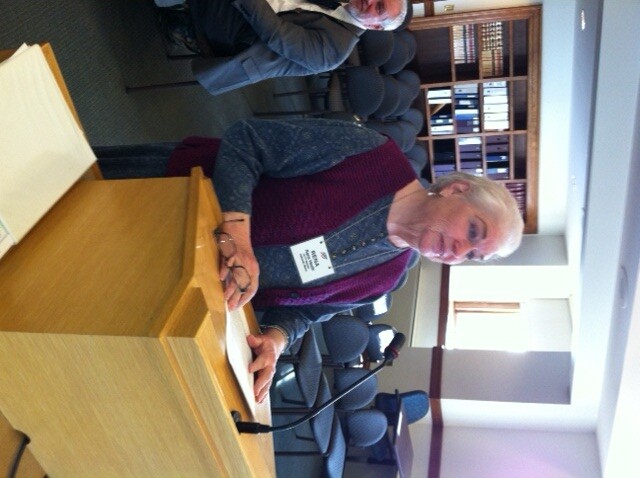 AARP Maine is committed to helping all Mainers and their families through strong advocacy, outreach and education efforts.
Working hand-in-hand with advocates at the state house and beyond is part of that commitment. Following the November elections, we are excited to build upon that momentum and recruit advocates for the legislative session in 2015. Check out our exciting agenda!
Why is this important? In Maine, almost 1/3 of Mainers 65+ on Social Security rely on their benefit for 100% or more of their income. We anticipate an extremely tough legislative session this year as budgets will be tight. Health and financial security will be top of mind for many of our most at-risk residents. AARP needs to raise awareness about the work we do at the State House on behalf of our members, fighting for programs and services upon which many Mainers rely. Please take a look at our legislative agenda and see which issues are of most concern to you and your family.
With the 2015 legislative session underway, AARP Maine would like to recruit new advocates who are willing to take an active role in speaking up on behalf of all Mainers at the state house in Augusta and through their own state legislators at home.
Who are we looking for? Any member or Maine resident who would like to work with AARP and help us raise the voices of all Mainers through advocacy initiatives in 2015. AARP Maine is actively expanding its advocate base to augment AARP's presence at the state house and to increase advocacy activities throughout Maine.
AARP Maine will train and work with all new volunteers to make sure they become a successful and engaged member of our team. You do NOT need to live near Augusta to be an advocate! There are many ways to get involved no matter where you live in the state and no matter how much time you have to give.
What to do if you are interested in working with us: Please either email us at me@aarp.org or call Japhet Els at 1-207-776-6302 to learn more
This is an opportunity to play a key role in AARP's efforts to foster positive change in Maine and to reach out to like-minded individuals and organizations.
We need people who are:

Proactive in their community
Dedicated to protecting Social Security and Medicare
Committed to creating positive change in Maine
Interested in engaging community leaders and organizations
Ready to raise awareness about programs and services of paramount importance to older Mainers
AARP is strictly nonpartisan and not-for-profit. AARP has 231,000 AARP members in Maine and nearly 38 million nationwide. We were founded in 1958 by Dr. Ethel Percy Andrus, one woman who was determined to make a difference in the lives of others. Her motto, "to serve, not to be served" is her legacy and AARP continues to champion that philosophy.
What can you help us achieve next? Call us today! Please either email us at me@aarp.org or call Japhet Els at 1-207-776-6302 to get involved.
0000016b-01a0-dd13-abeb-61ef5cbc0000
http://www.youtube.com/watch?v=eCdlDARir6U
[/youtube]
Photo: AARP Maine Staff and istock