FOR IMMEDIATE RELEASE: 02/03/2015
PORTLAND: AARP Maine is responding tonight to Governor Paul LePage's State-of-the-State address delivered this evening in Augusta.
"On behalf of our more than 230,000 members across Maine, AARP expects all of our elected leaders in Augusta to come together to best serve Maine people," said Lori Parham, AARP Maine State Director.
"The Governor has put forward a spirited set of proposals when it comes to issues that impact the 50+ community here in Maine," said Parham, "and there are aspects that we're concerned about but will look at more closely over the coming weeks."
AARP Maine raised questions about the Governor's tax reform proposal and its claimed benefits to Mainers 50+. The proposal would eliminate the Earned Income Tax Credit (EITC) which helps many low and middle income workers. "Many of our members are still working," Parham said. "The EITC provides needed tax relief." The proposal would also provide tax relief in the form of additional homestead exemptions to Mainers 65 and older, yet those under 65 would lose out. "AARP supports broader property tax relief for working families and retirees," Parham said. "Many of our members statewide supported and benefited from the successful circuit breaker program. We look forward to seeing more details on proposed tax reforms over the next few weeks."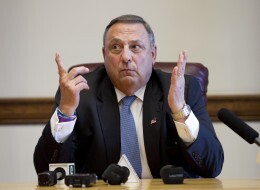 AARP Maine's most recent state survey released just last summer, showed strong support for letting Mainers "age in place." Nearly three-quarters of Maine registered voters age 50 and older think funding services that enable seniors to remain in their homes as they age, should be a high priority for elected officials in the state.
"Today, unpaid family caregivers provide the bulk of care for older Mainers, in part because the cost of long-term care remains unaffordable for most middle income families," said Parham.
"There is no silver bullet when it comes to long term care, especially here in Maine," said Parham. "We had hoped to hear more from the Governor about initiatives to help older Mainers stay in their own homes and communities where we know they want to remain, instead of focusing exclusively on nursing homes."
The Governor spoke about support in his budget for seniors; however, AARP Maine is very concerned about proposed cuts to the Medicare Savings Program and Drugs for the Elderly Program. "These programs are vital to tens of thousands of vulnerable Mainers, providing low-cost prescription drug coverage and helping Mainers lower their Medicare costs," Parham said. "Yet they continually end up on the chopping block."
AARP Maine also supports proposals under the KeepMEHome initiative aimed at helping older Mainers age in place through increased affordable housing options for middle income seniors, property tax relief for middle income Mainers, and increased pay for the direct care workers who care for our loved ones. "We look forward to working with the Governor and legislative leaders on these policies aimed at keeping people tied to their communities."
"The Governor has laid out an ambitious agenda that will have a variety of impacts on Maine people and communities. We look forward to seeing more details as the Governor takes his budget proposal to the people," Parham said.
Contact:
Lori Parham
AARP Maine State Director
lparham@aarp.org or 400-1026