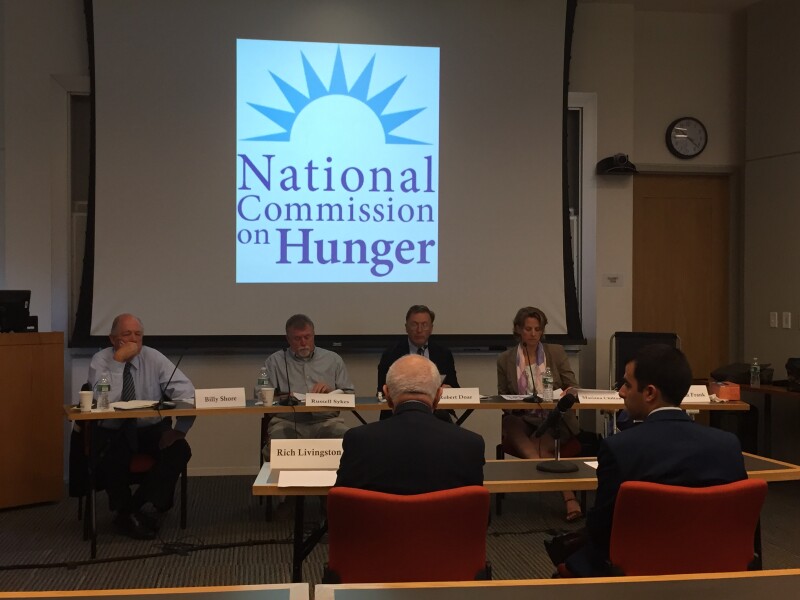 AARP Maine testified about the status of food insecurity among Mainers over 50 before the National Commission on Hunger at a public hearing on July 30 in Portland, Maine.
Information about food insecurity among older Mainers:

Between 8% and 14% of Maine seniors are food insecure, according to estimates by the US Department of Agriculture and the National Foundation to End Senior Hunger.
Feeding America predicts a 50% increase in the number of seniors facing hunger in Maine by 2025.
Older Mainers account for 12% of all Supplemental Nutrition Assistance Program (SNAP) recipients (a 32% increase in just 5 years) however 70 percent of older Mainers are eligible for and unenrolled in SNAP.
2,902 Maine seniors receive food from the Commodity Supplemental Food Program (CSFP), which provides 30 pounds of basic food each month. An additional 1,200 are on a waiting list.
The Area Agencies on Aging provide the Meals on Wheels program, delivering 528,907 meals to 5,047 Mainers over 60.
Last year, the state's largest food bank (Good Shepherd) provided 21 million pounds of food to food pantries across the state. The Senior Food Mobile visits subsidized senior housing developments and other sites to deliver nutritious food and provide on-site cooking demonstrations and recipes.
Seniors play a critical role in the distribution of food at local pantries. Most pantries are run by older volunteers, without whom the emergency food system in Maine would suffer.
A unique grassroots solution to senior hunger in Maine is Friends of Aroostook. In one of the most rural and impoverished counties in the state, a generous philanthropist named Dale Flewelling has helped 200,000 pounds of fresh produce go from farm to seniors' tables. Local farmers donate or inexpensively lease acreage to Flewelling. He, along with a dedicated team of volunteers and staff, grows and harvests fruits and vegetables to donate to local pantries and Meals on Wheels. If you haven't seen our film about this impressive program, watch it here!
Information about the National Commission on Hunger:
The Commission was created by legislative mandate in the Omnibus Appropriations Bill of 2014. Commission members are tasked with a mandate to effectively use existing programs and funds to address domestic hunger and food insecurity; and reduce need for government nutrition assistance programs, while protecting the safety net for the most vulnerable members of society. The Commission is tasked with submitting its recommendations to Congress and the Secretary of the United States Department of Agriculture by October 2015.
Commission members were appointed by leaders in the House and the Senate to ensure that the work would be bi-partisan. Commission members are serving on a voluntary basis.
Information about the public hearing:
AARP Maine was invited to speak at the public hearing by invitation by the Commission, at the recommendation of the Preble Street Maine Hunger Initiative. Other invited speakers included Maine DHHS Commissioner Mary Mayhew, Portland Mayor Michael Brennan, Executive Director of Secretaries' Innovation Group Jason Turner, Executive Director of Mano en Mano Ian Yaffe, State Senator Justin Alfond, State Representative Deborah Sanderson, SNAP recipient and advocate dee Clarke, President of Good Shepherd Food Bank Kristen Miale, Policy Analyst for Maine Center for Economic Policy Christy Daggett, Chief Program Officer of Preble Street Donna Yellen, Executive Director of the Maine Council of Churches Sue Gabrielson, Interim Cannon Missioner for Communication and Advocacy for the Episcopal Diocese of Maine John Hennessy, and Executive Director of Maine Equal Justice Partners Robyn Merrill.
You can read more about the commission here, and hear from AARP State President Rich Livingston about our testimony on MPBN.