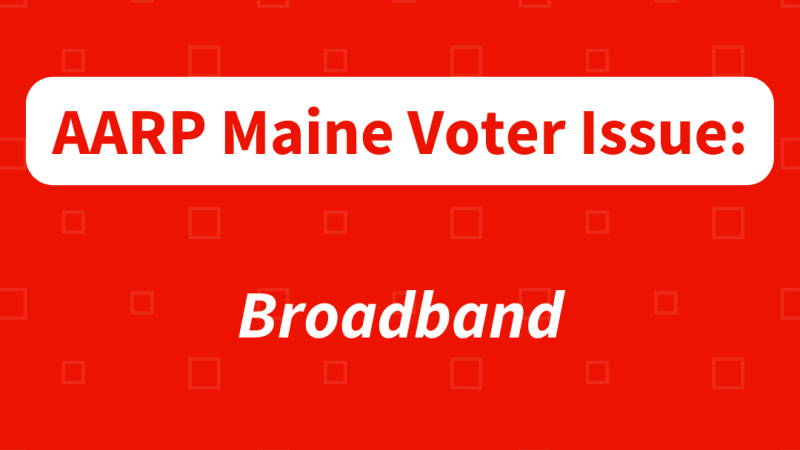 ISSUE BACKGROUND:
COVID revealed the utter lack of affordable high-speed internet coverage in Maine. During the last three years, AARP Maine has ramped up its efforts to support broadband expansion, increase affordability, and work with a statewide coalition to urge investment and wise development of a network that every Mainer can soon access. One of the challenges facing advocates for broadband is complexity. Not only is the issue complex, but the solutions and infrastructure required to address it remain challenging for the average Mainer.

We can start simply and assess where we are now, and what we need in order to move forward.

Currently, 37 percent of rural Americans lack high-speed internet access at home. Maine is one of the most rural states in the nation and faces a tall task in connecting more of its residents to an affordable high-speed connection.

The digital divide is not only about infrastructure. It is also about access to technology such as computers and smartphones, and the necessary training and guidance needed to effectively use them.

The key issues impacted by broadband when it comes to adults 50+:
• Telehealth and telemedicine
• Community news and information
• Online banking and access to financial accounts
• Education
• Social connection

The biggest challenges we face on broadband are at the community level. There is plenty of funding that will help fill meet the need when it comes to infrastructure, but there is much to be done to educate Maine's local leaders on the options for developing broadband.

Click above to watch a short video of AARP Maine Advocate Volunteer, Paul Armstrong, talking about broadband in Maine.
WHERE DO THE CANDIDATES STAND:

Where do the gubernatorial candidates stand on this important issue?

Current Gov. Janet Mills (D): Website Phone: 207-287-3531

Former Gov. Paul LePage (R): Website Phone: 207-707-4068

Follow AARP Maine on Facebook, Twitter and Instagram @aarpmaine

QUESTIONS ABOUT HOW, WHEN or WHERE TO VOTE?

Visit www.aarp.org/mevotes today for key dates and complete voter resources for Maine.

WOULD YOU LIKE TO LEARN MORE ABOUT THESE AND OTHER ISSUES?

Join us every Tuesday morning for our election check-in calls. We provide updates, offer trainings and talk about our advocacy agenda. Click here to register to join our calls.