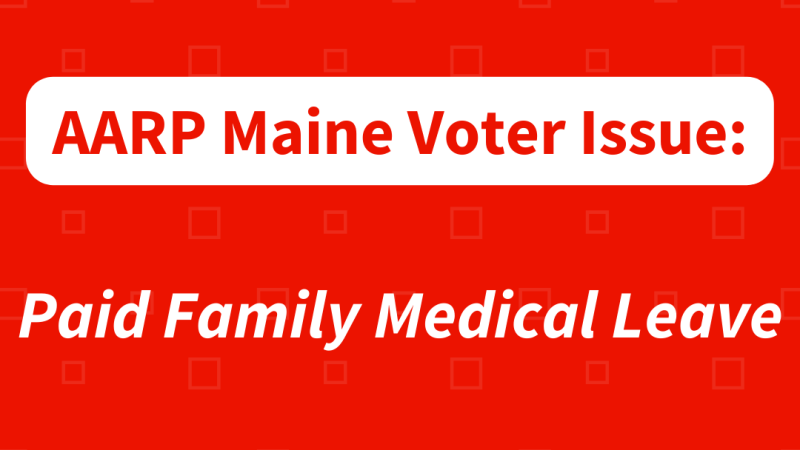 ISSUE BACKGROUND:
Every day, millions of Americans help their parents, spouses and other loved ones live independently at home — where they want to be. These family caregivers are often responsible for complex tasks such as administering medications and providing medical care. Many of these individuals juggle their caregiving responsibilities and a full- or part-time job. Further, many of these caregivers do not have access to a comprehensive paid leave benefit to support them. It is important to note that family caregivers are the first line of defense against older Americans being forced into a nursing facility (or back into a hospital) rather than being able to stay in their own home.

Paid Family Medical Leave (PFML) allows for prolonged absences from work that can be used in a variety of situations. Employees may take time to bond with a new child, focus on their own serious illness, or care for a family member in need.

In Maine, approximately 181,000 family caregivers provide nearly 152 million hours of unpaid care each year. For working family caregivers, it can be a challenge to balance both their caregiving responsibilities and their jobs. Unfortunately, less than a quarter of U.S. workers have access to PFML according to 2021 data from the federal Bureau of Labor Statistics.

The lack of paid leave has been especially harmful to women in the workforce. The nonstop juggling of work commitments and family needs in the face of day care, school, nursing home and office closures caused many women to opt out of the workforce altogether. In September of 2020, 865,000 women age 20 and older left the workforce, compared with 216,000 men, according to a National Women's Law Center analysis of Labor Department data.

Click above to watch a short video of AARP Maine Advocate Volunteer, Erica Magnus, talking about paid family medical leave in Maine.
WHERE DO THE CANDIDATES STAND:

Where do the gubernatorial candidates stand on this important issue?

Current Gov. Janet Mills (D): Website Phone: 207-287-3531

Former Gov. Paul LePage (R): Website Phone: 207-707-4068

Follow AARP Maine on Facebook, Twitter and Instagram @aarpmaine


QUESTIONS ABOUT HOW, WHEN or WHERE TO VOTE?
Visit www.aarp.org/mevotes today for key dates and complete voter resources for Maine.


WOULD YOU LIKE TO LEARN MORE ABOUT THESE AND OTHER ISSUES?
Join us every Tuesday morning for our election check-in calls. We provide updates, offer trainings and talk about our advocacy agenda. Click here to register to join our calls .