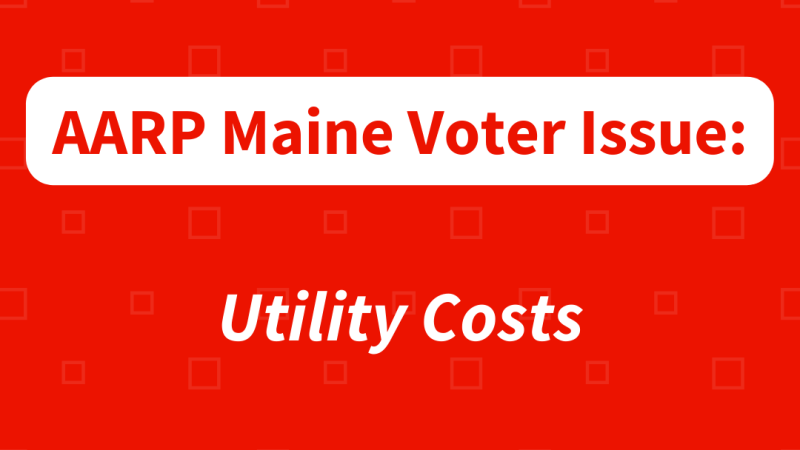 ISSUE BACKGROUND:

Electric bills increased by 30 percent for average use customers in Maine with no meaningful respite in sight. Not only that, but Central Maine Power (CMP) has already teed-up a rate increase request to state regulators for this winter which will result in an increase of $10 per month for the average residential ratepayer.

With inflation continuing to force Mainers to make tougher decisions about paying for necessary household expenses, pushing for policies that will help older ratepayers on fixed incomes get through this coming winter, and the next few, is a priority for AARP Maine.

All consumers deserve utility service that meets their daily needs at a reasonable price. Potential incoming rate hikes could hit consumers this year and in 2023. The rates for these services should be fair and affordable. No one should have to choose between necessities — such as medicine and food — and needed utility services.


Click above to watch a short video of AARP Maine Advocate, Pam Partridge, talking about utility costs in Maine.
WHERE DO THE CANDIDATES STAND:

Where do the gubernatorial candidates stand on this important issue?

Reach out to their campaigns today to find out:

Current Gov. Janet Mills (D): Website Phone: 207-287-3531

Former Gov. Paul LePage (R): Website Phone: 207-707-4068


Follow AARP Maine on Facebook, Twitter and Instagram @aarpmaine


QUESTIONS ABOUT HOW, WHEN or WHERE TO VOTE?

Visit www.aarp.org/mevotes today for key dates and complete voter resources for Maine.

WOULD YOU LIKE TO LEARN MORE ABOUT THESE AND OTHER ISSUES?

Join us every Tuesday morning for our election check-in calls. We provide updates, offer trainings and talk about our advocacy agenda. Click here to register to join our calls.