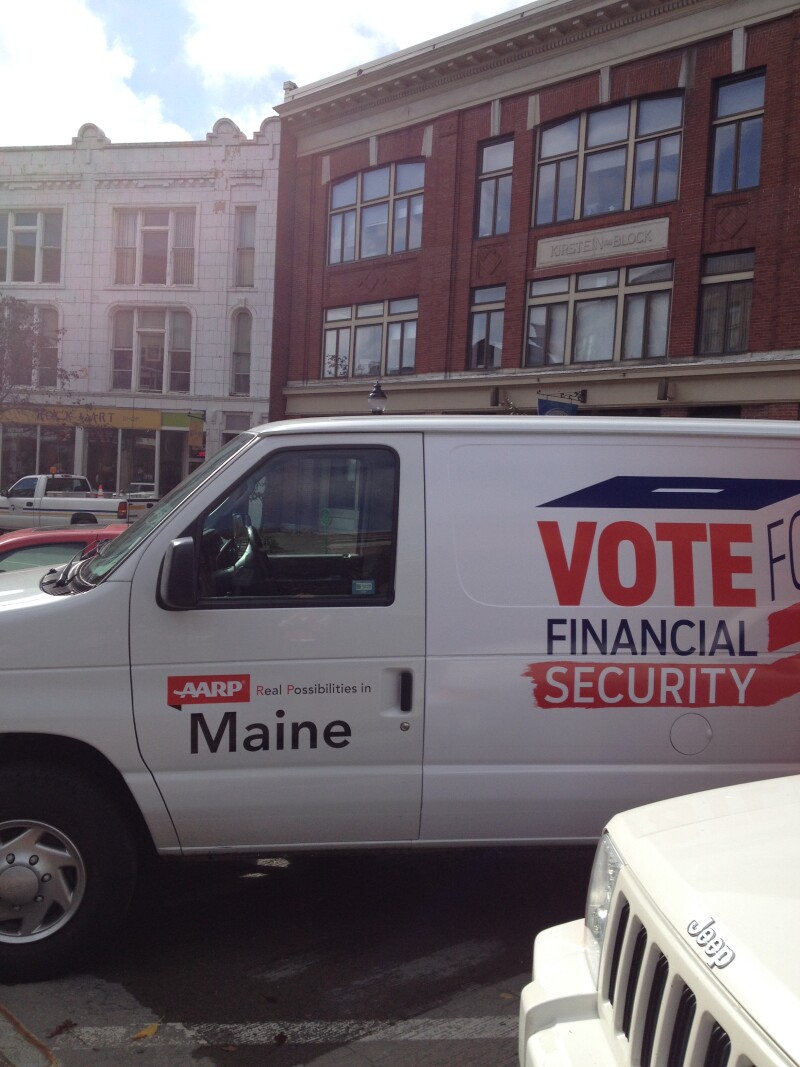 MEDIA RELEASE
November 4, 2014
CONTACT:
Jane Margesson: AARP Maine Communications Director
(207) 229-5628 or jmargesson@aarp.org



Lori Parham: AARP Maine State Director

(207) 400-1026 or lparham@aarp.org



AARP Maine Engages Thousands in Voter Engagement Tour, Stands Ready to Work with New Legislature, Governor



25 Non-Partisan Community Conversations Held Across the State Reveal

Financial Security and Health Concerns Top Priorities for Maine's Most Active Voting Demographic


PORTLAND: AARP Maine wraps up their statewide Voter Engagement Tour on Election Night with a Finale Watch Party at Baxter Brewing Company in Lewiston. The Tour began in Bangor with more than one hundred local residents in attendance. Over the course of the last four weeks, travelling over 2,400 miles across the state, AARP staff and volunteers engaged with thousands of Mainers from Sanford to the County through local events and non-partisan community conversations.



Carol Mower, an AARP Maine Volunteer Ambassador from Old Town, attended the debut event in Bangor. "Engaging with Mainers and their families through these community conversations has helped us all better understand the challenges our neighbors throughout Maine face each day. Now we need our elected officials to hear their voices and work towards sustainable solutions."



The issues of greatest concern during these discussions were financial and health security, with many Mainers expressing particular worry heading into the colder months.



"Especially in our most rural communities, older Maine residents are clearly anxious about making ends meet, having affordable utilities so they can heat their homes and being able to stay healthy in the months ahead," said Gail Maynard, an AARP Maine volunteer from Woodland in the County. "It was surprising that none of the gubernatorial candidates chose to address the critical issues that older Mainers face during their debates and while they were campaigning," Maynard said. "We represent the most active voting demographic in the state, yet we heard little about finding solutions to our challenges."



AARP Maine publicly expressed disappointment at the lack of attention paid to issues of paramount concern to voters 50+, particularly among the gubernatorial candidates. Issues regarding caregiving, long-term care, affordable utilities and financial security were largely ignored by the candidates.



"We all have a vested interest in hearing the candidates deliver straightforward answers to the questions that are important to us," said AARP Maine State Director, Lori Parham. "It was disappointing that the candidates' discussion of economic security for Maine families largely ignored Mainers 50+, especially with Maine being the oldest state in the nation.Candidates should offer solutions that will help Mainers save so they can secure their future and live independently as they age."



AARP Maine Volunteer State President and Auburn resident, Rich Livingston, agrees. "Our elected leaders, both at the federal and state levels, need to address these issues head-on," he said. "We hear from our 231,000 members in the state on a regular basis. We know many older residents are struggling. Their Social Security checks only go so far and with the cost of necessities such as utilities, food and prescription drugs on the rise, we understand that a secure retirement can feel more and more out of reach."



According to AARP Maine's recent survey of Maine's registered voters 50+, many lower income residents have no confidence of ever being able to retire and others report being extremely worried about having health or medical expenses they cannot afford.



"Our members want and deserve to know how Social Security and Medicare will be protected in the future," said Livingston. "They also deserve to know how our state legislature will work together to help Mainers stay in their own homes and communities as they age. AARP Maine stands ready to work with our federal and state representatives in 2015. We've listened to what our members have to say and now it is time for all those just elected to listen, too."



AARP is strictly non-partisan. AARP does not support or oppose any political candidates or contribute money to campaigns or political action committees.



Information about the AARP Maine Voter Engagement Tour

AARP Maine Voters' Guides and other election resources: www.aarp.org/yourvote

AARP Maine Survey of Registered Voters 50+

# # #



AARP is a nonprofit, nonpartisan organization, with a membership of nearly 38 million, that helps people turn their goals and dreams into real possibilities, strengthens communities and fights for the issues that matter most to families such as healthcare, employment and income security, retirement planning, affordable utilities and protection from financial abuse. We advocate for individuals in the marketplace by selecting products and services of high quality and value to carry the AARP name as well as help our members obtain discounts on a wide range of products, travel, and services. A trusted source for lifestyle tips, news and educational information, AARP produces AARP The Magazine, the world's largest circulation magazine; AARP Bulletin; www.aarp.org; AARP TV & Radio; AARP Books; and AARP en Español, a Spanish-language website addressing the interests and needs of Hispanics. AARP does not endorse candidates for public office or make contributions to political campaigns or candidates. The AARP Foundation is an affiliated charity that provides security, protection, and empowerment to older persons in need with support from thousands of volunteers, donors, and sponsors. AARP has staffed offices in all 50 states, the District of Columbia, Puerto Rico, and the U.S. Virgin Islands. Learn more at www.aarp.org.