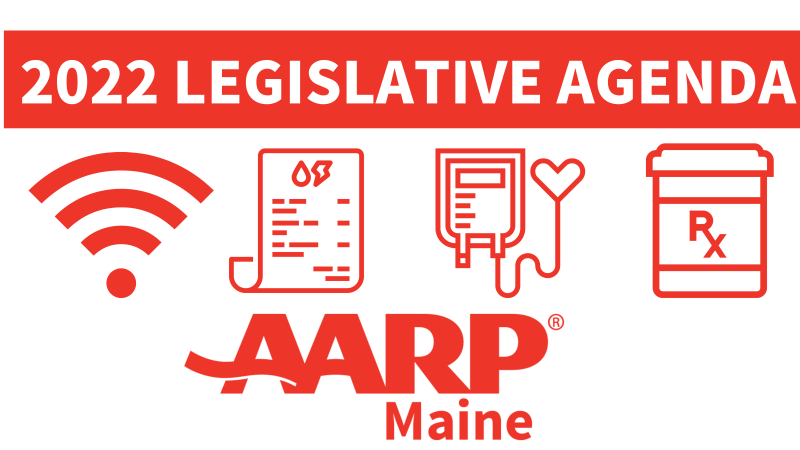 AARP is a nonprofit, nonpartisan organization that empowers people to choose how they live as they age. Here in Maine, with the 130th second regular legislative session underway, you'll find AARP staff and volunteers hard at work on behalf of Mainers 50+ and their families. Our legislative agenda includes a focus on health care, high-speed internet expansion, fair and affordable utility rates, affordable housing, telehealth, and increasing opportunities for older Mainers to age in place.

Read the full AARP MAINE STATE POLICY PLATFORM 2022

"On behalf of our more than 200,000 members statewide, AARP Maine looks forward to working with legislative leaders from both sides of the aisle, as well as Governor Mills in 2022," says Noël Bonam, AARP Maine State Director. "We know that this is a critical time for Maine people and Maine's economy as we continue to feel the impacts of COVID-19. It is critical that elected leaders work together to address important issues that affect Mainers 50-plus and their families."

Would you like to learn more about volunteer opportunities? Click here!

BROADBAND
The COVID-19 pandemic has highlighted the importance of staying connected and AARP Maine will continue to support investments in high-speed internet throughout the state. Maine continues to be one of the lowest ranking states when it comes to ensuring residents have access to affordable high-speed internet. We must make it easier for doctors to meet with their patients, students to engage with their teachers, and for families and communities to stay connected.

UTILITY COSTS
When it comes to utility costs, as incomes fluctuate, expenditures on utilities become a larger portion of the household budget for those 50 and older. AARP Maine will continue to work to ensure that providers of electricity, gas, landline, wireless, and broadband offer services customers can depend on and that the implementation of any climate change policies and costs are fair and equitable.

HEALTHCARE & AFFORDABLE RX DRUG PRICES
Another focus for AARP Maine in 2022 is the lowering of prescription drug costs which can directly impact older Mainers' ability to maintain their health and safeguard their ability to live independently. AARP Maine will support efforts to protect Mainers from price gouging.

Further work will focus on broadening access to telehealth services, the importance of which COVID-19 has only magnified. AARP supports increased transparency in the prescription drug development and pricing process, particularly in cases of drug manufacturers that benefit from taxpayer-funded research.

THE ONGOING COVID-19 PANDEMIC
Concerning the coronavirus, AARP is advocating for the federal and state governments to improve the current vaccine infrastructure, enhance transparency and expand the ways that individuals can receive a vaccine. Steps must be taken to reduce disparities in access to the vaccine, including improving outreach.

COVID-19 has disproportionately impacted older Mainers living in long-term care facilities. We will continue to advocate for investments in programs that allow older Mainers to stay at home or in their community as they age, and to ensure high quality care in Maine's long-term care facilities.

"AARP Maine and all of our member advocates look forward to productively engaging in the 130th legislative session to ensure that Maine continues to be a place where people 50+ want to live, work, retire and thrive," Bonam said. "Despite the necessity of another virtual legislative session this year, AARP Maine trusts that all Mainers will be given ample opportunity to make their voices heard in Augusta through virtual options."


For more information about AARP Maine, visit www.aarp.org/me and follow us on Facebook, Twitter and Instagram @aarpmaine.