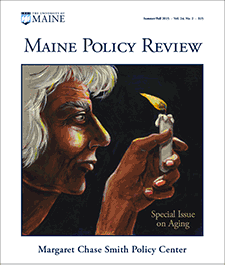 The aging of Maine's residents presents new challenges for Maine communities. Age-friendly is a term used to describe new approaches to community aging with a focus on livability.



Many of the age-friendly initiatives in Maine communities are outlined in the new Maine Policy Review, the summer/fall 2015 issue, published by the Margaret Chase Smith Policy Center. The issue was edited by Leonard Kaye, of the University of Maine Center in Aging. Over 20 articles address various aspects of community planning for aging.


Of special interest is Patricia Oh's article on The Age Friendly Community Movement in Maine. Oh has been a leader in Bowdoinham's age-friendly efforts, and describes the history of the AARP's and WHO's efforts in Maine.


Bowdoinham got the earliest start and has worked hard on the accessibility of public buildings and developed an ambitious program of events for seniors. A volunteer driver program is just getting going. Transportation is a top priority in most towns working on age-friendly issues.


Transportation is the focus of an article by Katherine Freund, entitled Getting From Here to There: Maine's Elder Transportation Challenge. Freund outlines mobility issues and the history of transportation policy for elders in Maine, and explains the approach of the ITN, the national non-profit transportation model she founded.


Tapping and coordinating community resources is the approach taken by the Thriving In Place initiative of the Maine Health Access Foundation. Becky Hayes Boober describes this approach in her piece, Keep Them Rocking at Home: Thriving in Place, which outlines learnings from several deep cooperative efforts.

Among them:
"-Health care providers need to respect and listen to older patients. Those surveyed liked their primary care providers, but did not feel listened to by specialty care providers.
-People rated their health as good even when they had four or more chronic health conditions, demonstrating resilience."



The entire issue is available online without cost.


If you think your community might have an interest in planning for Maine's changing demographics, contact Peter Morelli, pmorelli@aarp.org , or 712-7105.


For information on the AARP Age Friendly Community program: visit AARP's website.