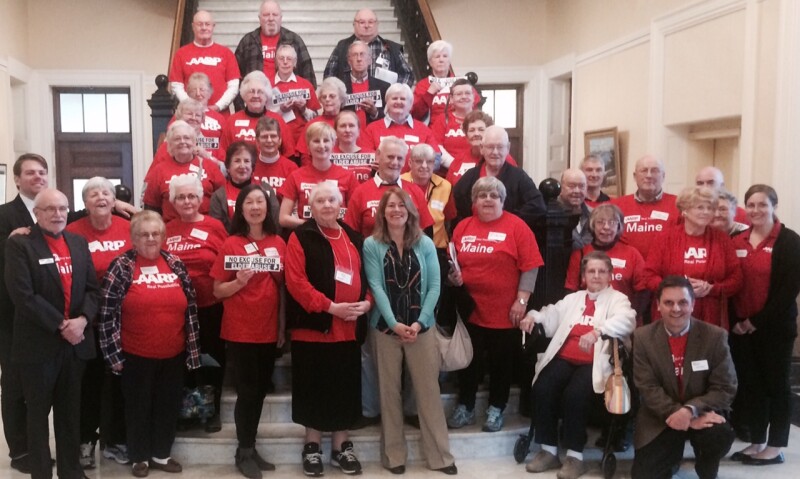 Thank you to everyone who joined us for our annual Ambassadors of Aging Day at the Maine State House on Monday, March 28, 2016. We had a great turnout of over 50 AARP Maine members, all of the Maine State Office staff and interns, and two staff from our national office!
We began the day with a welcome and overview of the agenda in the State House Welcome Center, led by AARP Maine Volunteer State President Rich Livingston and AARP Maine State Director Lori Parham. Former Speaker of the House and current Managing Principal of Maine Street Solutions Mike Saxl joined us to formally welcome us to the State House.
We then we had a robust press event about the housing bond. We heard the personal stories of 2 AARP Maine volunteers, Sammee Quong and Rena Heath. We also heard from a housing developer, a contractor, and Speaker of the House Mark Eves. After the press conference, we moved to the 4th floor of the State House to witness the House of Representatives debate the joint order to release the housing bond. The vote prevailed, to rousing applause from AARP members in the House gallery. The House Speaker then welcomed AARP Maine to the House, and all the representatives stood and clapped a warm welcome.
It was past noon by the time we reached the Hall of Flags, where a number of our partner organizations joined us including Maine Council on Aging, Alzheimer's Association, MS Society, Maine Coalition to Fight Prostate Cancer, and a table dedicated to our Age Friendly Communities and Fraud Watch Network. We are proud to feature Maine-made refreshments for our volunteers and legislators, and this year was no exception. We featured coffee from Coffee By Design and 44 North. We had bagels from Maples Bakery, cookies from Ice It Bakery, yogurt fresh from the Milk House, and granola from Grandy Oats and Big Sky. Yum!
Lunch for our volunteers took place in the Cross Cafe, and then the day wrapped up with a few closing remarks from Rich Livingston and AARP Maine Outreach Director Japhet Els. A number of AARP members stayed for a 2:00 Energy, Utilities and Technology Committee meeting for a vote on deregulation of landline telephone service.
Two critical votes, a press conference, good local food and the House of Representatives giving us a standing ovation. I'd say it was a pretty good day for AARP Maine.
Thank you to all our partners, vendors, volunteers, staff, interns, and members who made our annual Ambassadors of Aging Day a smashing success! See you next year!