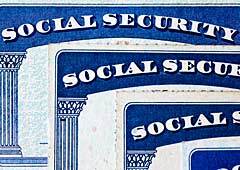 As We Celebrate Social Security's Birthday, Why Not
Share Your Own Story?
Plus: We need your help to protect Social Security benefits – please sign our online petition !
On August 14th, Americans everywhere can celebrate 79 years of Social Security.
When the Social Security Act was signed into law in 1935, almost half of all older Americans lived in poverty. At first, Social Security was just a retirement program. Today, it offers survivors' benefits, benefits to a retiree's spouse, and disability benefits. Social Security is a foundation of economic security for millions of Americans and their families. Here in Maine, one third of Mainers 65+ who are on Social Security rely on their benefit for 100% of their income. Without Social Security, over 80,000 older Mainers would fall into poverty!
Acknowledging the key role Social Security plays in the lives of many Mainers, AARP is working with the Frances Perkins Center to reach out across the state to hear what Maine residents have to say about this crucial program. Frances Perkins served as Secretary of Labor in the FDR administration. As Secretary of Labor, she played a key role in writing New Deal legislation which included minimum wage laws. However, her most important contribution came in 1934 as chairwoman of the President's Committee on Economic Security. In this position she was involved in all aspects of the reports and hearings that ultimately resulted in the Social Security Act of 1935.
The Frances Perkins Center in Damariscotta is collecting stories from Mainers whose lives have been affected by Social Security benefits. They are looking for residents who have a story to tell that would help others understand its importance in our society. You can tell your own story, or you can submit a story on behalf of a loved one or a friend.
The Frances Perkins Center is also offering a $4 discount to AARP members for tours of the wonderful homestead in Damariscotta! Just go to their website for more information and mention your membership.
For over 50 years, AARP has been committed to providing Americans age 50+ with quality, straightforward information on issues that affect them and their families. You'll be hearing a lot during the upcoming elections about the future of Social Security. Why not make your voice heard? Please sign our petition today to work with us to protect this vital program. Please share the petition with your friends and family.
Before Roosevelt signed Social Security into law all those years ago, many older Americans literally could not afford to stop working. After 79 years, it is hard to imagine life without Social Security. This benefit, earned over a lifetime of hard work, is making a difference in the lives of millions of families every day. Don't let Washington decide about the future of this critical program without hearing from you first. Social Security is the one reliable, guaranteed source of income that is there for you in good times and in bad. When one considers the challenging economic climate of the last few years, strengthening Social Security now and for the future has never been more important.
We need you this election season!
We are getting ready for the election season and we need YOU! AARP Maine is recruiting volunteers to help with nonpartisan outreach to voters across the state on issues such as health care and retirement security. All volunteers will be fully trained and readied to help us run voter workshops, staff tables at events, speak to community groups and help coordinate a voter bus tour in the fall to listen to Mainers across the state.
Are you interested in working with us? We would love to hear from you!
To volunteer, please email me@aarp.org or call 1-866-554-5380.
In the meantime, happy birthday, Social Security, and here's to 79 more years!
Photo: istock