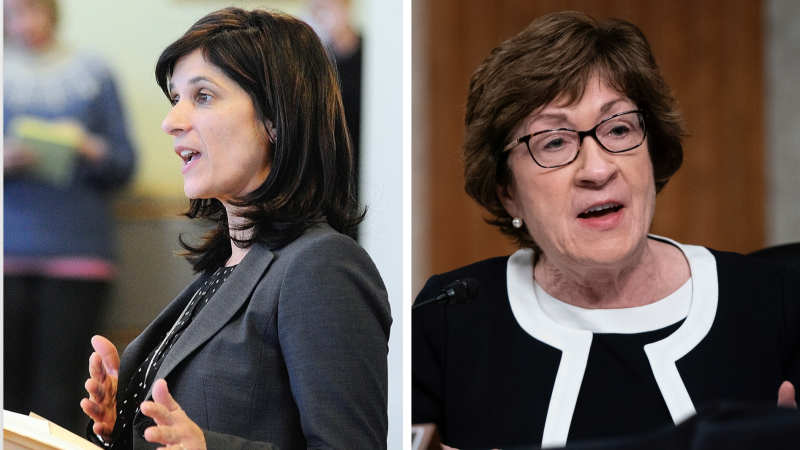 Maine's U.S. Senate race is tight this year, with incumbent Republican Sen. Susan Collins facing a challenge by state House Speaker Sara Gideon, a Democrat. To understand how they plan to protect Social Security and Medicare, stimulate the economy, lower prescription drug prices and ensure that Americans have access to affordable long-term care, AARP Maine asked each candidate to answer five key questions in 60-second videos. Here are their responses, with transcripts:

1. Social Security is a self-financed, off-budget program that half of all seniors rely on for more than 50 percent of their income. If elected, how will you ensure that current and future Social Security benefits are not cut as part of deficit reduction?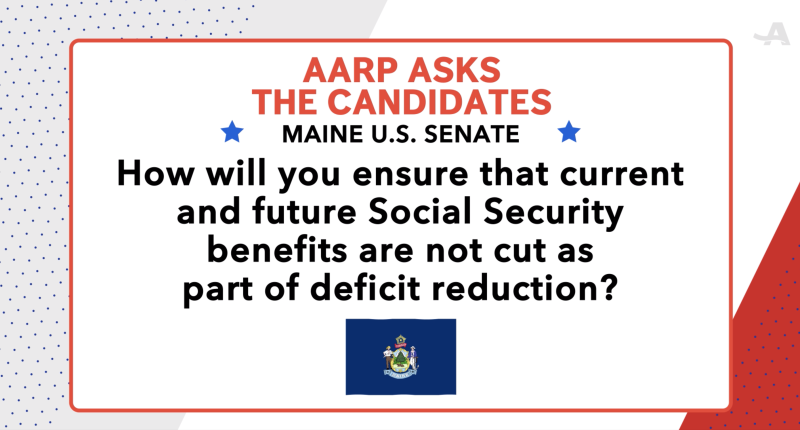 Question 1: Social Security
Collins: Social Security is the most important social program that our country has ever created. During my time in the Senate, I have consistently adhered to specific principles about Social Security. The first is that it's the foundation of retirement income for most Americans. Supplemented by savings, it has made the difference between poverty and a comfortable standard of living for millions of Americans. I am committed to keeping Social Security strong and to rectifying an inequity that hurts certain public employees who do not receive the Social Security benefits that they have earned.

Gideon: Maine seniors deserve the benefits they've earned through a lifetime of hard work. Our elected leaders must keep the promises we've made to them. In Maine, we've worked to protect their benefits and fight against giveaways to corporations that put those benefits in jeopardy. In the Senate, I'll work to raise the earning cap on Social Security, so the wealthiest among us are paying their fair share into the system. I'll get rid of the windfall elimination provision, which unfairly prevents some Maine workers like teachers from accessing their earned Social Security benefits. And I'll continue to fight against any effort to cut funding or benefits from Medicare or Social Security. Maine's seniors deserve a senator who will always fight to protect their benefits. And that's exactly what I'll do in Washington.

2. On average, health care already accounts for $1 out of every $6 spent by seniors. If elected, how will you protect Medicare from benefit cuts, lower health care costs and ensure seniors continue receiving the affordable care they have earned?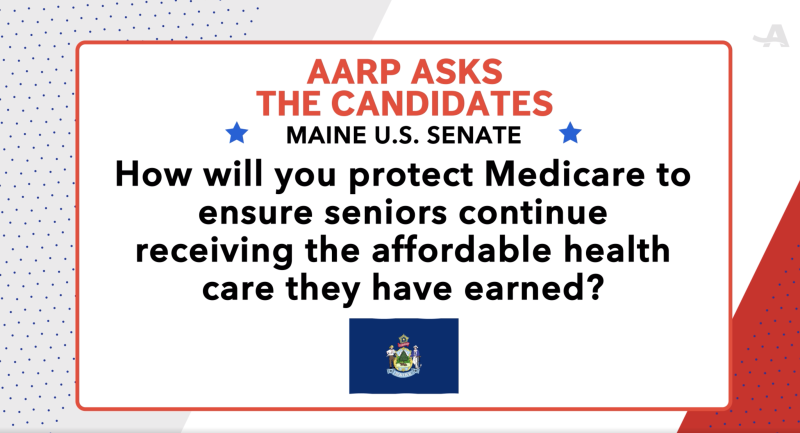 Question 2: Medicare
Gideon: Thousands of Maine seniors depend on Medicare for essential benefits, and under no circumstances should those be threatened or undermined. We've taken steps in the state House to protect our seniors, by restoring Maine's low-cost prescription drug program and passing legislation to prevent insurance companies from overcharging seniors for health care. As Maine's senator, I will strongly oppose efforts to raise the Medicare eligibility age. I'll work to cap out-of-pocket costs of prescription drugs for seniors on Medicare and continue to champion the Affordable Care Act, which closed the Medicare donut hole for thousands of Mainers and saved tens of millions of dollars for Maine's seniors. I will always fight to protect Medicare, and Maine's seniors can know they have an advocate in me as their senator.

Collins: In order to keep the Medicare program strong and avoid increased beneficiary costs, Congress needs to take steps to improve Medicare's financial condition. We should improve transparency so that patients know in advance the cost of any medical procedure or prescription drug. Another way to achieve program savings is to combat the high cost of prescription drugs. That's why I support putting a cap on the out-of-pocket costs that seniors pay under the Medicare program. We can also help reduce costs by assisting seniors in managing diseases such as diabetes. That can make a real difference. I'll always work to keep Medicare strong for you.

3. Unemployment during the coronavirus crisis reached the highest levels since the Great Depression, and older Americans have been disproportionately affected. If elected, how will you help Americans over the age of 50 recover economically from the effects of the coronavirus?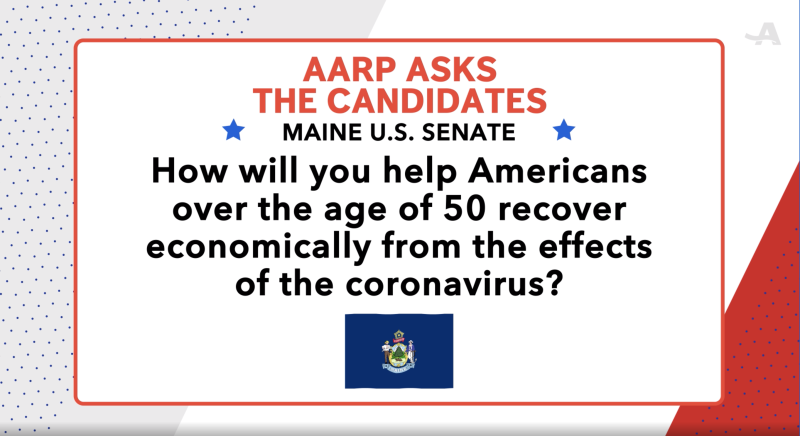 Question 3: Jobs and the Economy
Collins: I have advocated strongly for programs that will help preserve and restore the jobs of all Mainers. I coauthored the Paycheck Protection Program and I'm delighted that it has been a resounding success for small employers and has helped sustain approximately 240,000 Maine jobs. The disproportionate impact of the pandemic on older Americans emphasizes the need for protections, especially against age discrimination. I cosponsored the Protecting Older Workers Against Discrimination Act, which would restore critical age discrimination protections and make it easier for older employees to prove that they are the victims of age discrimination in the workplace. We should value our older workers.

Gideon: The coronavirus has devastated the lives of so many Mainers, and we have to move forward together in a way that is safe, smart and practical about the challenges ahead. To recover economically, we must first continue the fight to contain the public health crisis by increasing testing and contact tracing to prevent the virus from spreading any further in our state. We then have to look at how we build back our economy in a way that supports those who need it most, including Mainers over the age of 50. That means prioritizing small businesses, not corporations, in the next round of federal relief; sending more funding to state and local governments to protect good-paying municipal jobs, to keep property taxes low, and to continue to bolster unemployment insurance to make sure Maine's seniors can get through this crisis and back on their feet. Maine is resilient and strong, and I know we will make it through these challenging times together.

4. Americans pay the highest prescription drug prices in the world. If elected, how will you cut prescription drug prices for all Americans?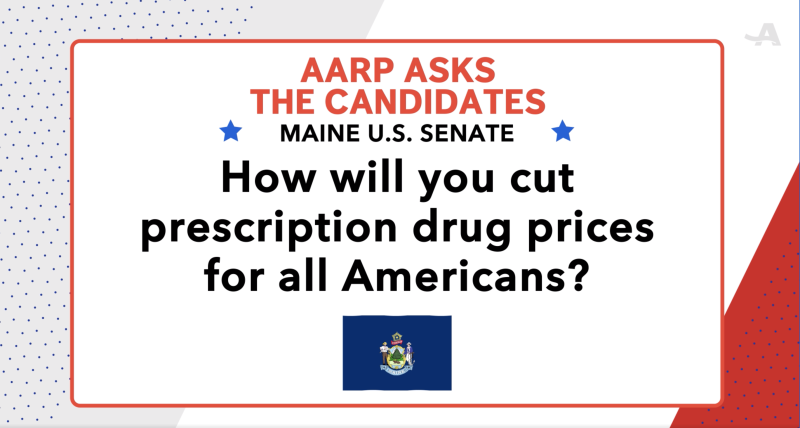 Question 4: Prescription Drug Prices
Gideon: For too long, corporate special interests have had too much power in Washington. They've used this influence to exponentially raise prescription drug prices in recent years without being checked by Congress. That is unacceptable, and it has to stop. In Maine, we passed bold prescription drug reform to increase drug pricing transparency and to help lower the cost of prescription drugs. We also took steps to create a drug importation program that would allow lower-cost prescription drugs to be imported from Canada. This is exactly the kind of leadership we need in Washington. As Maine's senator, I'll fight to allow Medicare to negotiate drug prices, to cap out-of-pocket costs for prescription drugs for seniors on Medicare and to work to implement the low-cost drug importation program on the federal level that we've already passed in Maine.

Collins: I led the Senate's first bipartisan drug pricing investigation, and I've authored multiple bipartisan laws to help Americans struggling with the high cost of medications, including a law that bans so-called 'gag clauses,' which prevented pharmacists from telling their patients when there might be a way to save money on their prescriptions. But we can and must do more. I support several commonsense solutions to lowering the costs of prescription drugs by promoting competition, increasing transparency and banning the anticompetitive practices such as pay-for-delay. I also support capping the amount that seniors pay out of pocket for prescription drugs under Medicare Part D.

5. COVID-19 has caused death and suffering for too many older Americans who require long-term care. If elected, how will you make sure seniors can access safe and affordable long-term care at home and in nursing homes and assisted living facilities?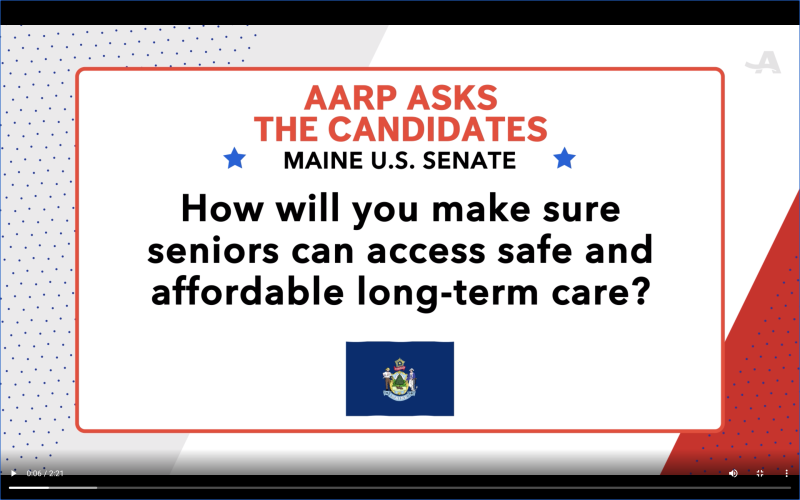 Question 5: Long-Term Care
Collins: This is a particularly hard time for families with loved ones living in long-term care facilities. As chairman of the Senate Aging Committee, I held the first hearing on the devastating toll the pandemic is having on our seniors. I've advocated for more regular testing to help stop the spread and to safely allow for some family visits. Expanded access to home health care allows many seniors to stay right where they want to be: in the comfort, privacy and security of their own homes. I've always been a strong supporter of home care. My Home Health Planning Improvement Act was recently signed into law as part of the COVID-19 response. It will improve Medicare beneficiaries' access to home health care, removing needless delays.

Gideon: The health and safety of Mainers has to be our top priority, and we need to make sure that the most vulnerable are taken care of and protected throughout this pandemic. I believe every single Mainer deserves access to affordable, high-quality health care, and that's why here in Maine, under my leadership, we've worked to protect seniors from being charged more just because of their age. We've worked to restore a low-cost prescription drug program for Maine seniors and to support direct care workers to make sure that seniors always get the care that they need. That's the kind of leadership I'll bring to the Senate. I'll work to cap out-of-pocket prescription drug costs for seniors, to expand telehealth infrastructure and services and to mobilize federal resources to address this pandemic and to keep people safe. Maine's seniors deserve a senator who fights for them and prioritizes their health and safety, and that's exactly what I'll do in the Senate.

AARP is committed to ensuring voters have the information they need to cast their ballot this year. That is why we are publishing the AARP Asks the Candidates voter guide series, so candidates can share their plans on issues important to 50-plus voters.

AARP has a proud 34-year history of nonpartisan voter engagement and does not endorse or oppose candidates or make contributions to political campaigns or candidates.

Also of Interest