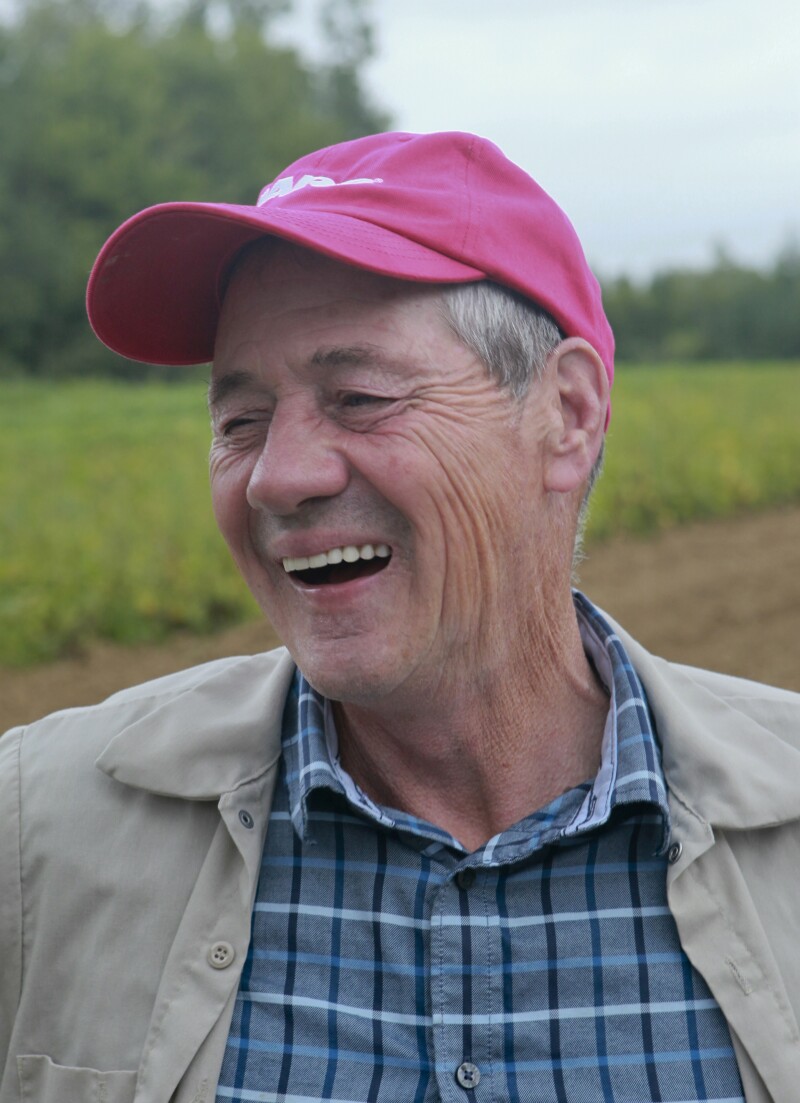 A Heart-Felt Harvest in The County

By Jane Margesson, AARP Maine Communications Director

Originally published in Maine Seniors Magazine - September 2014

Our day started at 5:15 AM and while anyone who knows me knows that I am not a "morning person," I was looking forward to getting to work. We were very lucky, too, as the torrential downpour from the day before had subsided. It was cool and a little overcast – perfect for our day's work in the fields.

My three AARP colleagues and I were in the County, in Houlton to be precise, to work with one of the area's most generous philanthropists, Dale Flewelling, whose community outreach efforts have helped thousands of hungry seniors put food on the table. It's a simple concept: Local farmers donate or inexpensively lease their acreage to Dale. He, along with a dedicated team of volunteers and low-income wage-earners, grows and harvests the gorgeous fruits and vegetables all of which is donated to local food pantries and programs such as Meals on Wheels.

This is Friends of Aroostook (FOA), Dale's brainchild, which annually donates 200,000 pounds of food to the areas poorest communities with a focus on senior hunger.

One of the most remarkable aspects of FOA is its ability to adapt and grow, all the while creating new ways for community partners and businesses to join in the effort. For example, Johnny's Selected Seeds, a local produce, farming equipment and supplycompany, matches FOA's purchases dollar for dollar. They have also supported a new FOA greenhouse which, when we saw it, was bursting with cantaloupes.

Another new initiative is the partnership with the local sheriff's office and the Maine Department of Corrections. A few carefully screened, minimum security inmates are now members of Dale's team who come out each day to harvest the crops. This has already proven to be a wonderful way to engage these young men in meaningful work while teaching them new farming skills and connecting them to the project and their community.

Now is a perfect time for us all to reach out and help seniors across Maine who are food insecure. One in five Mainers do not have enough food to eat each day. Many are seniors who, through no fault of their own, are struggling to make ends meet. Often they must make terrible choices between putting food on the table, taking their daily medications or paying their rent. At AARP, we believe that everyone has the right to age with dignity. Going hungry does not fit within that mission.

If you live in the County, why not go out and work with Dale and his team? They are there each day, rain or shine, and they could use the help. Sometimes they lose whole crops because they don't have enough volunteers at harvest time. Call 521-0900, email friendsofaroostook@yahoo.com or just go to their website at www.friendsofaroostook.com.

If we work together and support initiatives like FOA throughout our state, we can make a valuable difference in the lives of Maine seniors everywhere.