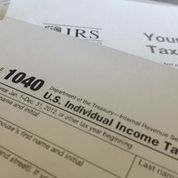 FOR IMMEDIATE RELEASE: Contact:
October 17, 2013 Joan Jagolinzer
207-883-8415
VOLUNTEERS NEEDED FOR THE 2014 TAX FILING SEASON
Join the AARP Foundation Tax-Aide Team in the Greater Portland area! Give back to your community! Help your neighbors with the preparation of both their federal and state of Maine income tax returns. Help them find credits and/or deductions they deserve. Volunteers of all ages and backgrounds are welcome. Volunteers do not need to be retired or AARP members.
In addition to tax preparation, many other volunteer opportunities are available. These include greeting taxpayers as they arrive at tax preparation sites, scheduling appointments, assisting with installation of software, trouble-shooting computer and printer problems, assisting with publicity or assuming one of the several leadership roles.
Volunteers preparing tax returns receive free training, usually in January, in both federal and state of Maine tax law as well as in the use of tax software. No prior experience in tax preparation is required, but familiarity with computers is a necessity. Volunteer tax preparers must also pass an IRS open book exam. All volunteers are expected to attend the portion of the training that introduces volunteers to the policies and procedures related to the program.
AARP Foundation Tax-Aide volunteers are asked to commit a minimum of 4 hours per week over the ten-week tax filing season which runs from February 1 through April 15. Many volunteers opt for more! All volunteers are reimbursed on a limited basis for qualified program-related expenses, including mileage.
The AARP Foundation Tax-Aide program is the nation's largest free, volunteer-run tax preparation and assistance program for low to moderate income taxpayers, with special attention to those 60 and over. Last spring throughout the US, over 35,000 volunteers prepared tax returns for several million taxpayers. Here in Maine, over 250 volunteers at 70 tax preparation sites met with approximately 22,000 taxpayers and prepared over 15,000 federal and state of Maine income tax returns, bringing over $15 million in federal refunds to Maine residents and to the Maine economy. And, saved taxpayers the stress/frustration of preparing their own tax returns and/or saved them the cost of going to a paid preparer.
To learn more about the AARP Foundation Tax-Aide program and to sign up as a volunteer, visit our web site at www.aarp.org/taxaide or contact Prospective Volunteer Coordinator, Joan Jagolinzer at jagolinzer@gwi.net.
AARP Foundation Tax-Aide is a program of the AARP Foundation, offered in conjunction with the IRS.
Additional Information:
AARP Foundation is AARP's affiliated charity. Foundation programs provide security protection and empowerment for older persons in need. Low-income older workers receive the job training and placement they need to re-join the workforce. Free tax preparation is provided for low- and moderate-income individuals, with special attention to those 60 and older. The Foundation's litigation staff protects the legal rights of older Americans in critical health, long-term care, and consumer and employment situations. Additional programs provide information, education and services to ensure that people over 50 lead lives of independence, dignity and purpose. Foundation programs are funded by grants, tax-deductible contributions and AARP. For more information about AARP Foundation, please log on to www.aarp.org/foundation .
Photo: AARP Foundation Tax-Aide