Maine Leading U.S. on Age-Friendly Communities

"With four more towns making the age-friendly commitment recently, Maine now leads the nation in the number of towns that have enrolled in the Network of Age-Friendly Communities. Nationally, 80 municipalities and 12 counties have joined. Age-friendly community planning is just as relevant for large cities as it is for small towns. Communities vary in size from New York City to Newry, Maine, population 329.

Four municipalities have recently been accepted into the AARP's Network of Age-Friendly Communities, joining 10 already participating in Maine. Each community's Council, select board, or mayor has committed to completing an age-friendly plan in the next two years and working to implement age-friendly practices over the next five years.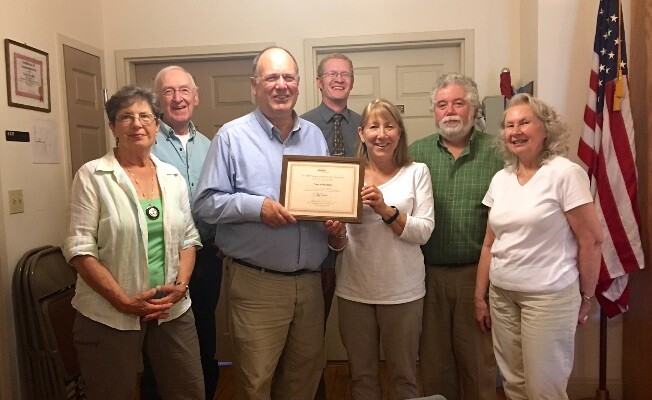 Readfield, population 2800, in Kennebec County has already appointed an age-friendly committee and has begun planning. Selectman Bruce Bourgoine thought the effort might help the central Maine town because "It touches on a lot of things." He recruited volunteer Romaine Turyn to lead the effort. She has a background in aging, with pre-retirement positions at the Muskie School and the Maine Commission on Aging.

Saco, a city of 19,000, in northern York County, is holding a big age-friendly kick off on Wednesday, June 15. Saco's renewed interest in age-friendly planning is being nurtured by volunteer Jean Saunders and has the strong support of Mayor Ron Michaud.

Augusta, the state capital with a population of 19,000, held its first age-friendly committee meeting earlier this week. It is chaired by Bob MacDougal, a retiree who convinced the city council and Mayor David Rollins to get involved. Councilor Anna Blodgett is the council representative on the committee. AARP is planning a major community survey to help with the Augusta effort.

Berwick, a town of 7,300 in the southernmost part of York County, is using its existing Envision Berwick committee to get the age-friendly effort going. Chairman James Bellissimo, who graduated from USM last month, wrote the application and is organizing the effort with committee members.

AARP is supporting an intensive age-friendly community effort with both its own resources and with an extraordinary three year commitment from the John T. Gorman Foundation. The AARP Maine office is available to help communities get started on making their towns more age-friendly and more livable.

If you have ideas for making your community more age-friendly and would like discuss how to get going, please don't hesitate to contact Peter Morelli, ( pmorelli@aarp.org) or Patricia Oh ( build.afc@gmail.com) Age-Friendly Communities coordinators for AARP Maine. Find additional information on our website, www.aarp.org/livable. To keep up on the age-friendly movement in Maine, like our new Age-Friendly Maine Facebook page at www.facebook.com/aarpafme .

Other Maine age-friendly network communities: Paris, Ellsworth, Portland, Kennebunk, Bowdoinham, Bethel, Newry, Greenwood, Woodstock, and Eastport.



Photo: Submitted by Peter Morelli

Left to right

Marianne Perry, John Moran, Peter Morelli, Eric Dyer, Romaine Turyn, Bruce Bourgoine, Anne Mitchell

Marianne Perry, John Moran, (committee members) Peter Morelli, Eric Dyer, Romaine Turyn,(committee chair) Bruce Bourgoine, (selectman) Anne Mitchell (committee member)