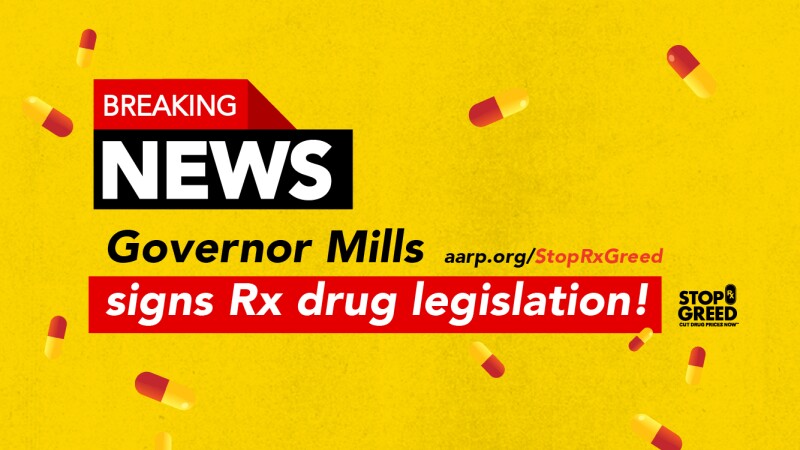 Maine Passes Legislation to Lower the Cost of Prescription Drugs


Prescription drug reform is a top priority for AARP because it's a top priority for people 50 and older.

Across the country, and right here in Maine, AARP is fighting to lower Rx drug prices and make medications more affordable as part of our StopRxGreed campaign. That's why AARP is thrilled to announce that on 6/24/19, Governor Mills signed into law a comprehensive package of bills to lower drug costs in Maine. The bills become law 90 days after the end of the legislative session.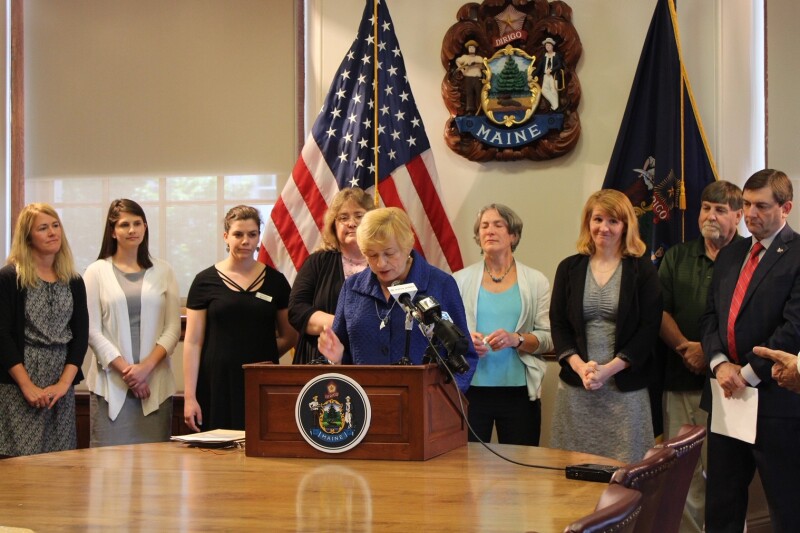 What is happening in Maine?

Maine just passed a package of bills that will lower prices and improve accessibility to medications which thousands of Mainers need to stay healthy.

The legislative package includes:

· LD 1272, "An Act To Increase Access to Low-cost Prescription Drugs," – would set up a wholesale prescription drug importation program with approval from the US Department of Health and Human Services.
· LD 1499, "An Act To Establish the Maine Prescription Drug Affordability Board" – would create a Prescription Drug Affordability Board. This board would determine prescription drug spending targets for public entities based on a 10-year rolling average, accounting for inflation with spending reductions, and would provide methods for achieving lower prescription costs through measures such as bulk purchasing, leveraging multi-state purchasing, or negotiating specific rebate amounts.
· LD 1162, "An Act To Further Expand Drug Price Transparency" – would gather information related to the pricing of drugs all along the supply chain from manufacturers to wholesalers, pharmacy benefit managers and insurance companies.
· LD 1504, "An Act To Protect Consumers from Unfair Practices Related to Pharmacy Benefits Management" – prohibits pharmacy benefit managers from retaining rebates paid by manufacturers and requires those rebates to be passed along to the consumer or the health plan.

As a proudly non-partisan organization, AARP Maine thanks our state legislature for working across party lines for the people of Maine and taking a stand against Rx greed. The bills passed unanimously in the Senate and unopposed in the House. Senate President Troy Jackson (D-Allagash), Senator Eloise Vitelli (D-Sagadahoc), Senator Heather Sanborn (D-Cumberland) and Senator Bob Foley (R-York) deserve special thanks for their leadership on this important issue.

Our elected leaders clearly recognized that prescription drug price gouging is not a Democratic or a Republican problem. This issue is about fighting for people's lives, and putting people before profits.

We also thank Governor Mills for signing the Rx bills into law on June 24th in Augusta. Some of our advocates, including Charles Stanley of Trenton, were there to witness the bill signing. Mr. Stanley's personal struggle with prescription drug costs was videotaped during the campaign.

Would you like to send Governor Mills a "thank you" message? You can do so by clicking here.

AARP Maine's volunteer advocates worked tirelessly during the last six months to make their voices heard. It is in great part due to their efforts that prescription drug costs became a top priority during the state's 2019 legislative session. In addition, many Mainers were instrumental in bringing this important matter to the attention of their elected leaders in their home districts. Mainers from across the state testified in Augusta, and followed up with their legislators to keep the momentum going. Heartbreaking stories of Mainers struggling to make ends meet due to the cost of their medications became the heart of the campaign.

Video: Mainers Speak Up

AARP Maine thanks every one of you for your courage and your conviction. You made the difference and made it possible for this legislation to become a reality.

What is happening in Washington?

Maine is once again leading the way, but now we need Congress to follow that lead. Maine's Congressional delegation, Senator Collins (R), Senator King (I), Congresswoman Pingree (D), Congressman Golden (D), must work with their colleagues to pass bipartisan legislation to lower prescription medication prices across the country.

The United States pays more for their prescription drugs than any other country in the world. The big drug companies rake in billions in profits each year while millions of Americans struggle to pay for the drugs they need to alleviate crippling pain and, in some cases, to stay alive.

The pharmaceutical companies have made it clear that they intend to fight hard, but we must fight harder. While we celebrate our win in Maine, we must keep the campaign going in the national arena.

Please take a moment right now to contact your federal representatives and urge them to Stop Rx Greed. Now.