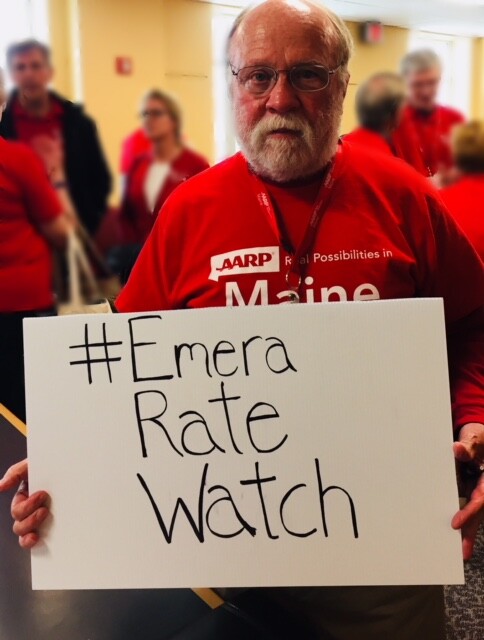 DATE: May 1, 2018

FOR IMMEDIATE RELEASE:

Contact: Jane Margesson, AARP Maine Communications Director

(207) 229-5628 or jmargesson@aarp.org



More than 80 Emera Maine Customers Attend Public Hearings

Voice Opposition to Utility Giant's Latest Requested Rate Hike



MACHIAS, ORONO, PRESQUE ISLE: This evening, more than 80 Emera Maine customers voiced their opposition to the utility giant's latest request for a rake hike at public hearings held simultaneously at the University of Maine in Machias, Orono and Presque Isle. The hearings were teleconferenced, and all attendees watched and heard each testimony at each hearing. Each hearing was staffed by a stenographer, Maine Public Utilities Commissioners and staff attorneys, the Office of the Public Advocate, Emera Maine, and staff and volunteers from AARP Maine.





Emera Maine is the second-largest electric utility company in the state and the request for a rate increase is their third in just five years. Since 2013, Emera Maine's rates have increased by over 12 percent. Despite receiving a huge tax break earlier this year, the company is once again seeking to increase their rates.



"AARP Maine strongly opposes Emera Maine's latest request to raise their rates," Amy Gallant, AARP Maine Advocacy Director testified this evening at the hearing in Machias. "Raising electric rates, yet again, is unaffordable for many Mainers, especially for those living on a fixed income."



Gallant submitted 570 petitions from AARP members, many of whom are Emera Maine customers, into the public record as part of her testimony. Gallant also read statements from several individuals who were unable to attend the hearing, including a resident from Orrington:



"My wife and I live in a small town without access to natural gas. Our primary heat source is via two air source heat pumps. We heat our hot water with a heat pump water heater. All our major appliances are electric. The recent increase to the standard offer has impacted us, as did Emera's two earlier increases that were approved by the PUC in recent years."



He also voiced concern regarding Emera Maine's poor customer service, stating, "In addition to disapproval of the proposed increase, I would like to see an increase in reliability. As a Mainer, I fully understand that our winters will always pose a challenge to providing trouble free electrical service. However, we have, in the past, gone DAYS before our power was restored after a storm. We are older now, and we can't easily deal with a power outage that lasts for days. Understand that thousands of older Mainers face the same (or even more serious) financial challenges that my wife and I deal with every day. Please don't increase that burden by approving Emera Maine's proposed increase. Do what's right."



Marie Keane of Brewer strongly voiced her opposition to Emera Maine's rate increase request at the hearing held in Orono. "We have appliances, one heat pump, and two pellet stoves all run by electricity. We have virtually no savings and live by check to check. As costs go up, we must choose between repairing the car this month, or do we get needed dental work? Emera's rates go up, but our income does not."



Roz Fisher of Bangor stated "I moved to Bangor 6 years ago from Texas and purchased a condo built in 1989. The electric baseboard heat had already been installed in our units and electric heat is still my only option. Since I have been in Bangor, Emera's electricity rates have increased twice. I hope that the request from Emera Maine is reconsidered. We need to think of all the elderly individuals, especially in rural areas, who are going to suffer because they cannot absorb these prohibitive costs."



Under the slogan "Raise your voice before they raise your rates," AARP Maine has embarked on a comprehensive campaign to fight against the proposed new rate hike. Customers are encouraged to visit www.aarp.org/me for more information, and to sign an online petition to urge the Public Utilities Commission to deny Emera Maine's rate increase request.



AARP Maine is also running social media, radio and print ads throughout Emera Maine's coverage area, and has distributed a flyer to hundreds of thousands of AARP members in Maine during the past two weeks.



"Emera Maine customers spoke loudly and clearly this evening and AARP Maine hopes that the PUC will hear their deep concern about the proposed rate increase," said Gallant. "Especially considering the tax break the company already received this year, it is unfair to turn to those who can least afford to pay more."



30-30-30

AARP is a nonprofit, nonpartisan organization, with a membership of nearly 38 million that helps people turn their goals and dreams into 'Real Possibilities' by changing the way America defines aging. With staffed offices in all 50 states, the District of Columbia, Puerto Rico, and the U.S. Virgin Islands, AARP works to strengthen communities and promote the issues that matter most to families such as healthcare security, financial security and personal fulfillment. AARP also advocates for individuals in the marketplace by selecting products and services of high quality and value to carry the AARP name. As a trusted source for news and information, AARP produces the world's largest circulation magazine, AARP The Magazine and AARP Bulletin. AARP does not endorse candidates for public office or make contributions to political campaigns or candidates. To learn more, visit www.aarp.org or follow @aarp and our CEO @JoAnn_Jenkins on Twitter.