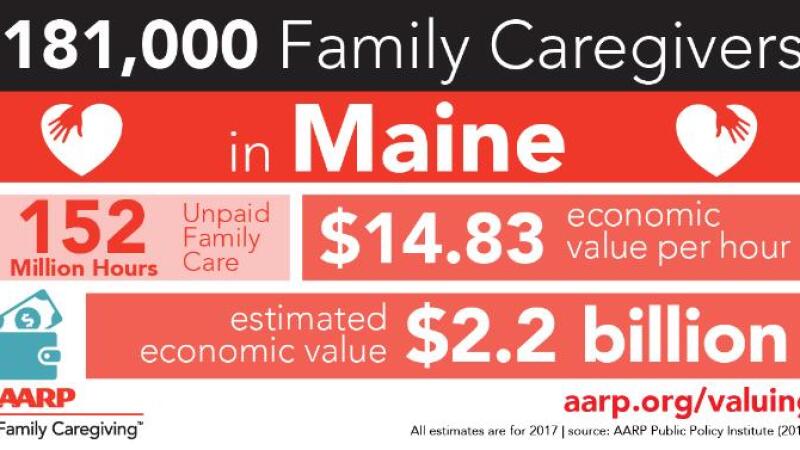 Maine Family Caregivers Provide $2.2 Billion Each Year in Unpaid Care to Family, Loved Ones at Home
PORTLAND — In Maine, approximately 181,000 family caregivers provided an estimated 152 million hours of care — worth a staggering 2.2 billion dollars annually — to their parents, spouses, partners, and loved ones in 2017, according to state data available in the latest report of AARP's Valuing the Invaluable series. The complexity of family caregiving increases as medical and nursing tasks continue to enter the home, and family demographics change amidst an aging population.



"AARP Maine is proud to recognize family caregivers whose tireless efforts help older parents, spouses and other loved ones remain in their homes," said Lori Parham, AARP Maine State Director. "Caregiving is a labor of love, but sometimes it is more than a full-time job. We hope that this latest report will emphasize how much caregivers need support so they can continue to provide care for others."
AARP is fighting to support family caregivers and their older family members and loved ones who count on them. In 2018, AARP Maine supported bills increasing access to telemedicine and lowering prices of prescription drugs. AARP Maine also supported expanding the spousal caregiver program through legislation introduced by Rep. Patrick Corey (R-Windham). The new law directs the Maine Department of Health and Human Services to request a federal waiver allowing qualified spouses to serve as paid caregivers through MaineCare.



In 2020, AARP will continue to fight for commonsense solutions to give family caregivers more support. These solutions include:

· Home and Community-Based Care: Increasing—or protecting against decreases in — the number of older adults who have access to services at home, like home care and adult day care.

· Respite Care: Increasing services that allow family caregivers to take a hard-earned break.

· Telehealth: Breaking down the barriers that prevent use of telehealth and investing in digital information and communication technologies that help family caregivers manage their own or their loved one's health.



The full report, Valuing the Invaluable: 2019 Update Charting a Path Forward, is now available and includes national figures broken down by state, trends in family caregiving, and policy recommendations.



To review state figures and the methodology, visit: www.aarp.org/valuing.



Resources and information on family caregiving, including AARP's Prepare to Care Guides, are available at www.aarp.org/caregiving.



AARP Maine also offers a free, Maine Family Caregiver Resource Guide providing helpful state-specific resources and tools.
In recognition of family caregivers everywhere, November is designated as both National and Maine Family Caregivers Month.



###
About AARP

AARP is the nation's largest nonprofit, nonpartisan organization dedicated to empowering people 50 and older to choose how they live as they age. With a nationwide presence and nearly 38 million members, AARP strengthens communities and advocates for what matters most to families: health security, financial stability and personal fulfillment. AARP also produces the nation's largest circulation publications: AARP The Magazine and AARP Bulletin. To learn more, visit www.aarp.org or follow @AARP and @AARPadvocates on social media.