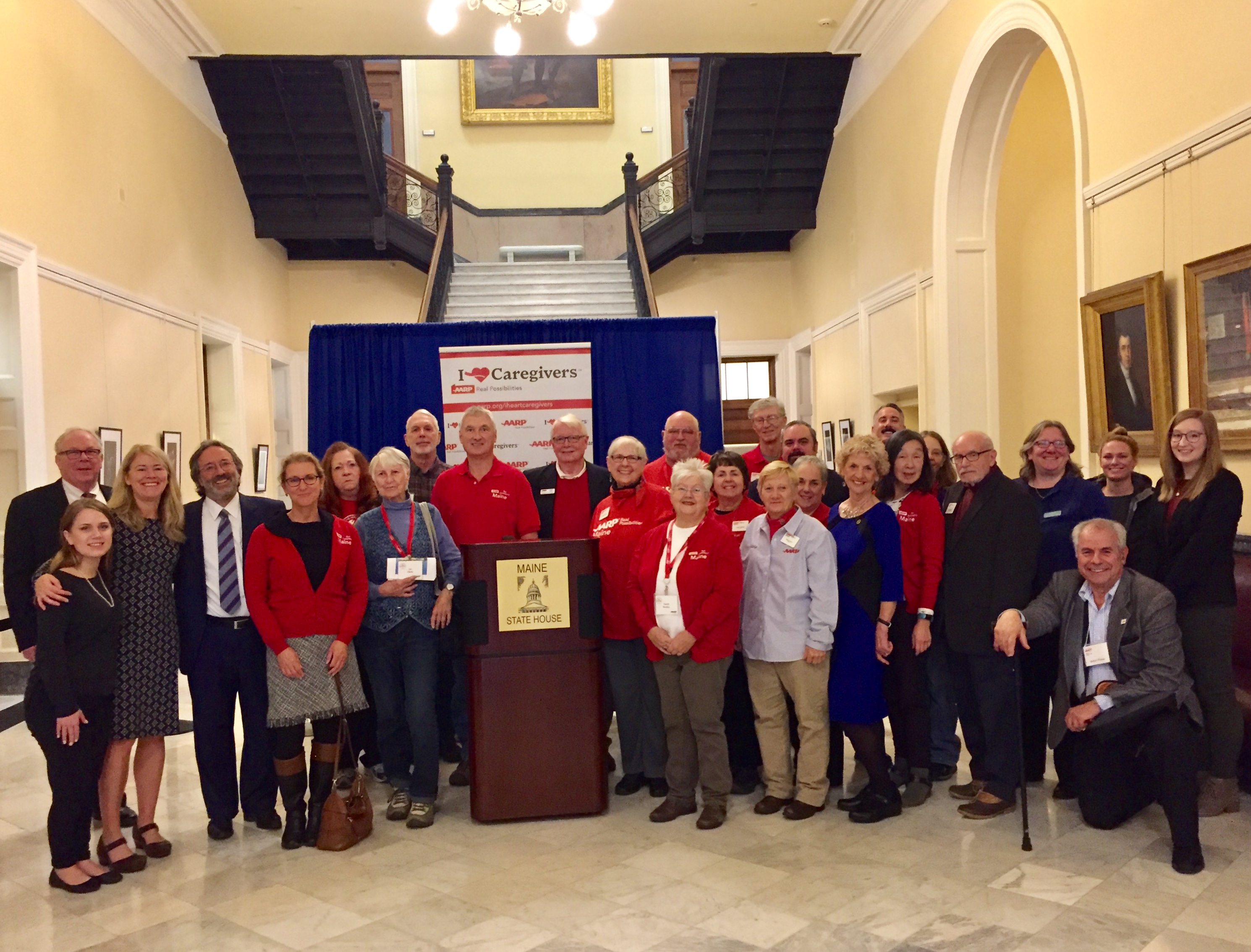 AARP Maine, Alzheimer's Assoc. Maine Chapter, MS Society and MCOA Celebrate Maine Family Caregivers Month
News Conference Calls for Legislative Leadership to Better Support Maine's 178,000 Family Caregivers


AUGUSTA: On November 13th, representatives from AARP Maine, the Alzheimer's Association Maine Chapter, the MS Society and the Maine Council on Aging hosted a news conference to celebrate the first-ever designation of November as Maine Family Caregivers Month. The news conference included State Representatives Patrick Corey (R-Windham), Margaret Craven (D-Lewiston) and Drew Gattine (D-Westbrook), and a representative from the Long Term Care Ombudsman Office. Also featured were Maine family caregivers who spoke about their first-hand experiences and the challenges of caring for a loved one.



The focus of the discussion, moderated by AARP Maine Volunteer State President, Rich Livingston, centered on these challenges as well as the need for policy solutions in the nation's oldest state. Aging in place was an important issue during the election season, and AARP Maine will continue to push for the issue to be elevated with a coordinated effort within the new administration. Representing 230,000 members in Maine, many of whom are caregivers, AARP plans to support a number of bills in 2019 to support family caregivers that will hopefully gain traction with legislative leadership. One such bill includes An Act to Allow Qualifying Medicaid Recipients to Hire Relatives and Legal Guardians for Consumer-directed Attendant Services, sponsored by Representative Patrick Corey.

"Today, 178,000 Mainers are caring for a spouse, parent or other loved one to help them live safely and independently at home," Livingston said during the press conference. "Being a family caregiver is a labor of love, but it can also take a toll financially and emotionally. Caregivers should be able to focus on caring for their loved one with access to supports and services that help them provide that care."

AARP Maine's 2017 survey of family caregivers revealed that their challenges include 59% using their own money to support their caregiving needs and 65% stating that they feel emotionally stressed due to their caregiving responsibilities.

"Caregivers are hit the hardest by the Alzheimer's crisis and it is growing," explains Adam Lacher, Director of Advocacy at the Alzheimer's Association Maine Chapter. "The 2018 Alzheimer's Disease Facts and Figures report reveals that 70 percent of care costs are borne by family caregivers directly through out-of-pocket expenses and the value of their unpaid care. There is an enormous financial, emotional and physical burden on Alzheimer's caregivers and we must work together to address their every-day challenges."

Several family caregivers spoke at the news conference today and shared how they struggle to care for a loved one at home.

Tom O'Connor of Portland spoke about caring for his wife, Deb, who has Alzheimer's: "Caregiving is a very costly activity. Costly not just in dollars, but in the physical and emotional toll it can have on the caregiver. Caregivers need support so they can do the best job possible for their loved ones."

One tool policymakers can use to assess the current long-term care system in Maine is the AARP Long-Term Services and Supports (LTSS) Scorecard. The Scorecard looks at state performance for the delivery of LTSS, based on a uniform set of performance measures and how performance has changed over time. It includes the critical role that housing and transportation play in assisting older adults, people with physical disabilities and their family caregivers. The Scorecard provides a range of tools states can use to spark new solutions and create a system in Maine that is aligned with the new realities of aging and living with disability.



"Today's conference is just the beginning of necessary discussions about long-term care system reform to address the comprehensive needs of older Mainers and their caregivers," said Livingston. "We look forward to continuing our work with the Maine Legislature on behalf of Mainers 50+ and their families."



Contact: Jane Margesson

AARP Maine Communications Director

229-5628 or jmargesson@aarp.org



###

AARP is a nonprofit, nonpartisan organization, with a membership of nearly 38 million that helps people turn their goals and dreams into 'Real Possibilities' by changing the way America defines aging. With staffed offices in all 50 states, the District of Columbia, Puerto Rico, and the U.S. Virgin Islands, AARP works to strengthen communities and promote the issues that matter most to families such as healthcare security, financial security and personal fulfillment. AARP also advocates for individuals in the marketplace by selecting products and services of high quality and value to carry the AARP name. As a trusted source for news and information, AARP produces the world's largest circulation magazine, AARP The Magazine and AARP Bulletin. AARP does not endorse candidates for public office or make contributions to political campaigns or candidates. To learn more, visit www.aarp.org  or follow @aarp and our CEO @JoAnn_Jenkins on Twitter.