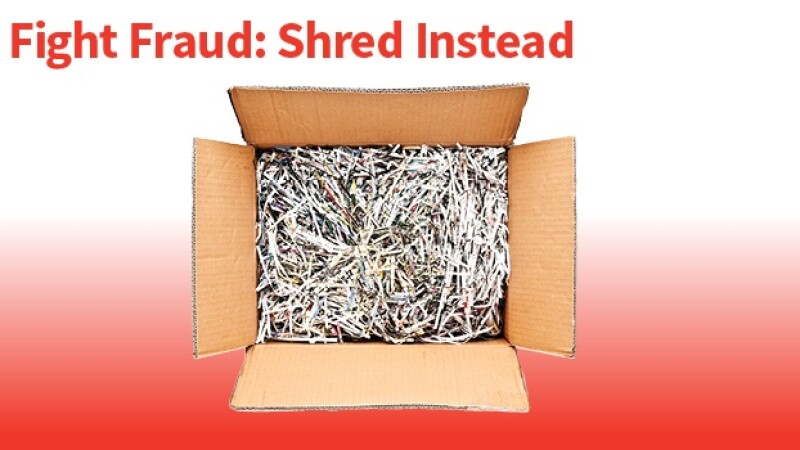 Scams and frauds are on the rise, but Mainers can take active steps to protect themselves and their families. AARP Maine is once again collaborating with community partners to host free shredding events.

Stay ahead of identity thieves at our free document shredding events in Portland on Saturday, 10/22/22 from 10AM-2PM or when truck is filled, in Bangor on Friday, 10/28/22 from 7AM – 2PM or when truck is filled, and in Augusta on Saturday, 10/29/22 from 10AM-2PM or when truck is filled.

Limit: 4 large boxes per person.
No electronics/plastics.
Residential customers only.
Not sure what to shred? Generally, you should bring any sensitive paperwork that includes account numbers, birth dates, passwords, PINs, signatures and Social Security and/or driver's license numbers. To protect your privacy, consider other items that include names, addresses, phone numbers and email addresses. When in doubt, shred it! Please note: No need to remove staples or paperclips.

Our shredding events include free disposal of unwanted/expired medications which will be managed entirely by the respective County Sheriff's Office. If you have questions about medication disposal, please reach out to the County Sheriff's Office directly.

General questions? Please send an email to me@aarp.org.


To Register for the Portland Event on Saturday, 10/22/22 10am-2pm Click Here
To Register for the Bangor Event on Friday, 10/28/22 7am-2pm Click Here
To Register for the Augusta Event on Saturday, 10/29/22 10am-2pm Click Here

Medication disposal managed by Cumberland County Sheriff's Office (Portland), Penobscot County Sheriff's Office (Bangor) and Kennebec County Sheriff's Office (Augusta)