"There is nothing, absolutely nothing
Half so much worth doing
As simply messing about in boats"
-The Wind in the Willows
by Kenneth Grahame

When I was young child growing up on the banks of the Kennebec River in Hallowell, my uncle, a Dutch anthropologist and long-time community advocate with Maine's Micmac tribe, would steal me out for canoe trips. I'd sit at the bow and let him navigate the swift moving current at the stern, my tiny arms dabbling in what could hardly be called paddling. Being a specialist on Native American culture for more than four decades made my uncle a respectable canoeist and he taught me most of what I know inside a "carib kenu" or dugout.
Maine has a unique canoeing tradition. Our miles of waterways, undeveloped river banks and lakes allow for endless opportunities to paddle out and enjoy a quiet morning or moonlit night. We have some of the best canoe makers in the world. Indeed, many a tourist can recall a canoe tale at some point during their Maine excursions and few outdoorsman haven't their own story from deep within the Allagash wilderness. Maine even has entire families who compete in national canoe regattas.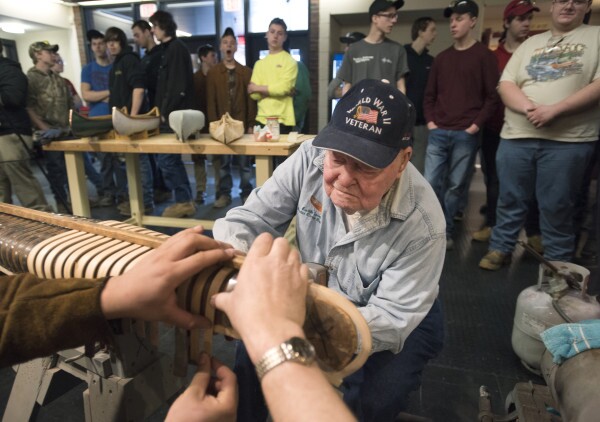 Building canoes has always been a craft here in Maine. But the times have changed. No longer do we have the hand-built wooden dugouts that made Maine canoes famous. With the explosion of more durable man-made materials that are both lighter and easier to maneuver, wooden canoes are harder and harder to find. However, a few folks are still making them just like they have for hundreds of years. One of those makers is 94-year old Joe Lavoie, a man who's hands have crafted wooden canoes for more than 40 years. He retired 20 years ago. But you can hardly tell.

Lavoie is using age-old techniques, making canoes out of cedar ribs, cedar planks and canvas. Other modern boats are mass-produced, he points out. His aren't. "Anyone could make a fiberglass canoe if they had the mold," Lavoie said. "This is harder." Lavoie's creations — perfect scale models of actual Old Town Canoe — sell for $400 (30-inch model) and $600 (48-inch model). His daughter, Ann Richard, said they're typically available at the Old Town Canoe showroom. via the Bangor Daily News
It's moments like these, reading about Mr. Lavoie and his craftsmanship, that I remember the days spent out exploring the Kennebec River with my uncle and learning how to read the water and steer our heavy wooden dugout along the nooks and crannies of the shoreline. Here's to Mr. Lavoie and his continued effort to pass along his craft to the next generation of Mainers eager to paddle out in their own Maine-made canoe.