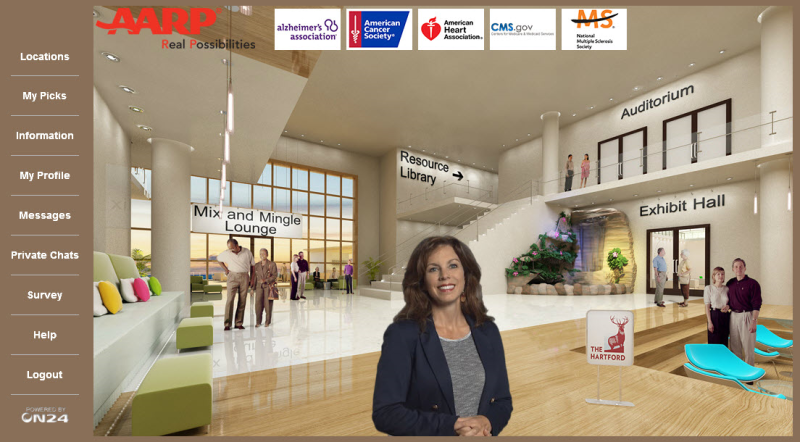 AARP is hosting an online fair all about family caregiving. You can participate from the comfort and privacy of your own home computer or the convenience of your mobile device.

Join us on Thursday, November 17th anytime from 11:00am to 4:00pm.

Connect with other family caregivers and access tips, resources, and information to help you care for a loved one.
Have one-on-one chats with representatives from various government agencies, non-profit organizations, and AARP programs.
Learn about Medicare, Mindfulness, Financial Health.
Watch a live webinar featuring Sherri Snelling and Holly Robinson Peete.
Register here for the Online Family Caregiving Fair!

Schedule of Events:

11am Fair Opens!

11-12 Webinar: A Cast of Caregivers featuring Holly Robinson Peete and Sherri Snelling

12-1 Opportunity for individual conversations with more than 20 organizations

12:10-1:00 Mindfulness demonstration and chat with author Barry Jacobs

12:30-1:30 Webinar: Understanding Medicare featuring Centers for Medicare and Medicaid Services

1-2 Opportunity for individual conversations with more than 20 organizations

2-2:30 Webinar: Financial Tips for Caregivers featuring Georgia State President Lee Baker and AARP's Felicia Brown

2-3 Opportunity for individual conversations with more than 20 organizations

2:40-3:30 Mindfulness demonstration and chat with author Julie Mayer

3:30-4:00 Caregiving Q+A live chat with author and AARP expert Amy Goyer

3-4 Opportunity for individual conversations with more than 20 organizations

Ongoing from 11:00am-4:00pm

• Open chat in the Mix & Mingle Lounge • On-demand webinars in the auditorium • Listening post in the Mix & Mingle Lounge • Resources available for download in the Resource Library •