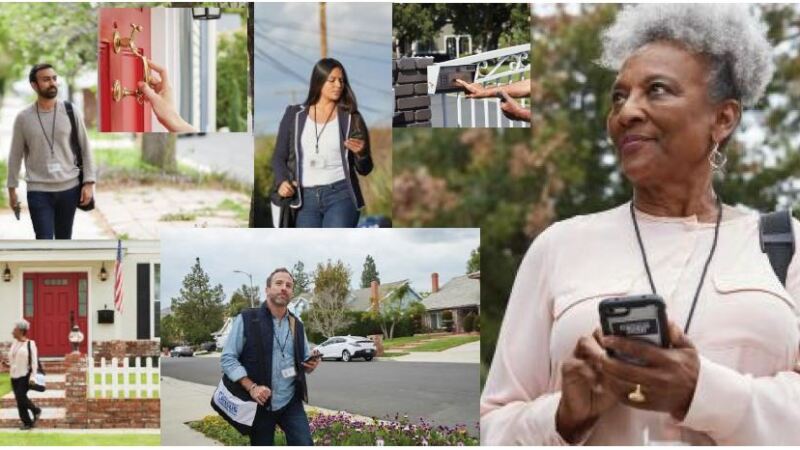 Interested in Being A Census Worker? It's National Recruitment Week and there are informational events taking place all over Maine! We have the complete list.

To apply online, visit www.2020census.gov/jobs

Remember, these jobs offer:

- extra income
- good pay ($16.50/hr)
- flexible hours
- paid training

For more information or help applying, please call 1-855-JOB-2020

The U.S. Census Bureau is an Equal Opportunity Employer.



| | | | | | | | | | | | | | | | | | | | | | |
| --- | --- | --- | --- | --- | --- | --- | --- | --- | --- | --- | --- | --- | --- | --- | --- | --- | --- | --- | --- | --- | --- |
| Lewiston Public Library | 200 Lisbon St | Lewiston | 10/22/19 12:30 PM | 10/22/19 2:30 PM | | | | | | | | | | | | | | | | | |
| Auburn Public Library | 49 Spring St | Auburn | 10/23/19 2:00 PM | 10/23/19 4:00 PM | | | | | | | | | | | | | | | | | |
| Town of Houlton, Maine | 107 Main St | Houlton | 10/22/19 5:00 PM | 10/22/19 8:30 PM | | | | | | | | | | | | | | | | | |
| Cary Library | 107 Main St | Houlton | 10/22/19 5:00 PM | 10/22/19 8:30 PM | | | | | | | | | | | | | | | | | |
| Town of Houlton, Maine | 107 Main St | Houlton | 10/22/19 5:00 PM | 10/22/19 8:30 PM | | | | | | | | | | | | | | | | | |
| Walker Memorial Library | 800 Main St | Westbrook | 10/21/19 10:00 AM | 10/21/19 12:00 PM | | | | | | | | | | | | | | | | | |
| Scarborough Public Library | 48 Gorham Road | Scarborough | 10/23/19 12:00 PM | 10/23/19 2:00 PM | | | | | | | | | | | | | | | | | |
| Southern Midcoast Career Center | 29 Sewall St | Brunswick | 10/24/19 10:00 AM | 10/24/19 12:15 PM | | | | | | | | | | | | | | | | | |
| Curtis Memorial Library | 23 Pleasant St | Brunswick | 10/24/19 10:00 AM | 10/24/19 12:00 PM | | | | | | | | | | | | | | | | | |
| Portland Public Library | 5 Monument St | Portland | 10/26/19 1:00 PM | 10/26/19 3:00 PM | | | | | | | | | | | | | | | | | |
| Downeast Community Partners | 248 Bucksport Rd | Ellsworth | 10/22/19 10:00 AM | 10/22/19 12:15 PM | | | | | | | | | | | | | | | | | |
| Capital Area New Mainers Project | 70 State St | Augusta | 10/24/19 11:30 AM | 10/24/19 1:30 PM | | | | | | | | | | | | | | | | | |
| Rockland Career Center | 91 Camden St | Rockland | 10/23/19 1:00 PM | 10/23/19 3:30 PM | | | | | | | | | | | | | | | | | |
| Lincoln Memorial Library | 21 W Broadway | Lincoln | 10/21/19 12:00 PM | 10/21/19 5:00 PM | | | | | | | | | | | | | | | | | |
| Millinocket Memorial Library | 5 Maine Ave | Millinocket | 10/22/19 9:00 AM | 10/22/19 1:00 PM | | | | | | | | | | | | | | | | | |
| Bangor Public Library | 145 Harlow St | Bangor | 10/22/19 10:00 AM | 10/22/19 1:30 PM | | | | | | | | | | | | | | | | | |
| Tri County Career Center | 1404 Broadway | Bangor | 10/22/19 12:30 PM | 10/22/19 4:30 PM | | | | | | | | | | | | | | | | | |
| Brewer Public Library | 100 S Main St | Brewer | 10/26/19 10:00 AM | 10/26/19 12:00 PM | | | | | | | | | | | | | | | | | |
| Thompson Free Library | 186 E Main St | Dover Foxcroft | 10/24/19 3:00 PM | 10/24/19 6:00 PM | | | | | | | | | | | | | | | | | |
| First Baptist Church of Dexter | 5 Main St | Dexter | 10/21/19 2:00 PM | 10/21/19 5:00 PM | | | | | | | | | | | | | | | | | |
| Pittsfield Public Library | 110 Library St | Pittsfield | 10/23/19 2:30 PM | 10/23/19 5:30 PM | | | | | | | | | | | | | | | | | |
| Pittsfield Public Library | 110 Library St | Pittsfield | 10/25/19 10:00 AM | 10/25/19 12:00 PM | | | | | | | | | | | | | | | | | |
| Machias Career Center | 15 Prescott Dr | Machias | 10/25/19 10:30 AM | 10/25/19 1:00 PM | | | | | | | | | | | | | | | | | |
| Dyer Library / Saco Museaum | 371 Main St | Saco | 10/22/19 10:00 AM | 10/22/19 12:00 PM | | | | | | | | | | | | | | | | | |
| McArthur Public Library | 270 Main St | Biddeford | 10/23/19 3:00 PM | 10/23/19 5:00 PM | | | | | | | | | | | | | | | | | |
| Rice Public Library | 8 Wentworth St | Kittery | 10/24/19 1:00 PM | 10/24/19 3:00 PM | | | | | | | | | | | | | | | | | |
| York Public Library | 15 Long Sands Rd | York | 10/25/19 3:00 PM | 10/25/19 5:00 PM | | | | | | | | | | | | | | | | | |