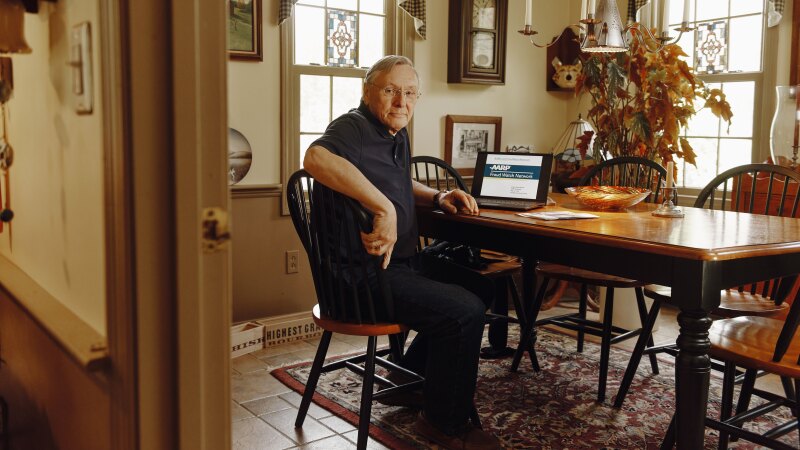 Dennis Hohengasser was just a few clicks away from adopting a new cat—and from being scammed.

It was early in the COVID-19 pandemic, and a purported animal-rescue site had a cat that he fell in love with. Payment was supposed to be made through PayPal. But something about the transaction seemed off, even though he felt a powerful urge to go through with it.

"My emotions were raw," says Hohengasser, 72, of Taunton. "I just kept thinking, I need to get into PayPal to get the cat."

He was able to quell his emotions, but as a volunteer with AARP's Fraud Watch Network, he knows that a lot of people aren't. "People become victims when they are in an emotional state at the time of contact. Scammers keep pushing until their victims cave in."

To help older people protect themselves from the ever-evolving roster of cons, Hohengasser organized Fraud Talk Tuesdays, a series of webinars.

Held the second Tuesday of the month, from noon to 12:30 p.m., each discussion covers different topics, such as online relationship scams; identify theft, tech support and ransomware cons; and those targeting veterans.

Prevention Is Key

According to the Federal Trade Commission, there were 67,515 cases of fraud reported in Massachusetts last year, with identity theft and impostor scams the most common.

And it is big business: More than $91 million was lost to fraud in the Bay State in 2021. Worse, the number of reported scams has doubled in the past five years.

"Fraud, unfortunately, is common and is an evergreen problem," says Mike Festa, state director for AARP Massachusetts.

He points out that education and vigilance are key to prevention, especially with new swindles, like the pet-adoption scheme, cropping up all the time.

"Scammers recognize they can be hung up on 1,000 times, but they just need one victim to make money," he says.

Two common financial cons center on reverse mortgages and Social Security, says Renee Senes, 69, a financial adviser in Concord and an AARP Fraud Watch Network volunteer.

With Social Security ploys, fraudsters often contact people and tell them their benefits are being canceled or they need to confirm personal information for a cost-of-living increase, says Senes, who is also a Fraud Talk Tuesdays presenter.

"It all sounds very legit, but anytime anyone is asking for personal identity information, stop, take a breath, and say, 'Let me call you back.' Do not just give out your information," she counsels.

What's some practical advice to protect yourself ? Watch out for emails, texts or websites with typos, misspellings or grammatical errors, and steer clear of vendors or others who ask for payment in gift cards, cryptocurrency or wire transfers, Hohengasser says. And be careful about information shared on social media.

"Facebook is a buffet for scammers looking for information," where they can feast on personal data such as birthdays, relation- ships, family members, travel plans, employment status and medical issues, he says.

Go to aarp.cventevents.com/FraudTalkJune for information on Fraud Talk Tuesdays.

The sessions are free and open to all, but registration is required.

Jill Gambon is a writer living in West Newbury, Mass.

AARP Fraud Frontiers: Our Susceptibility to Fraud
For More on Frauds and Scams