Urge your local legislators to support House Bill 1199 and Senate Bill 699, An Act Regarding Medicare Savings Programs Eligibility, in order to help bridge the gap to affordable healthcare for seniors in Massachusetts.
Why?

Massachusetts has the 2nd highest percentage of income insecure seniors living alone – right after Mississippi
This year's budget proposal would extend new benefits to 40,000 seniors with incomes below 165% of the federal poverty level
This bill goes even further to increase eligibility to seniors with incomes under 200% of the federal poverty level
6 in 10 Massachusetts elders living alone do not have enough income to meet basic needs
1 in 3 Massachusetts seniors with low income spend over 20% of their income on health care
For more insight on AARP's position on this incredibly important issue, please read our tertimony below.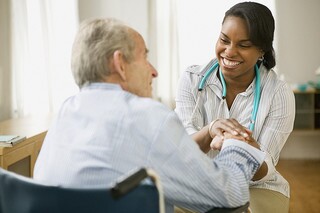 To help bridge this gap, contact your local legislator right now, and urge them to support House Bill No. 1199 and Senate Bill No. 699

---------------------------------------------------------------------------------------------
There are more than 1 million Commonwealth residents age 65 and over, and according to the recent Massachusetts Commission on Elder Economic Security report, 6 in 10 single elders do not have the income to meet their basic needs. MassHealth provides supports for those who are not able to do so, but there are significant gaps. As of September 2016, 1.89 million Massachusetts residents were enrolled in the MassHealth program; 14% are disabled adults; 8% are seniors in community based care and Medicare buy-in programs; and 1% are seniors in skilled nursing facilities. For these 434,185 people any effort is welcomed to improve the program so they can remain in their home and community.
According to estimates from the University of Massachusetts Donahue Institute, the number of adults 60 and over in Massachusetts will soon eclipse the under-20 age cohort for the first time in recorded history. The first Baby Boomers turned 70 in 2016. By the next Census in 2020, the 60-plus group will comprise 24 percent of the population. The aging population of Massachusetts will continue to grow along with their unique needs related to the workforce, health and long term care. The bills we are here to support today would help ensure that Massachusetts can meet those needs going forward. We urge the committee to give a favorable report to all nine measures.
We look forward to working with you and would be happy to assist you in any way possible on these important issues. Thank you.
HOUSE BILL NO. 1128 AND SENATE BILL NO. 709:
AN ACT RELATIVE TO TRANSFERS OF ASSETS BY MASSHEALTH MEMBERS
This bill will protect elders from ineligibility for MassHealth nursing home care because of inadvertent transfer of assets within the 5 year look back period. An individual must demonstrate that a gift conforms with certain criteria, such as a regular pattern of small gifts or donations to a religious institution, thereby allowing those in need to qualify for MassHealth nursing home benefits if they suffer a catastrophic illness or incident.
HOUSE BILL NO. 1161 AND SENATE BILL NO. 663:
AN ACT TO PROTECT MASSHEALTH APPLICANTS FACING UNDUE HARDSHIP
This bill will establish criteria for the division to determine whether a penalty for a transfer of assets would create an undue hardship for a MassHealth applicant. The individual must meet all of the criteria to be granted a waiver. This will allow seniors with low income, who are eligible for nursing home care, to get the care they need without an extended ineligibility period.
HOUSE BILL NO. 1199 AND SENATE BILL NO. 699:
AN ACT REGARDING MEDICARE SAVINGS PROGRAMS ELIGIBILITY
This bill will allow the division to disregard income at or above 165% federal poverty level and not apply an asset test for the Qualified Medicare Beneficiary, Specified Low-Income Medicare Beneficiary Qualified Individual programs (Medicare Savings or Medicare Buy-In Programs); allowing seniors with limited income, but remain above certain thresholds, to access benefits.
SENATE BILL NO. 668:
AN ACT TO SUPPORT EQUAL ACCESS TO COMMUNITY CARE FOR ELDERS AND THE DISABLED
This bill will allow the division to charge a premium to individuals participating in the PACE and Home and Community Based Waiver Program exceed certain exemptions. The premium equals the difference between the existing income limit and an individual's income. The goal is to keep people in their community, not a nursing facility.
SENATE BILL NO. 688:
AN ACT PRESERVING SPECIAL NEEDS TRUSTS FOR DISABLED SENIORS
This bill will enable disabled seniors to continue to use special needs pooled trusts, without penalty, to pay for services not covered by MassHealth. A penalty is not required under federal law. This will allow disabled seniors at risk of nursing home placement to pay for services such as home care and transportation, to keep them in their home and community.
SENATE BILL NO. 727:
AN ACT RELATIVE TO SPOUSES AS CAREGIVERS
This bill will direct EOHHS and EOEA to file an application for a waiver with the Center for Medicaid and Medicare Services to amend the 1915(c) elderly waiver to include spouses in the definition of those eligible to server as paid caregivers.