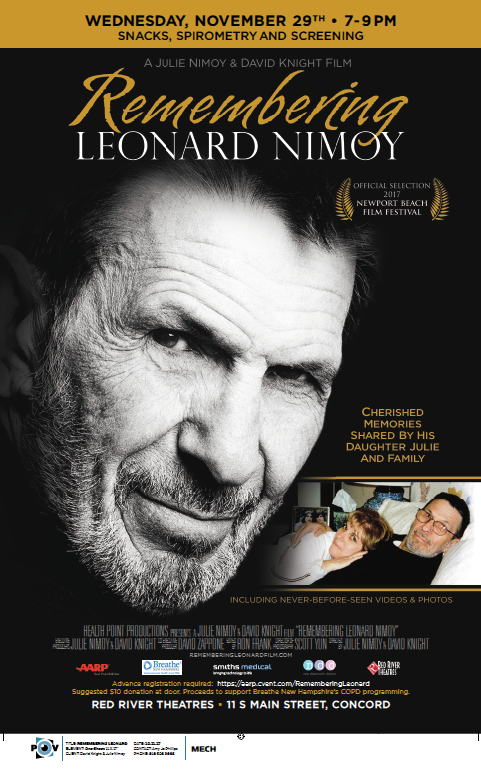 Join us at the Red River Theatres in Concord on November 29 for a free screening of "Remembering Leonard Nimoy: His Life, Legacy, and Battle with COPD," a loving and very personal tribute to the life and career of Leonard Nimoy, the prolific actor and director best known for playing Spock in Star Trek.
Produced and directed by his daughter Julie and son‐in‐law David Knight, the film reveals stories from his childhood growing up in Boston in the 1930s and 1940s, highlights from his early career in Hollywood, and a snapshot of Nimoy's big break‐out role on the popular sci‐fi series Star Trek.
The film also shows how he helped raise awareness for the lung disease that eventually took his life, chronic obstructive pulmonary disease (COPD), as well as its impact through the eyes of those who knew him best: his family.
Here are the details:
Wednesday, November 29
7:00 PM – 9:00 PM
Red River Theatres
11 South Main Street
#L1
Concord, NH 03301
Join us before the film for light appetizers and free Spirometry screenings courtesy of Breathe New Hampshire!
Suggested $10 donation at door to support Breathe New Hampshire COPD programs. Join us before the film for a free breathing test. Refreshments available.
"Life is like a garden. Perfect moments can be had, but not preserved, except in memory."
-Leonard Nimoy