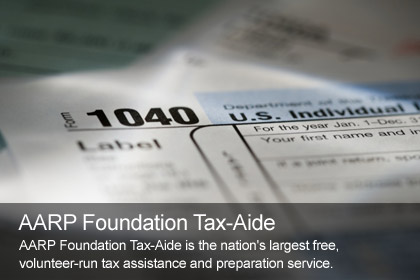 The AARP Foundation is looking for interested individuals to volunteer this tax season! Tax-Aide is an AARP Foundation program that offers free tax filing help for those who need it most, especially adults 50 and older, during the tax season.

Last year, 274 AARP Foundation Tax-Aide volunteers helped more than 19,318 people file their federal and state tax returns. The program is offered at approximately 49 sites in New Hampshire including senior centers, libraries and other convenient locations. Nationally, Tax-Aide serves 2.7 million taxpayers annually, resulting in $1.41 billion in income tax refunds and more than $240 million in Earned Income Tax Credits (EITCs).

AARP Foundation Tax-Aide volunteers receive training and continued support, including complete tax preparation training and IRS certification prior to working with taxpayers. Training is 40 hours completed in the month of January, followed by a commitment from February 1 – April 18 with an expectation that the volunteer will be available once or twice a week for four hour shifts.

If working with taxpayers isn't what you're looking for, there is also a need for grass-roots leadership, on-site greeters, those who can provide technical assistance and interpreters who can provide language assistance. There's a role for everyone!

"Many older, low-income taxpayers miss out on the credits and deductions they've earned because they can't afford to pay for professional tax preparation," said Sarah Kelsea from AARP New Hampshire. "AARP Foundation Tax-Aide addresses this community need with volunteers who are not only helping their neighbors, but also learning new skills and giving their mind a workout as well." Taxpayers do not need to be a member of AARP or a retiree to use this program.

To learn about our volunteer opportunities, visit www.aarpfoundation.org/taxaide or call 1-888-OURAARP (1-888-687-2277).

If you have any questions or difficulty signing up to become a Tax-Aide volunteer, feel free to reach out to Charles Caldwell at nhtaxaidepvs@gmail.com or 1- 802-382-0359. AARP Foundation Tax-Aide is offered in coordination with the IRS.