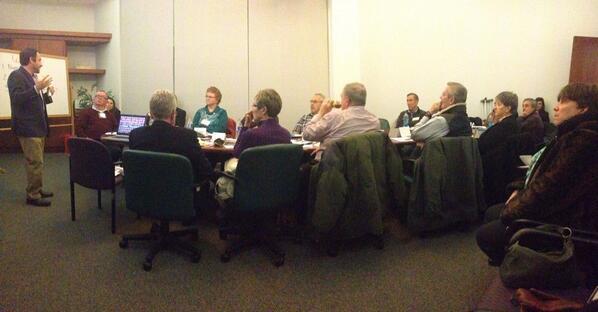 Prospective volunteers attended the launch of AARP New Hampshire's new civic engagement project aimed at taking advantage of New Hampshire's unique first-in-the-nation status to engage members of the community in the political process.
The information session held last night at WMUR-TV was an introductory meeting to attract and organize volunteers throughout the state and provide meaningful opportunities to participate in the living history that is the New Hampshire first-in-the-nation presidential primary.
AARP Regional Vice President (Northeast) Kelly Clark says that AARP's position as a nonpartisan, nonprofit organization is a natural fit for this project. "The civic engagement initiative offers citizens a chance to engage candidates on a national, state and local level. AARP will provide nonpartisan educational and outreach opportunities to the general public, giving them a front-row seat to the political process. This enables Granite Staters to find out more about the candidates and where they stand on the issues that will affect them and their families."
AARP New Hampshire State President Dick Chevrefils served as MC at the event and spoke to the group about why civic engagement is important. "New Hampshire is a retail politics state, so it is about the individual. Each one of us can make a difference. And together we can be a powerful force."
Participants were also shown a video presentation from AARP New Hampshire volunteers who shared their experiences on the campaign trail. Volunteers recalled being interviewed by many media outlets and their personal interactions with presidential candidates including Senator John McCain, Governor Jon Huntsman, and President Bill Clinton.
Other speakers at the event included political campaigns expert Sarah Stewart, President of b-fresh consulting, who shared an insiders' view of life on the campaign trail and James Pindell, WMUR-TV Political Director, who spoke on the impact of civic engagement and what we might expect in the upcoming election cycle.
To find out more or get involved, email nh@aarp.org.
(Photo: AARP Field Manager Steve Griffin talks to group at WMUR the evening of January 23.)