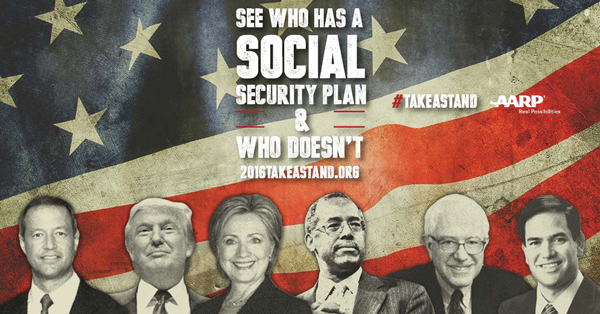 AARP has launched a 2016 election accountability campaign called Take a Stand which asks Presidential candidates to Take a Stand on their plans to update Social Security. AARP expects every Presidential candidate to lay out their plans to make Social Security financially sound so current and future generations can receive the adequate benefits they've earned.

"Our members and voters of all ages believe it's time to make Social Security strong so future generations receive the benefits they've earned," said AARP New Hampshire State Director Todd Fahey. "But there won't be any progress on updating Social Security without Presidential leadership, beginning with the next administration. We will work to ensure voters know which candidates have a real plan for keeping Social Security strong and which don't."

The effort – beginning in Iowa, New Hampshire and South Carolina – will expand as the election season moves forward. All plans put forward by candidates will be posted on the Take a Stand website at www.2016takeastand.org.

Additionally, the campaign will hold candidates accountable for laying out their Social Security plans as AARP informs voters of all candidate plans through advertising, social media, grassroots outreach and our publications, which reach 22 million households.

"We expect the Presidential candidates to share their plans with voters," added Fahey. "Americans seek and deserve real ideas and leadership – not 30-second sound bites – on this critical program that is the bedrock of financial security for most Americans."

In New Hampshire, one in five residents receives Social Security. The program lifts 68,000 retirees from poverty and for three in ten age 65+, it is the only source of income. Nearly all residents 65 and older receive Social Security and the average benefit is about $1,312 a month.

"If there is no Presidential leadership on Social Security, change is unlikely and benefits could be reduced by 25% in 2034, translating into a $4,000 to $10,000 benefit cut for beneficiaries," concluded Fahey. "This problem is best addressed sooner rather than later."

AARP is nonpartisan and does not support or oppose any political candidates nor contribute any money to political action committees, campaigns or super PACs.