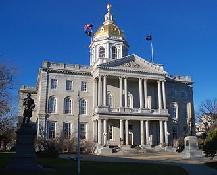 AARP New Hampshire, after completing an e-mail survey of our activists, will be involved in the following pieces of legislation this year. Top issues? Prescription drugs, elder exploitation, long-term care system rebalancing, help for caregivers such as paid leave and flexibility, and support for grandparents.

Here is what we will be following this session:

Budget
We need to increase rates for home- and community-based services (HCBS) and rebalance the long-term care system so a greater percentage is spent on HCBS vs. nursing home care. A current AARP Public Policy Institute study shows that New Hampshire ranks #50 in the money spent on services that help keep people in their homes and communities as they age. Nursing home care is about three times more expensive than home care but we still spend 86% of taxpayer dollars on this type of care. We must allocate resources differently as New Hampshire ages – the population 85 and older will triple by 2050.

HB696: Elder and Financial Exploitation
Provides a protective order similar to a domestic violence order to prevent elder abuse and financial exploitation. This is critical in preventing exploitation and abuse which leaves vulnerable adults much more likely to need state support as a result.

SB290: Medicaid Work Requirement
AARP supports making it easier for older recipients of Medicaid Expansion benefits who are caregivers to be exempted from work requirements if they can show they are caregivers. Although we do not support work requirements, we see this as an improvement over the current law.

HB621: Commission on Aging
AARP is supportive of creating a Commission on Aging to bring together several state agencies, business community, advocates and others to develop strategies to help people as they age.

SB131: Grandfamilies Commission
Reauthorizing the Grandfamilies Commission – which is already in existence – is important due to the increased number of grandparents raising grandchildren as a result of the opioid crisis, among other factors.

SB260: Prescription Drugs
This legislation, which we support, would create a state wrap-around program to help support people who reach the Medicare Part D donut hole and whose income is at or below 200% of the federal poverty level.

HB712 and SB1: Paid and Family Leave Legislation
AARP is supportive of both HB712 and SB1 and is reviewing the Governor's current proposal. Throughout the session, we will review all of the proposals of paid family leave legislation and will support the plan we feel is best for New Hampshire.

As far as the various pieces of legislation concerning prescription drugs, we will evaluate them in accordance with AARP's policy on Rx and support/oppose accordingly.

We will continue to monitor fraud and privacy issues and will support and/or oppose legislation in accordance with AARP's policy and the needs of Granite Staters.

Want to find out more as the session continues? Sign up as an e-activist and get e-alerts from AARP and AARP New Hampshire! Register today.