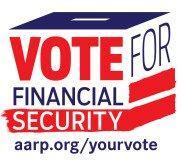 AARP New Hampshire has released voters' guides featuring positions from US Senate, Congress and Governor – in their own words – on critical issues facing our country and state. The nonpartisan Voters' Guides highlight views of Shaheen, Brown, Shea-Porter, Guinta, Kuster and Garcia on Medicare, Social Security and saving for the future. Hassan and Havenstein share their views on saving for the future, family caregiving, home- and community-based services, and transportation. Voters of all ages may view the voters' guides at www.aarp.org/yourvote.

"AARP is working hard in New Hampshire to ensure that people get the facts about issues important to them and their families," said AARP New Hampshire State Director Todd Fahey. "Our nonpartisan voters' guides help voters cut through the political 'noise' and deliver candidates' positions on critical issues in clear, easy-to-understand language."

AARP's federal guide posts three questions to candidates running for US Senate and Congressional Districts One and Two on Social Security, Medicare and saving for the future:

How would you protect Social Security for today's seniors and strengthen it for future generations?
How would you put Medicare on stronger financial ground and protect today's seniors and future retirees from the burden of rising health costs?
How would you help Americans save so they can secure their future and live independently as they age?
AARP New Hampshire's gubernatorial guide posts four questions:

What will you do to help Granite Staters save so they can have a secure financial future?
What would you do to help family caregivers continue to safely care for their loved ones at home?
How will you help expand New Hampshire seniors' access to quality services provided at home and in the community?
What would you do to ensure transportation options are safe, affordable, accessible, dependable and user friendly?
The responses appear alongside AARP principles on each issue. Voters can visit www.aarp.org/yourvote and enter their address to see responses from candidates in their specific races. Visitors can also contact the campaigns with their comments or questions and find out where they can vote in their state.

AARP does not support, oppose or contribute to any candidates for elected office. "All of the responses in the voters' guides are in the candidates' own words, from publicly-available information, excerpts from campaign sources, and answers to specific questions," concluded Fahey.