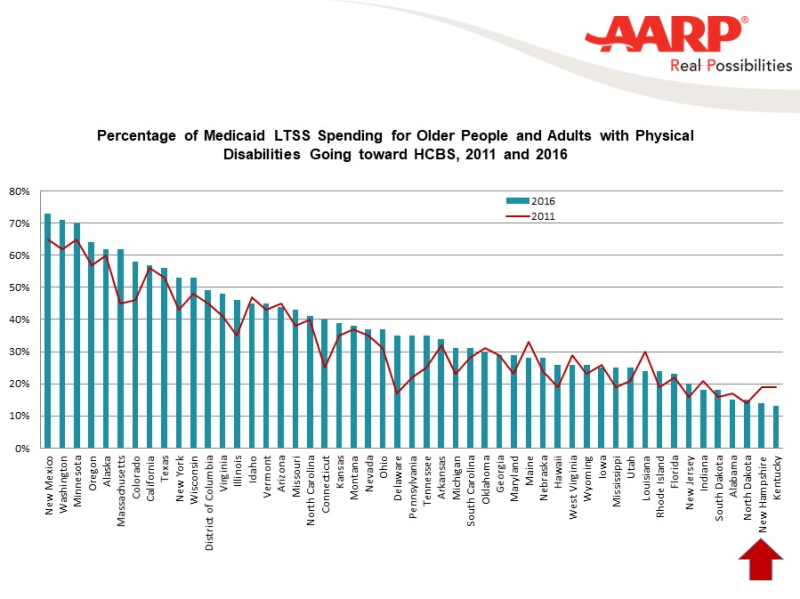 New Hampshire ranks #50 when it comes to offering services that help keep people in their homes and communities as they age. AARP warns that more must be done – at an accelerated pace – to meet changing demographic demands.

New Hampshire's long-term care system needs serious overhaul in order to give people the care they want, in the setting of their choice, at a lesser price. Nearly all – 95% of New Hampshire residents 50 and older – say they want to age at home.

Across the States 2018:  Profiles of Long-Term Services and Supports is an AARP Public Policy Institute report that ranks states on 75 indicators covering seven categories including population projections and characteristics; Medicaid long-term services and supports (LTSS); public LTSS expenditures and users; and family caregiving. The AARP Public Policy Institute has been publishing Across the States for 24 years to help policy makers, administrators, and stakeholders make informed decisions about LTSS public policy and programs.

"The vast majority of older Granite Staters want to live independently at home as they age, most with the help of unpaid family caregivers," said AARP New Hampshire Associate State Director of Advocacy Doug McNutt. "Even facing tight budgets, most states have made clear progress in helping older residents achieve that goal. It's time for New Hampshire to pick up the pace and invest more into our home- and community-based system. Especially as our population ages. "

The single strongest predictor of a state's long-term care system is the reach of its Medicaid long-term care safety net. That's why AARP will continue to fight to expand services provided in the home and in the community. Unfortunately, New Hampshire ranks #50 –the bottom of the pack – in the percentage of Medicaid long-term care dollars for older people and adults with physical disabilities that support care provided at home and in the community, the care setting most residents prefer.

"We need to look at the costs of home care vs. nursing home care," continued McNutt. "Nursing home care is about three times more expensive than home care. But we still spend 86% of taxpayer dollars on this type of care. This fact, with the desire of people to age in place, points to the need to allocate resources differently as New Hampshire ages. And the demographic trends are impressive: By 2026, the leading edge of the boomers will turn 80 and by 2050, the population 85 and older will triple."

The report also highlights the role family caregivers play in the LTSS system. In New Hampshire, family caregivers provide $2.3 billion per year in unpaid care, delivering 161 million hours of care. "The economic value of family caregivers far exceed the Medicaid long-term care spending," continued McNutt. "But the supply of family caregivers is not expected to keep up with the large number of older adults needing care."

Long-term care – also called long-term services and supports – is a diverse set of services designed to help older people and those with disabilities. Services can be provided in a person's home, in a community setting such as an adult day care center, or in a group residential facility like a nursing home.

The entire Across the States 2018 report, along with state rankings and information, is available at www.aarp.org/acrossthestates.