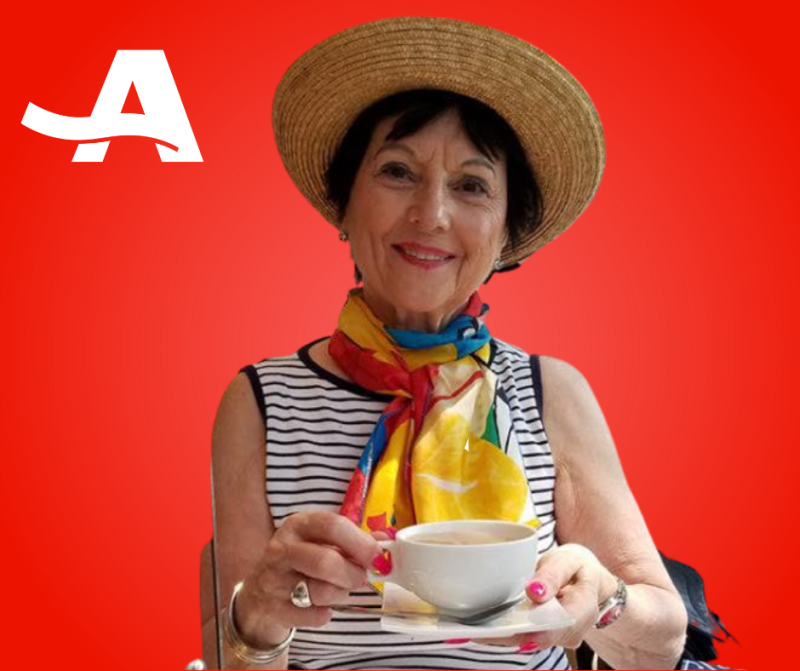 The AARP New Hampshire Andrus Award for Community Service honors Granite Staters age 50+ who make a powerful difference in their communities. Winners are nominated by their fellow AARP volunteers and/or AARP NH Executive Council members. Nominations are evaluated by AARP New Hampshire based on how the volunteer's work has improved the community, supported AARP's vision and mission, and inspired other volunteers. The award is named after our founder, Dr. Ethel Percy Andrus, an educator and champion of aging.

We are honored to recognize this year's winner—Karen Ulmer Dorsch from Sanbornton, NH.

AARP NH super-volunteer Karen is always on the move and wears many hats. Her volunteer roles at AARP are many: Chair of the Greater Concord Planning Team, Capitol City Task Force member, Speakers Bureau leader, and Producer/Host of Senior Speak NH-a Concord Television program sponsored by AARP. Additionally, Karen is a 2018 graduate of the AARP Senior Leadership Program and led a team of advocacy and outreach volunteers in 2020 during NH's First in the Nation Primary.

Before Karen began volunteering with AARP in 2016, she taught French for 45 years at the high school level. While in college at Emporia State University in Kansas, Karen took a French class and became enamored with the language. She even wrote her own teaching program. Karen retired from teaching in 2011, but knew she was not yet done serving people.

Her next opportunity to serve presented itself when an AARP flyer for a Life Reimagined session fell out of her program at an event she was attending. Karen decided to check out the session and fell in love with AARP and the volunteers teaching it. Soon after, Karen attended another AARP event called "Snack, Sample, Serve," and discovered the variety of volunteer opportunities available at AARP.

Karen's first exposure to volunteering at AARP NH was attending a community gathering of other volunteers. After only a few meetings, a staff member asked Karen if she would like to lead one. Karen was hooked and took on the role of the lead volunteer in the Greater Concord area.

"I feel like AARP allowed me to be somebody who can serve again for as long as I breathe," says Karen.

As time went on, Karen established herself as a critical member of AARP NH's volunteer team. Soon, AARP NH State Director Todd Fahey asked Karen if she would be interested in hosting a monthly television show on Concord Television called SeniorSpeak New Hampshire. In this role, Karen uses the medium of television to expand upon her teaching experience by researching topics, booking guests, and filming episodes.

In addition to Karen's tremendous volunteer efforts at AARP NH, she has also helped to launch Sanbornton Connects in her own town. This growing group of dedicated volunteers are working to ensure their community is one that will help older residents stay in touch and learn ways to age successfully at home. She hopes this grassroots solution, that dovetails with the AARP livable communities initiative, will inspire other Granite State communities with growing senior populations to create similar networks of aging residents.

At the heart of everything that motivates Karen to volunteer is her desire to continue teaching, a field she was drawn to while growing up on a farm in Kansas.

"Teachers make livings with their minds," says Karen. "I'm a very curious person and want to learn as much as I can." Karen is always looking for new opportunities to learn and teach. So, it may come as no surprise that Karen also lived in Budapest, Hungary for two years in the late 90s where she taught English.

One of Karen's idols is AARP founder, Ethel Percy Andrus. "Ethel Percy Andrus is such an inspiration," Karen says. "I want this woman known by everyone, whether they are involved with AARP or not."

As with most people who work to change the world, Karen freely admits that she did not feel worthy of being recognized with an award named after someone she greatly admires.

"I have learned so much about good teamwork, about becoming a better citizen through advocating for policies and practices that benefit everyone, about leadership in general, and simply put—about becoming a better person because of my volunteering for AARP New Hampshire," reflects Karen. "I feel very humbled and honored to receive this award and will strive until I breathe my last breath to be deserving of it."

Congratulations, Karen!