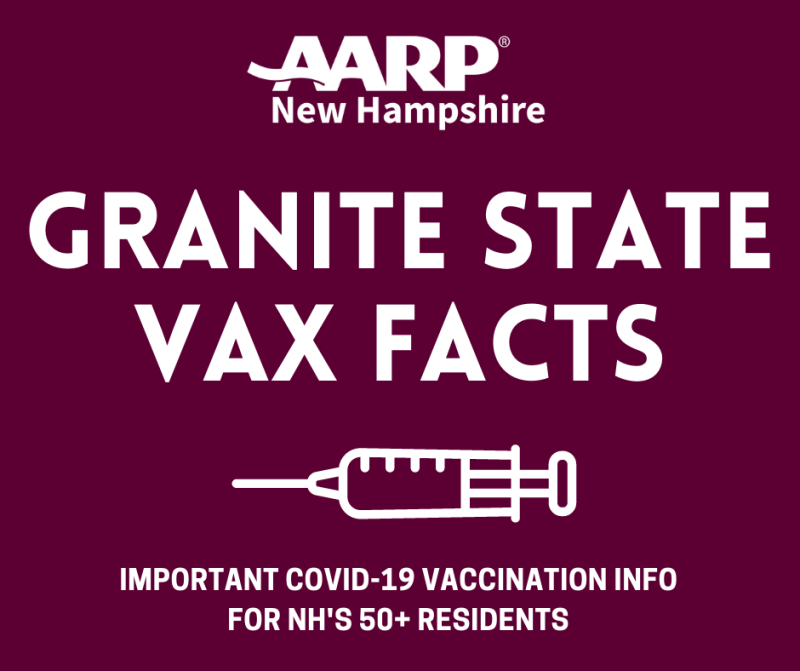 AARP New Hampshire, working in collaboration with the NH Department of Health & Human Services, is committed to raising awareness about new information regarding the COVID-19 vaccine distribution plan in the Granite State. The following includes information for NH citizens in vaccination Phase 1B (age 65 and older) and Phase 2B (age 50-64):

News of the Week . . .

Are you a New Hampshire resident age 65 or older (Phase 1B) and want a vaccine but don't have transportation to a vaccination site?
In collaboration with the New Hampshire Home Care Association and the Regional Public Health Networks (you can find more info about these at https://nhphn.org/), any citizen who qualifies under Phase 1B, receives services through a home care provider and is homebound will receive communication from that provider over the coming weeks.

The purpose of this communication is to determine if that citizen would like to receive the vaccination in their home or requires transportation to a vaccine clinic. These citizens do not need to call anyone or utilize VAMS to make an appointment.

For those citizens who do not receive services through a provider, you can call 2-1-1 and follow the prompts to be screened for help setting up transportation to one of the vaccination clinics or to receive a vaccination in your home.

Did you know that NH veterans enrolled in the Veterans Affairs Medical System, regardless of age, can get the COVID-19 vaccine?
COVID-19 vaccinations are available to all New Hampshire veterans enrolled in Veterans Affairs Medical System, regardless of age. Additionally, caregivers who are enrolled in the formal caregiver program can come in with the veteran they support, and receive the vaccine as well.

To vaccinate as many veterans as possible, the VA is holding appointment-only clinics across the Granite State. To make an appointment, veterans or their caregivers can call 1.800.892.8384, ext. 139. or visit Manchester.VA.Gov.

I'm age 50 or older. When can I register to get my vaccine?
The state of NH will open up vaccine registration for folks in Phase 2B (50 and older) on March 22 at 8 am. Appointments will begin on March 25. To register for your appointment on March 22, please call 2-1-1 or visit vaccines.nh.gov.

Please Keep In Mind . . .

Are you a New Hampshire resident age 65 or older (Phase 1B) and have a vaccine date scheduled? AARP New Hampshire remains involved with, and committed to, providing Granite Staters who are 65 and older with the information you need about the COVID-19 vaccine and the state's current distribution plan. Right now, COVID-19 vaccines are available for Granite Staters who are 65 and older (also known as Phase 1B). Currently, the state is working to move up appointments for folks in this age group who have already registered for the vaccines and have appointments scheduled for April or May. If you have already registered for an appointment, DON'T CANCEL IT! Operators from 2-1-1 will be reaching out and moving up thousands of appointments each week so all eligible Phase 1B Granite Staters can be vaccinated in March.

As for people in Phase 1B needing second shots, the launch of Phase 2A will not affect availability of second shots. Anyone who has received the first shot automatically has a second dose ready for them. AARP has worked to protect the health and well-being of older Americans for more than 60 years, and we know that sharing reliable information is one of the best ways to do that. So turn to our website to get the facts you need about the COVID-19 vaccine. Visit www.aarp.org/nhvaccine. You can also call 2-1-1 for questions about your appointment.

AND FINALLY, if You Haven't Gotten to it Yet . . .

Are you a New Hampshire resident age 65 or older and have not yet registered for a vaccine? If you are 65+ and have not scheduled your appointment but would like to, please call 2-1-1 or visit www.vaccines.nh.gov now to schedule your appointment.

For more information about COVID-19 vaccinations in New Hampshire, please visit www.vaccines.nh.gov or call 2-1-1. You can also visit www.aarp.org/nhvaccine.