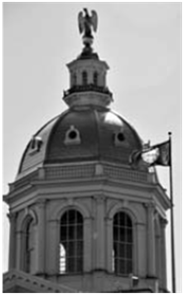 Today, the House Public Works Committee is hearing testimony on HB617, a bill to increase fees to pay for transportation infrastructure. AARP is there and offers the following:

This testimony is on behalf of AARP New Hampshire regarding HB617, an act increasing the rate of the road toll, increasing the vehicle registration fee, and establishing the New Hampshire state and municipal road and bridge account.

The significant shortfall in funding to repair and preserve New Hampshire's roads and bridges is beyond dispute and of great concern. Many roads and bridges are at capacity and congested with traffic; the disrepair in many cases is due to heavy usage.

By 2025, one in every four drivers will be age 65 or older, according to the AAA Foundation for Traffic Safety . Driving is an important transportation option to enable people of all ages to remain independent, stay connected to their communities, and engage in civic and social life.

However, as people age, changes to their physical health can make driving more challenging. New Hampshire is an aging state, and more residents will be looking for ways to travel that do not require them to drive a car. Nationally, more than 8 million Americans age 65 and older do not drive, and the number of non-drivers—or potential transit users—will continue to increase over time.

While it is critical to address the shortfall in funding to repair and preserve New Hampshire's roads and bridges, it is equally important to address the worrisome lack of funding to manage and reduce travel demand on our state and municipal roads. Enhanced transportation and mobility options allow non-drivers to stay connected to their communities; these options also reduce the travel demand on our state and municipal roads.

In New Hampshire, the 60+ population is expected to swell from 262,047 today to 419,080 in 2020 and then jump to more than 504,000 by 2030. That means the number of people in the state over the age of 60 is projected to grow from a number equaling the combined populations of Manchester, Nashua, Concord and Keene – to a number equaling the combined populations of Manchester, Nashua, Concord, Keene, Portsmouth, Dover, Laconia, Berlin, Hudson, Lebanon, and Rochester – in less than ten years!

Stop for a moment and think about the substantial implications this growth has for public policy, especially how New Hampshire supports and funds a transportation system to meet the needs of this older population. Flexible transportation options, including roadway transit systems (such as intercity and local bus services) are essential for accessing health care services, establishing and maintaining social contacts, and preserving independence and general well-being.

We have to determine new efficient ways to help people get around the state. If we are investing new money in transportation infrastructure, now would be an excellent opportunity to consider all of our transportation options and answer important questions. How do we encourage more mass transit? How can we get more cars off the busy roads? How do we help our towns and cities improve their bus services and volunteer driver programs?

Everyone benefits from a healthy transit network. Students can get to school, workers can get to work, and people can remain independent and connected to their communities.

As the deliberations continue on HB617, AARP is requesting this committee to strongly consider making available gas-tax revenue and vehicle registration fees to support transportation alternatives. This will reduce travel demand on roads and highways and provide alternative means of travel, including public transportation, intercity and local bus transit, and ride-share programs.
On behalf of AARP New Hampshire and its 227,000 New Hampshire members, thank you for your time today. I would be happy to answer any questions you or members of the committee have. I can be reached at 603.621.1004 or via e-mail at dmcnutt@aarp.org.

Resources:

HB617 bill language 

Statewide Coordinating Council for Community Transportation 

Transport New Hampshire: What does a balanced transportation infrastructure look like?

AARP Livable Communities: Resources to learn what makes a community livable, create improvement plans and act on those plans.