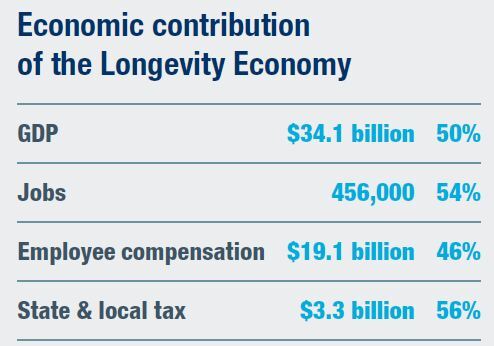 AARP and Oxford Economics recently released a report on New Hampshire's "Longevity Economy" that shows households headed by people 50 and older generate half of the state's gross domestic product, and over half of jobs and state taxes. Though only four in 10 of New Hampshire's population is 50+, they generated $25 billion in consumer spending.

"We often hear the aging population is a burden on national and state economies," said AARP New Hampshire State Director Todd Fahey. "This report shows the 50+ population is an important source of economic growth, both in the US and in New Hampshire."

The Longevity Economy report highlights the sum of all economic activity in New Hampshire that is supported by the consumer spending of households headed by someone age 50 and older – both in New Hampshire as well as spending on exports from New Hampshire to other states. This includes the direct, indirect (supply chain) and induced economic effects of this spending. (The induced impact involves the ripple effects from the spending of those employed either directly or indirectly.)

The longevity economy in the United States is composed of 106 million people responsible for at least $7.1 trillion in annual economic activity, representing 46% of US gross domestic product. "This represents the third largest economy in the world, after the US and China and more than $2 trillion larger than Japan," added Fahey. And at nearly 85 million jobs, the longevity economy represents 49% of the US workforce and 43% of wages and salaries totaling $3.8 trillion.

Granite Staters 50 and older make up 39% of the state's population, but are the state's biggest economic generator, accounting for:

• 50 percent of New Hampshire's economic output – gross domestic product ($34 billion)
• 54 percent of jobs (500,000)
• 46 percent of employee compensation ($19 billion)
• 56 percent of state and local taxes ($3 billion)
• 57 percent of total consumer spending
People over 50 also make a significant contribution to New Hampshire's workforce:

• 38 percent of New Hampshire's workforce are over 50
• 75 percent of people 50 to 64 are employed
• 14 percent of those 50 to 64 are self-employed
• 50 percent of those 50 to 64 work in professional occupations
"This economic activity is so extensive that it has the characteristics of an economy unto itself and that's why we have dubbed it the Longevity Economy," added Fahey. "Rather than being a burden to society, the 50+ population will continue to fuel economic growth. It's time to dump the old rhetoric about the high costs of aging and change the conversation to this economic engine of growth. This group is a stabilizer – a massive breakwater, not a major tsunami – and we should speak of them as such."

"Our message to businesses and investors: Ignore the 50+ consumers at your own risk," concluded Fahey.