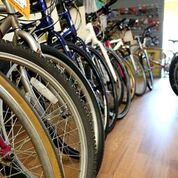 Are you a bicycle-friendly driver?

Hundreds of cyclists are killed in traffic accidents each year in the US, and thousands more are injured. Whether you are a cyclist or not, it's everyone's responsibility to do everything we can to prevent these tragedies on New Hampshire roadways and beyond.

Join AARP New Hampshire and Center for Health Promotion on September 15 for this one-hour interactive class:

Bicycle Friendly Driver
Saturday, September 15, 2018
10:00 to 11:00 am
Center for Health Promotion; 49 South Main Street; Concord, NH 03301
Cost: $5 per person for AARP members and one guest
Register by calling the Center for Health Promotion at 603 230 7300

Be educated on the best and safest way to share the road with bicyclists.