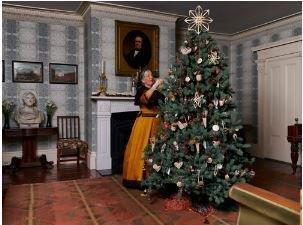 It's the 40th annual Candlelight Stroll, an annual holiday tradition at Strawbery Banke which showcases 350 years of seasonal and holiday traditions against the backdrop of the Museum's furnished historic houses.
On weekend evenings, the Museum grounds glow with hundreds of lighted candle lanterns, the houses are adorned with thousands of hand-made decorations crafted from live greens, dried flowers and herbs collected from the Museum gardens, and the air is filled with the sound of holiday music and the scent of wood smoke from the bonfire.
And AARP members and their guests receive 50% off admission for the Sunday, December 8 Candlelight Stroll, which is held from 4:00 to 8:00 pm at Strawbery Banke Museum, 14 Hancock Street in downtown Portsmouth. Discounted tickets can be purchased online, using the code CANDLE.
Bring your entire family and stroll from house to historic house, meet costumed performers who recreate the traditions of time past, and rediscover the joys of simpler times. This cherished New Hampshire tradition also offers complimentary refreshments, traditional hearth-cooking demonstrations, crafts demonstrations, and interactive fun for multiple generations.
See you at the Stroll!
(Photo compliments of Strawbery Banke Museum)